Makeup artists, especially those in the spa setting, have a two-fold responsibility: Master the latest trends, and know how to adapt them to fit each individual. "With the generous amount of information out there, clients no longer rely solely on what their makeup artist tells them—they're out there reading, researching and watching tutorials, so it's important to know what's coming off the runways and showing up on social media," says Sara Kelly, national education manager and in-house makeup artist for Mirabella. The good news: Although there was no shortage of avant-garde makeup looks on the Fall 2018 runways, most trends offered plenty of potential wearability—giving makeup pros the green light to experiment with their artistry.
Finding the right way to show off your skill set may require extra effort, as most clients prefer a more natural look. "Each season, spa makeup artists should assist their patrons with a 'makeup update,'" recommends Mary Swaab, founder of Colorlab Cosmetics. "It can be anything from a quick post- service touchup to a complete look for an event." One surefire way to highlight your talent? Social media. "Photograph your work, especially before and after photos, and post them on your spa's social media pages," advises Swaab. Kelly also recommends using your face as an advertising tool. "You'll be surprised how many clients will ask about your makeup and how you can recreate the same look on them," she says. "Reassuring guests that you can tailor a trend to fit their features is essential when trying to get them to step out of their comfort zones." Ready to kick your creativity into overdrive this fall? Look to these five runway trends for inspiration all season long.
RELATED: Spa Pros on Adding Permanent Makeup Services to Your Spa Menu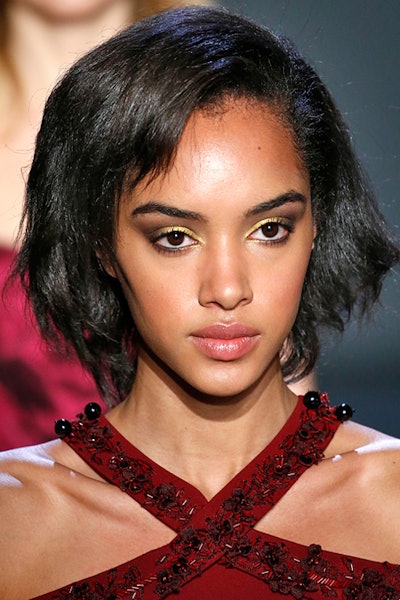 Shine On
Dazzling eyelids took center stage on this season's runways, as makeup artists experimented with everything from glitter to rhinestones to achieve a sparkling finish. For an everyday look, Kelly recommends creating a more toned-down version of the trend. "Stick with shimmery eyeshadows in greens, coppers and golds, or use a highlighter to add subtle shine to the lids," she says. If your client craves more drama for a night out, try loose cosmetic glitter. To avoid fall-out, Michael Moore, premiere artist for Colorlab Cosmetics, suggests creating a tacky base. "Apply clear lip gloss to the lid, then use a small brush to apply the glitter and push it in place," he advises. If you're working with oversized glitter or rhinestones, Moore recommends using eyelash adhesive instead.
Pro Tip: "To achieve a foiled look, spritz an eyeshadow brush with a setting spray before picking up the color," says Sara Kelly, Mirabella.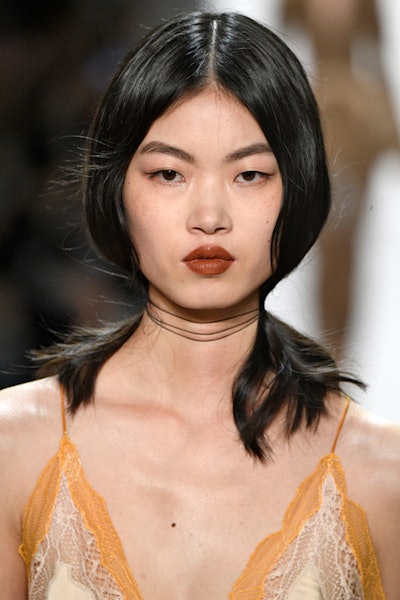 Gone Grung
This season's lips offered an alternative feel, as models sported moody, off-beat shades ranging from deep chocolate and black to two-tone teal and purple. While the experimental colors worked on the runways, Jade Munson, global brand ambassador for Ardell Beauty, suggests sticking to more wearable hues with a matte finish—such as merlot, berry or plum—for daily wear. Models also sported "stained" lips, with color concentrated in the center and faded out at the sides— and no lip liner in sight. To mimic this "post-popsicle" look, Munson recommends using a lip stain, rather than a traditional lipstick or gloss, and patting the color into the center of the lips with your fingers.
Pro Tip: "Always use a lip brush for precise application, then use a concealer to clean up the lip line," says Jade Munson, Ardell Beauty.
RELATED: 7 Tips for Landing the Job From the Owner of Celebrity Skin Studio
Do the Dew
Fresh, glowing skin is still in, serving as both a canvas for a bold lip or smoky eye, and as the focal point of models' overall looks. "To embrace the 'less is more' trend, you must start with healthy, radiant skin; therefore, a daily skincare regimen that suits the client's needs is key," notes Robin Olson, vice president of marketing for Glo Skin Beauty. Adds Kelly: "Ensure that skin has been gently exfoliated to remove dull surface cells, and always moisturize." Once the face has been prepped, create your base using a tinted moisturizer or a high-definition foundation. "I prefer to use half the amount of foundation that I might typically use on a full face, gently pressing it into the skin with a flat foundation brush only where there is discoloration, redness or breakouts," says Kelly. "This technique prevents a cakey finish and allows the complexion to shine through." To finish the look, Olson recommends using a contour kit to add warmth and illumination.
Pro Tip: "To avoid a heavy look, you can skip the powder and opt for a sheer, color-correcting foundation," says Robin Olsen, Glo Skin Beauty.
RELATED: Expert Advice for Catering to Clients with Sensitive Skin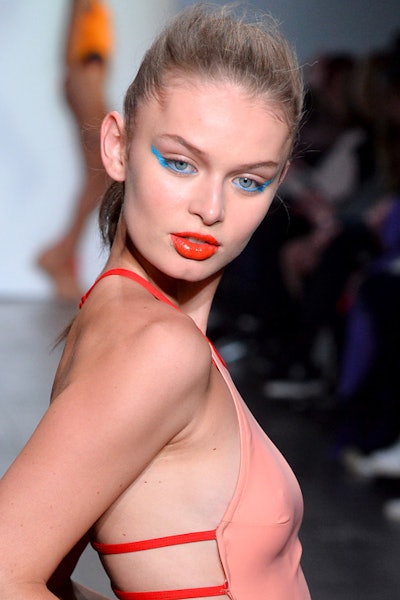 Color Pop
When runway artists weren't layering on the glitter, they opted for a somewhat simpler eye makeup approach, implementing bursts of bold color that made a major impact—think canary yellow "floating" liner, purple falsies and white mascara. When it comes to recreating the trend, Nancy Ogden West, director of business development and education for Colorlab Cosmetics, recommends using the client's eye color as inspiration. "Apply a matching hue or use a contrasting shade," she suggests. "You can also line the eye in one color, then use a complementary shade to offset it." For clients too timid to try bold liner, offer tinted mascara instead. "Shades of green, black-violet and bordeaux are beautiful for daytime wear, while bright pink, blue and purple are best for evening," notes Ogden West. One hue to avoid all costs? Red, as it can draw attention to any redness in the eye. "Lash tipping is also a great alternative for clients who fear a full-colored lash," adds Ogden West. "Simply apply black or brown mascara to the base of the lashes, then colored mascara to the tips."
Pro Tip: "Use medical tape as a stencil for your eyeliner to create a perfect line every time," says Michael Moore, Colorlab Cosmetics.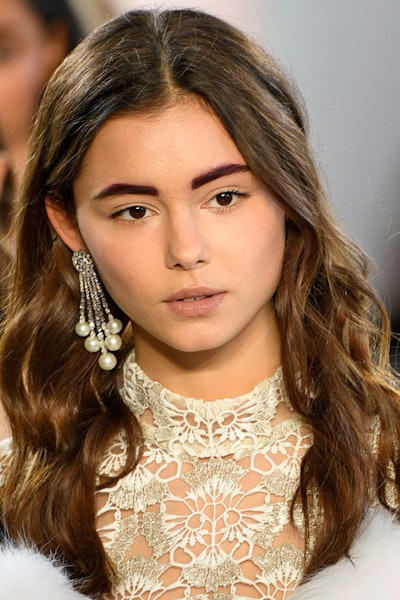 Brow Wow
Bleached, ombre and even a unibrow—this season's arches may have been all over the spectrum, but one common characteristic united them all: a fluffed-up, "masculine" look. "Full, natural brows are definitely in for fall," enthuses Olson. The best part? Unlike the perfectly sculpted looks currently taking over Instagram, the so-called boy brow is easy to recreate. "The key is to add volume by filling in sparse areas with a fine-tip liner using light, hair-like strokes," says Olson. "For an effortless finish, apply a brow gel in upward and outward strokes." Though it may be tempting to mimic the exaggerated arches spotted on the runway, Munson suggests dialing back on the product. "For everyday wear, I would keep them a little neater and only draw additional hair strokes where needed," she advises. "Also, draw in the direction of the hair growth to achieve the most natural look."
Pro Tip: "Choose a brow shade that complements the client's complexion and pairs seamlessly with her hair color," says Robin Olson, Glo Skin Beauty.
– by Taylor Foley
Season after season, makeup artists come up with a myriad of runway looks that reflect designers' collections. While some beauty trends fizzle our shortly after models finish strutting down the catwalk, others command attention, leaving women eager to find a way to translate the au courant style to their everyday lives. That's where you come in.