Celebrity Skin Studio
in Litchfield Park, Arizona, offers a first-person perspective on the interview process.
Tardiness, poor cell phone etiquette and way too much cologne…
That might sound like a bad date, but I've actually been subjected to all of those things (and more!) while hosting job interviews. As a small-business owner, I work in the treatment room and handle all of the administrative 1 tasks. So when I block off time for an interview, I expect it to be worthwhile. I've received text messages from applicants the day, even the hour, of an interview telling me they can't make it; even worse, some just don't show at all. As a candidate, you should know that graduating from school doesn't automatically entitle you to a job. You still need to go through the application and interview process like any other career opportunity. That means dusting off your old resume, showing up on time and researching that potential employer as if you were stalking an errant boyfriend! In short, you must hustle to make it in this industry— and here's how.
RELATED: How to Prevent Nepotism From Hurting Your Spa Business
1) Prepare a concise and relevant resume: Keep it to one page. Spa owners have a full workload in addition to hiring staff, so short and sweet is key. Emphasize points that might be of interest to them, for example if you know how to perform a specific service they're seeking. It never hurts to print your resume on beautiful- quality paper—and for goodness' sake, spell-check it before sending!
2) Be thorough: When filling out an application, don't leave anything blank. Use each answer as an opportunity to sell yourself to your potential employer. Candidates are able to submit applications to my business online; although I ensure that the process is easy, I still receive partially completed applications. To me this is a clear sign of laziness.
3) Be on time: Plan to arrive a few minutes early. If you're late, the employer will think that's what they can expect if they hire you. Most interview processes for spa technicians require two steps. Qualified candidates will get invited to round two, typically a practical exam. Both phases may be on the same day, so be ready and available to spend the time and energy required. It's refreshing to have a candidate with a "Let's do this!" attitude versus someone who says, "Let me make a phone call first."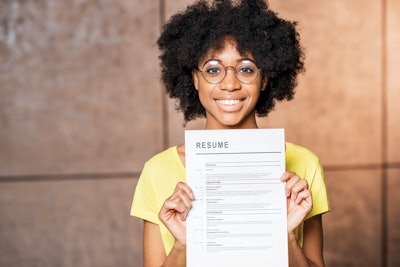 4) Dress Appropriately: Your attire is an indicator to the employer of how you will look while representing them, so "business professional" is the way to go. Wear clothes that fit: Nix the too-long pants, the too-tight or low-cut dress, and any jeans or shorts; when in doubt, a black skirt or slacks, a solid color shirt and dress shoes are safe bets. Also, hold off on the perfume/cologne, and make sure you don't have bad breath—both of these can be deal breakers.
RELATED: 4 Key Factors to Consider When Choosing Apparel for Your Spa Staff
5) Practice and be present: Look online for inspiration—sample interview questions can be found on any number of websites, such as glassdoor.com and indeed.com. When answering, speak with confidence and look your interviewer in the eye. Bring a notepad and pen, and give them a copy of your resume at the beginning. It's disrespectful to create distractions in an interview, so turn off you phone and any other devices. I once had a prospect hold her finger up to and say, "Just a second, I need to return this text real quick." Needless to say, that interview ended abruptly.
6) Show curiosity: Usually, the interview will ask if you have any questions about the role or company. This is your chance to shine. Plan ahead by scouring the company website for clues that will be helpful, and take time to learn about their spa's philosophy, services and products. If nothing else, ask about opportunities for advancement, which lets your potential employer know you're a go- getter and interested in moving up the ladder.
7) Be available and confident: If the job says it includes weekends, don't go through the whole process knowing you can't work Saturdays. Let the interviewer know you are excited about the opportunity, and sell yourself by assuring them you'd be a great candidate for this position. Thank them for their time, and follow up by sending a note thanking them for the opportunity. Chances are your phone will soon be ringing with an offer!
–by AJ Jenkins
The owner and lead esthetician at