Uniforms serve many purposes and at spas, one of the foremost is making guests feel they're in capable hands. "They give clients confidence," says Osa Mallo, director of spa and wellness at the Mandarin Oriental, Miami. "The uniform industry is all about giving professionals a professional image," concurs Allison Nassey, director of accounts and client relations with Noel Asmar Uniforms in Surrey, B.C., Canada. "It makes people 'look the part.'" In turn, adds Mallo, it also oers employees a sense of belonging. "It's good for them to feel they're members of a team."
Not to mention that uniforms play a very practical role too, by helping guests distinguish employees from fellow spa-goers, something they don't want to have to think twice about when seeking to ask staff a question.
RELATED: Professionals Choice Awards 2018 – Makeup & Uniforms Winners
Although most spa pros would agree on the importance of a staff uniform, it's not just a matter of choosing one that fits their budget. Following are four of the most crucial questions to ask before investing in spa apparel.
Will Uniforms Reinforce My Brand?
"A uniform is one of the most overlooked brand elements, but from a customer perception perspective, it's one of the most important," says Lee Peterson, executive vice president, creative services with WD Partners in Dublin, Ohio. "We always look at uniforms as the icing on the cake—the right finishing touch."
For The Now, a four-location spa in Los Angeles, uniforms are a quintessential part of the interior decor. "Our design aesthetic is something for which we're recognized," says director of operations Leland Raymond. "We feature minimalist tones, we have a 'nature indoors' feel, and we use fabrics and colors that promote a sense of well-being. To that effect, it's important that our team reflects that style and reinforces our brand."
The key is to not overdo the message: At The Now, reception desk uniforms don't bear the company logo because those employees sit in the branded entry and retail space. "The idea is for the logo to be on display but not to feel overly branded," explains Raymond.
On the other hand, 344 Beauty Bar in Virginia Beach, Virginia, doesn't require its staff to wear uniforms, in an effort to maintain an approachable, low-key vibe. "We've chosen not to wear them because we don't want to be viewed as a medical facility, but rather as somewhere people go to relax," says owner Hollie Lucas. "Plus, our guests get to see a glimpse of our employees' character through their style and not just as an esthetician or nurse in scrubs."
RELATED: Noel Asmar Uniforms Celebrates International Women's Day with Video Series
However, an all-or-nothing mentality isn't always necessary. Lucas notes that her employees feel more confident in their own clothes, but she does ask that they follow the basic spa colors of red, white, black and gray so "they look like a part of the spa and help bolster the branding," she says.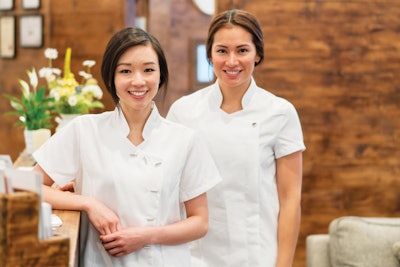 What Material Should I Choose?
Comfort, functionality and breathability are all key. Noel Asmar works to ensure material is effective at moisture wicking by designing uniforms made from a stain-resistant blend of polyester, nylon and spandex. The clothing should also be as silent as possible. "When clients are having a massage, the environment should be quiet; they don't want to hear swooshing," points out Nassey.
The Mandarin Oriental's spa uniforms come in synthetic, machine washable fabric—only the front desk staff's apparel, made from a wool blend and poly- weave, needs to be dry-cleaned. The hotel even washes the uniforms on site, unless an employee prefers otherwise. The Now staff are responsible for laundering their own uniforms, which are 100 percent cotton for both washability and breathability.
How Much Do Style and Color Matter?
Style choice, right down to details such as pockets and sleeve length, is paramount too. The Mandarin Oriental keeps uniforms simple, because "we work in a serene environment, so uniforms shouldn't be too busy or overpowering," explains Mallo. The spa's front desk employees wear a jacket and slacks, while therapists sport black wrap tunics with black slacks.
RELATED: Sharpen Your Staff's Spa Skills With Continuing Education Opportunities
Over the years, management has figured out through trial and error what does and doesn't work. "At one point we had beautiful black Asian-inspired dresses, but it was difficult for staff to bend down because they were figure- fitted," shares Mallo. Ideally, she adds, uniforms should be short-sleeved and stretchy, rather than tight over the arms; they also need hidden buttons to allow for adjustments for different body types. "Pockets are helpful, but not if the material is too stretchy, because they can start to droop," she adds. As for low-cut uniforms, "they're a no-no."
When it comes to colors, the Mandarin Oriental sticks with those that match the property—black for therapists and brown with red piping for reception desk employees. "Dark is better for the therapists," says Mallo. "I really like white uniforms, but when we tested them with oils and mud they were difficult to get clean."
At The Now, front desk staff members wear a chambray button-down shirt and indigo blue jeans. Massage therapists pair an organic white T-shirt bearing
The Now logo and navy blue cotton scrub pants. Scrubs are a favorite with therapists because they're lightweight and don't restrict movement, notes Raymond. The company chose these colors, he adds, because blue is believed to symbolize loyalty, strength, wisdom and trust, and white denotes safety, purity and cleanliness.
How Many Outfits Should I Buy—and How Often?
The Mandarin Oriental provides its uniforms (buying three per full-time employee), while The Now gives each staff member two uniforms; they purchase any additional outfits themselves.
Every few years the Mandarin Oriental changes up its uniform, with input from spa employees, which can make for a lengthy but useful process. "Colleagues spend eight hours a day in this clothing, so it only makes sense to ask their thoughts," says Mallo. In doing so, she discovers the factors they rate as important—typically fabric that's comfortable and breathable; necklines that aren't too high, so they can keep cool; and plenty of pockets.
–by Amanda Baltazar
If you boarded an airplane only to find your pilot greeting you wearing a T-shirt and jeans, wouldn't you feel a little insecure with him at the helm at 35,000 feet? Now picture that same airman in his freshly pressed uniform; you probably feel more confident in him already.