Why did you decide to offer permanent makeup (PMU) services?
Kellie Baxter, CEO, Revive Health Center and Spa in Woodstock, Georgia: We started providing these services in 2016 because we had a large number of clients who needed them—older guests who couldn't see well enough to apply their own makeup, those who had lost their lashes and brows due to illness, and even women recovering from breast reconstruction who needed a nipple. We wanted to help them all feel gorgeous and regain some of what they had lost. We also had several clients who weren't happy with the procedures they received at other locations—there was a need for safe, qualified, top-notch PMU services in our community.
Carrie Brown Smith, PMU artist, Orchid Spa and Wellness in Orlando, Florida, and Nouveau Contour trainer: When the spa first opened in 2015, the owners knew that PMU services were in high demand and that my experience and education would be valuable to them. They can refer clients to me for just about every need, whether it's cosmetic or reconstructive/medical— that way everything stays in house, versus sending guests elsewhere.
Cathy Estrella, MPH, owner, South County Microspa in Rancho Santa Margarita, California: We actually began with PMU, along with microneedling as our only skincare service. The spa opened in 2014 with a business model emphasizing evidence-based therapies that help women either retain or regain a youthful appearance—and in our opinion, PMU is one of the best and fastest ways to accomplish this. Done properly, it can take years off of your appearance, and women leave our office amazed at the results. As a nurse who served ten years in the U.S Navy in the medical field, I dealt with patients who were disfigured by burns or blast injuries, which led to me thinking about cancer survivors and other people who want to look in the mirror and see what they used to see. PMU can be an image booster, and for many people it can also be a return to normalcy.
Which of these offerings are the most popular?
Marina Alleyne, esthetician and PMU artist at Magda's Skin Care Clinic in Winter Park, Florida, and trainer with Nouveau Contour: Eyebrows are trending right now, so those are definitely the most sought-after services. Microblading (120 min./$550) offers a more natural look, and Powder Brow (120 min./$450) looks more made-up. Eyeliner (90 min./ $400-$600) is a close second. It takes less time, and touchups are usually very quick.
RELATED: 7 Tips for Landing the Job From the Owner of Celebrity Skin Studio
Sarah Redmond, founder, Cocoon Urban Day Spa in San Francisco: We currently perform Upper Eyeliner (90 min./$400), Lower Eyeliner (45 min./$300), Upper Lash Enhancement (60 min./$300), Full Fill Brows (120 min./$550) and Microblading (120 min./$550). All are very successful, but microblading has been a game-changer. It looks so natural and great on just about everyone, including men who would like to fill in gaps or thicken their brows without looking like they're wearing makeup.
Smith: Eyebrow services! Initially, it was Microblading (120 min.-150 min./$450), but now it's moving toward Powder Brows (120 min.-150 min./$550), which is a softer look that lasts a bit longer, and Combo Brows (120 min. – 150min./ $600), which is a combination of the individual microblading hair strokes and powder. Prices include: a consultant to determine the best option for the client's skin type, lifestyle and natural growth pattern, as well as to map the brows and pre-numb the skin; the initial service on the same day; and one touchup a month later, to perfect the shape and adjust color and density. After the first session, I send my clients home with postprocedure ointment and instructions. Most return for a Retouch (60 min./$250-$300) within a year to 18 months.
Estrella: Microblade and now Nanoblade Brows (90 min./$595) make up a large portion of our client requests, but it's common for people to begin with Permanent Eyeliner (75 min./$199) and then, after feeling confident about our services, move on to brows. We specialize in what we call "European Style Permanent Makeup," meaning a very natural look. We service a lot of cancer survivors whose brows never grew back, and we encourage all clients to go with a procedure that enhances their appearance rather than something that looks like dramatic makeup. We have also added Scar Camouflage or Hair Fill In (starting at $100) and Certified Medical 3-D Areola Micro Pigmentation (120 min./$595), both of which I think are going to become more popular.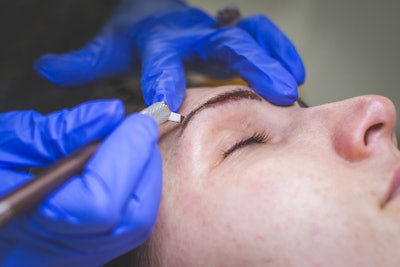 What's your best advice for spas that want to add PMU to their menus?
Redmond: Train an esthetician who is a brow expert and very serious about learning this skill. The time and expense for licensing and startup can be high. Your PMU artists must spend as much time as possible practicing and working on models until they feel completely comfortable performing the services—it's not as easy as it looks and there is very little room for error.
Baxter: Make sure you have a highly skilled, highly trained professional PMU artist, that you've seen their work and that you're happy with their portfolio. Also, they should be
up to date on all the latest technology.
RELATED: How to Prevent Nepotism From Hurting Your Spa Business
Smith: I definitely recommend it, but there are so many technicians out there and each state's regulations are different, so you have to check an artist's background, and ensure that they're licensed and have liability insurance. (If they're an employee, look into adding these services to your own liability policy.) Examine the tech's work after it's healed—fresh work always looks beautiful, but it's the final outcome that matters. Finally, techs who belong to the Society of Permanent Cosmetic Professionals (SPCP)—a community of artists who pay membership dues and truly care about the well-being, safety and future of the industry—are likely to be your best bet.
Estrella: Hire technicians with talent, attention to detail, experience and plenty of training. Unfortunately, there are a lot of schools out there offering PMU certificates that cost thousands of dollars, but only involve a week or two of classes. Students may work on one or two models and that's simply not enough—it leads to mistakes and poor outcomes. If we hire a technician who has already been certified, we retrain them and have them spend a lot of time observing us or being observed while working on clients. I also offer PMU consulting and have had other spas send people to train with us before working on clients.
How has cosmetic tattooing boosted revenue for your spa?
Smith: I own my business and rent my space at Orchid Spa. I typically perform about five new brow procedures and 10 touchups per week. I bring in guests who may not have found the spa on their own, and vice versa, so it's been really beneficial for us both.
Redmond: PMU has added another element to our menu, and we've gained new clients. It's very profitable and a lot of these guests return after six months to a year.
Alleyne: It varies, but we typically do about 60 percent facials and 40 percent PMU. Over the last couple of years, PMU has become much more common for younger women, especially due to the popularity of microblading. Talking with clients during their skincare treatments gets them excited about PMU, so we don't even need to do much extra marketing.
Baxter: It's a lucrative service and has been life-changing for clients. They're so happy with the results and time they save—they love that they can sweat, swim or cry, and their
makeup remains flawless!
Estrella: When our guests get the results they're seeking from PMU, they trust us with other services. While performing these procedures, we have the perfect opportunity to talk about our approach to anti-aging and skin care, and most of our clients wind up back in our office at least once or twice a month. We spend a great deal of time educating them on skin care, and this leads to a trusting and loyal clientele.
–by Alexa Joy Sherman
Spa experts discuss how cosmetic tattooing procedures can be a profitable part of a spa menu.