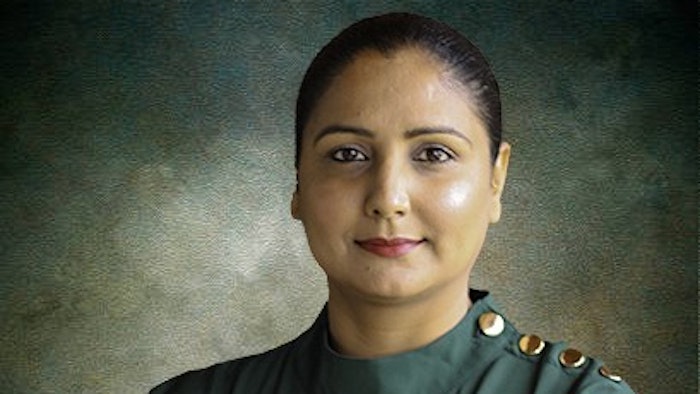 Photo courtesy of Saroj Barthwal
Saroj Barthwal knows the importance of sustainable resort practices and honoring the traditions and culture of a hotel's local communities. The resort spa manager at The Palms + The Shore Club in Turks & Caicos made a name for herself in the hospitality industry by building spa programming, leading resort initiatives and putting guests' well-being at the forefront. Barthwal believes that inspiration can be found in challenging experiences, and she has used that to help her resorts win numerous accolades. The industry veteran sat down with us to discuss the growing trend of forest bathing and her programming plans for the coming years.
What is your favorite memory of your time working in this industry?
Visiting the Mystical Kingdom of Bhutan was a life-changing experience and a favorite memory of mine, because it is where I met my husband and learned the art of "less is more."
What do you love about spa and wellness?
I take great pride in promoting luxury and sustainable hospitality through the lens of wellness and well-being, and I look forward to welcoming guests to a menu of rejuvenating, tranquil and regionally inspired treatments.
What wellness trends do you find most exciting?
In the wellness space, I've seen a growing interest in forest bathing, as well as a growing focus on utilizing more sustainable products and services within spas around the world. Other new trends include blue wellness, such as wild, cold water and hot springs destinations; sulphur, mud, ice, salt and sound baths; social wellness; 360° multisensory spa spaces and treatments; indigenous practices, from purification ceremonies to food and nutrition; and cryotherapy.
What do you do after a long day at work?
I put on my favorite music with a glass of chilled beer.
What's your favorite wellness treatment to receive?
Abhyangam. It is a traditional Ayurvedic therapy from Kerala, India, that involves a massage of the entire body from head to toe with warm, dosha-specific oil. The oil is commonly pre-mixed with herbs for specific conditions. It restores the balance of the doshas and enhances well-being and longevity.
Related: Hartling Resorts Welcome Saroj Barthwal as Spa Manager
What's your greatest accomplishment?
During my leadership in 2018, COMO Uma Punakha was named the No. 1 hotel in Bhutan, No. 1 hotel in Asia and No. 3 Best Hotel in the World in the Conde Nast Traveler USA Readers' Choice Awards.
What advice do you have for someone just getting started in the industry?
Only join this industry if you have purpose, passion and flexibility.
What's your guilty pleasure?
I have a sweet tooth!
How do you practice self-care?
I go to the gym, enjoy a home spa regimen, listen to music and Sadguru podcasts, and practice chanting.
What is on your bucket list?
I want to go bungee jumping and skydiving, experience the cherry blossoms in Japan and watch the Northern lights.
What's on the horizon for The Palms Turks & Caicos and The Shore Club?
I foresee our team diving deeper into our spa offerings in such a way that guests will leave forevermore attuned with their well-being. My ideal vision for The Palms would be implementing yoga and wellness retreats, Asian integrative treatments, Neo Lifting facials, IV therapy, digital detox and stress management packages, and Ayurvedic and plant-based spa cuisine.
At The Shore Club, I hope to incorporate floating spa and beach massage experiences, as well as spa herb garden tours. We hope to continue to encourage visitors to embark on a yoga and holistic journey while on property, as they can bring these practices home with them.
For the spas in general, we're working on the concept of intentional sustainability and infusion of cultural elements. I wish to drive the idea further by exploring partnerships with local suppliers for spa treatments, as well as inspiring our technicians with other cultures for a more well-rounded spa experience.