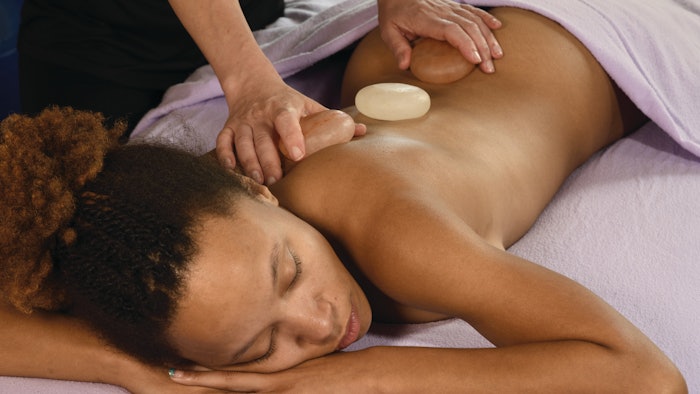 What benefits do massage tools offer?
Kristin Sartore, vice president of education and marketing at Spa Revolutions: The use of different massage tools can have many benefits, from thermal wellness advantages or a unique shape that further relaxes tense muscles, to simply giving the therapists' hands a much-needed break.
Ann Brown, CEO and founder of Saltability and cofounder of Himalayan Source: Massage tools offer various ways for therapists and clients to relive pain and ease muscle tension. I like that therapists can use varied massage tools in treatments and then retail the tool so that clients can work on ailments, soreness or pain in between massages—especially because some pain can be chronic and some can be acute. This allows the client to take more ownership of their challenge and work things out on a daily basis to assist with their overall goals.
Carrie Ann Wiedemann, national massage training and compliance coordinator; and Nathan Nordstrom, spa director of massage therapy at Hand & Stone Massage and Facial Spa with multiple locations: One of our massage instructors said, "You can use your hands to do all massages, but someday they will get tired. Just like a carpenter uses tools, you need to know how to use other tools to be most effective." So, think of it as being able to use a manual screwdriver or an electric screwdriver. Both work, but the electric screwdriver is faster and more effective. The earlier you start implementing tools in your career, the longer you will be able to practice.
How can different tools improve spa and wellness treatments?
Catherine Davalle, spa director of Acqualina Spa by ESPA at Acqualina Resort & Residences on the Beach in Sunny Isles Beach, Florida: Each massage tool has its own specific benefits; some come with variations that allow for a vast array of treatment options. For example, we use warm Himalayan salt stones to naturally and gently exfoliate the skin as well as work on muscle tension, which is relieved thanks to the stones' heat. We also use Hyperice HyperVolt massage tools in certain treatments to help our therapists warm up the tissues more efficiently, and then they're able to follow that work with a deeper massage using their hands.
Cindy Keske, founder of Rock On Minerals and Design: Therapists can use gemstones in massage treatments to help clients benefit from the stones' energies, or vibrational qualities. Spa-goers might enjoy an energetic group of stones after a long day of exercise, or they might want to experience healing gemstones for regeneration after a sickness or even surgery! Some specific groups of gemstones can lend inner peace, confidence and serenity, while others provide courage, passion and optimism.
Nordstrom and Wiedemann: Different massage therapy tools have different responses to how the body works, not to mention the various techniques used for each tool. The best example of this could be the difference between Theragun, hot stones and cupping. Theragun is a battery-powered percussive therapy device that's helpful for deep tissue work. Hot stones use hot hydrotherapy with a firm, smooth surface that calms the body. Cupping massage is a decompression technique that lifts tissue away from the muscles to increase mobility. Each one works with the body in very different ways. Having multiple tools can ensure that you are able to help more clients.
Sartore: The exclusive features of a massage tool will offer different benefits to each treatment. Probably one of the most common modalities, hot stones marry beautifully with massage to encourage blood flow throughout the body and promote relaxation. Cryotherapy, through the use of stones, shells or Himalayan salt disks, can be useful in reducing inflammation and swelling that causes pain.
Continue reading for tips on picking the right tools for your spa and more in our Digital Magazine...