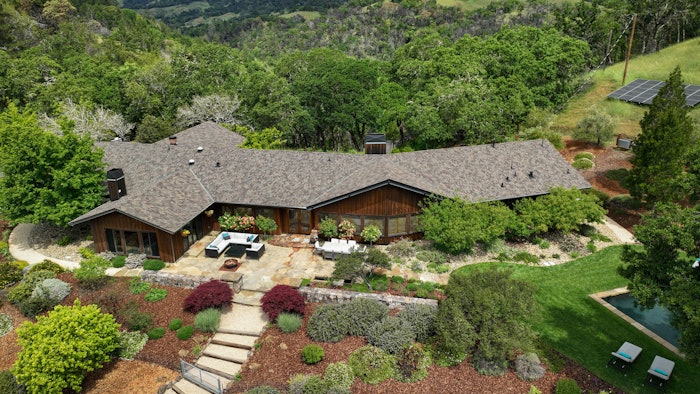 Psychologists have argued that, during the pandemic, the perpetual FOMO (fear of missing out) that seems to define our culture apparently stopped entirely. Suddenly, no one was doing anything, and without others to compare themselves to and the associated drive to make one's life appear better than others, many slowed down, embraced the solitude, and even looked inward. 
Perhaps this is one reason why, also during the pandemic, NewTree Ranch—an eco-luxury wellness retreat that is also one of the most sustainable new properties in America—thrived.
Co-founder of NewTree Ranch, Ed Newell—a veteran of the ultra-luxury travel industry—created NewTree Ranch as an antidote to the harried and superficial nature of modern life and travel. As he stayed in the most luxurious hotels in the world, traveling on private jets, yachts, and enjoying meals at the world's best restaurants, he realized his life felt empty.
He didn't understand why, because according to the logic of the modern world, these were the things that assured happiness. Dissatisfied and perplexed, he purchased over a hundred wooded acres of land in Healdsburg, California, and along with his long time friend, colleague, and soon-to-be NewTree Ranch co-founder David Rowntree, set up camp (literally) in a clearing on the property.
There, they stayed for two years that proved to be life changing. They discovered more joy and contentment when surrounded by animals and nature in a tent in the middle of nowhere than on yachts and private jets. Together, they slowly came to a united vision for their seed to table, regenerative farm and wellness center that eventually became NewTree Ranch, which opened in 2020.
Related: NewTree Ranch Joins Healing Hotels of the World to Reconnect Guests with Nature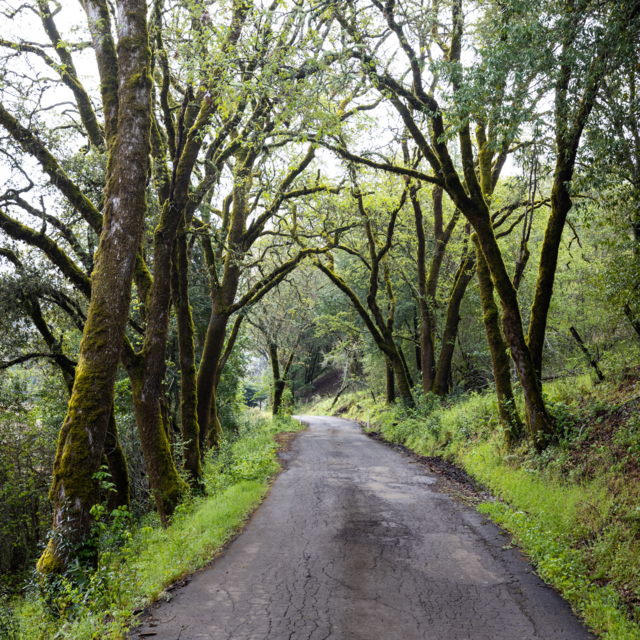 The discovered the healing power of connection to self and nature—things that are crowded out in modern life. Their lives were changed by the land in their new found fulfillment purpose and fulfilment in their service to nature and service to guests that visit NewTree.
Their love of their new found mission at NewTree Ranch—which, as Ed told me, is to inspire every person who visits to care for their minds and spirits, and to "expand the boarders of NewTree ranch" by encouraging them to take care of our world—is palpable.
When my husband and I visited NewTree Ranch with our six-month-old daughter in late summer, the Ranch was vibrant. We stayed in The Ranch Estate, a 4,700-square-foot villa with a private patio and pool that sleeps eight and overlooks a field of grazing highland cows, horses and goats.
Ed's philosophy of retreat is such that he wants guests to actually experience retreat. Instead of having a getaway reflect the scheduled and harried nature of real life—with breakfast at eight, meditation at nine, massage at ten—if anything, he encourages retreats to be under scheduled and un-structured. Over the course of our three day stay, we enjoyed a All meals at the ranch are plant based unless otherwise requested. Breakfast was on our own—with an abundance of fruits, vegetables and edible flowers grown at NewTree Ranch's garden and in alignment with The Ranch's "seed to table" philosophy of cuisine.
On our first full day there, our plant-based lunch was prepared for us by a private chef in The Garden—an abundant and overflowing labyrinth of vegetables and flowers on a hillside at NewTree Ranch.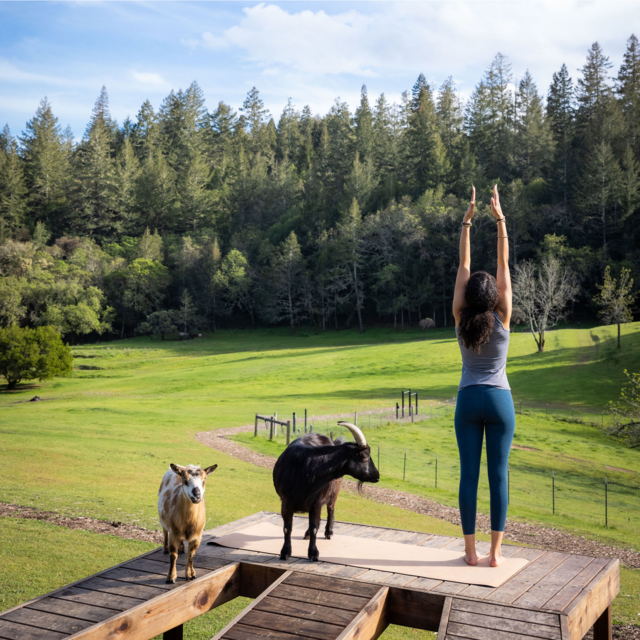 After lunch, our-six-month-old loved collecting eggs from the elegant Ranch chicken coop, with which we made our breakfast the following morning. Dinner was prepared by a local chef and delivered to our room to enjoy in privacy. 
After a massage at The Ranch Estate, I ventured down to the Tent Experience a short walk down the hillside from the Estate—the very same Tent that Ed and David had lived in while envisioning NewTree Ranch. The Tent Experience, available to guests of The Ranch Estate only, is now a beloved-guest experience. While it's trendy for interior designers to "bring the outdoors in," the tent experience brings the indoors out. Guests can sleep in a luxurious king size bed with 1000 thread count sheets while enjoying the sounds, smells and sensations of nature.
Right before bed, I treated myself to a seaweed bath and facial in one of the two side by side clawfoot bathtubs set up steps away from the tent and beneath the stars. My body was detoxified while my heart and soul were nourished as I contemplated the vastness of space and the mysteries of the galaxies.
Related: How to Create a Luxury Spa Experience
NewTree Ranch doesn't just aim for guests to be physically relaxed and rejuvenated. They yearn for mind and spirit to be rested, too. For example, for each guest, they curate a selection of wellness books for them to enjoy during their stay and take home as parting gifts.
Also available is to guests upon request is the Wim Hof experience, where an expert trained in by Dutchman with superhuman abilities—from fighting off e-coli just with his breathing, to hiking mount Everest without oxygen (or a shirt)—leads guests through Hof's breathing method and full body ice immersion.
A visit to NewTree Ranch is a gift that keeps on giving. The investment of time made in the quiet tranquility of nature pays dividends across time. In a gesture of great kindness, months after our visit, NewTree Ranch sent our family seeds from their garden, which we are now planning in our own pottage. We plan to take a play out NewTree Ranch's book and create "seed to table" meals of our own this summer.