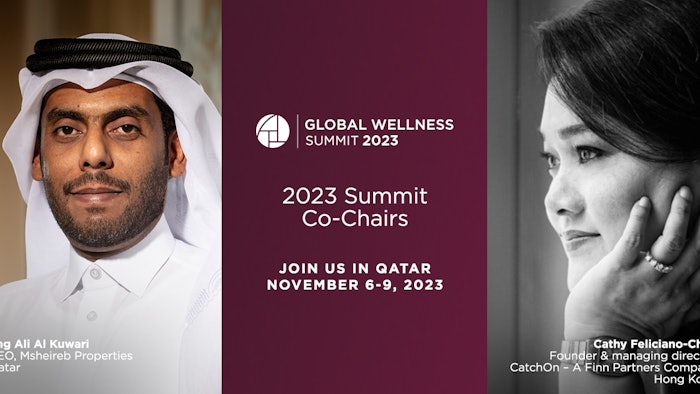 Photo courtesy of GWS
The Global Wellness Summit (GSW) announced the host sponsor as Msheireb Properties, and co-chairs as Eng Ali Al Kuwari and Cathy Feliciano-Chon for its 17th annual event that will take place in Doha, Qatar on Nov. 8-9, 2023. 
The 2023 host sponsor, Msheireb Properties, is a subsidiary of Qatar Foundation for Education, Sciences and Community Development and Qatar's leading sustainable property developer, supporting the goals of Qatar's 2030 Vision and Qatar Foundation's objectives. 
The foundation has a mission to change the way people think about urban living and to improve the overall quality of life, through innovations that encourage social interaction, respect for culture and greater care for the environment. Its signature project, Msheireb Downtown Doha, is one of the most sustainable city districts. 
"We are honored to host the 2023 Global Wellness Summit in Qatar at our smart and sustainable city Msheireb Downtown Doha," said Eng. Ali Al Kuwari, Msheireb Properties' CEO. "This 17th Summit is of great significance as it aims to positively impact the wellness of our people and communities and highlight Qatar's leading position in the future of global health and wellness."
Related: 12 Biggest Wellness Trends in 2023, by The Global Wellness Summit
Each year, the Summit gathers global executives from health and wellness companies, doctors, investors, academics and technologists to immerse the hundreds of invite-only delegates in three days of keynotes and panels on what's ahead for the business of wellness. The co-chairs that will shape this year's agenda are Eng Ali Al Kuwari and Cathy Feliciano-Chon.
Eng Ali Al Kuwari is the CEO of Msheireb Properties, where he will lead the development and implementation of the strategic and operational plans of Msheireb Properties and Msheireb Downtown Doha (MDD). With 22 years of experience, Al Kuwari is one of the prominent Qatari talents and the leading engineers of Msheireb Downtown Doha since its inception. During the recent World Cup FIFA Qatar 2022, he supervised the relevant event operations in MDD. 
Cathy Feliciano-Chon is founder and managing director of CatchOn – A Finn Partners Company, one of Asia's leading brand communication consultancies in hospitality, travel, wellness, food and design. She is also a GWS Advisory Board member. Feliciano-Chon was included in Tatler Asia's "Most Influential List 2021." She is widely published and quoted in major publications, and is a sought-after speaker at international conferences.
"It's an honor to co-chair this year's Summit in Qatar at such a transformative time in the country's history. In a relatively short time, Qatar has become a formidable tourism destination and an exciting cultural hub underpinned by a deep commitment to sustainable development," said Feliciano-Chon. "The annual Global Wellness Summit brings these varied industries and sectors together to address the critical issues of our time."