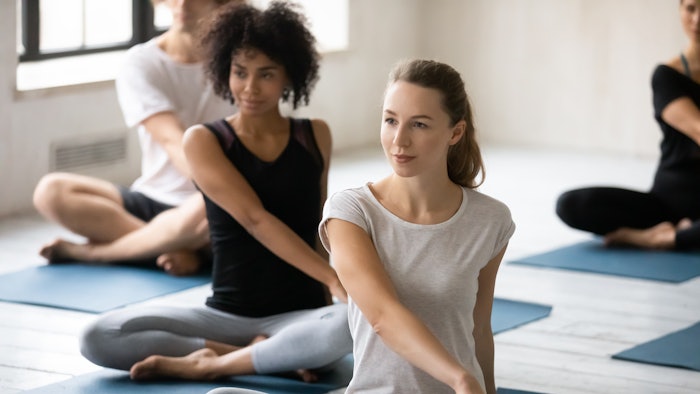 The Global Wellness Summit (GWS) has released its annual Future of Wellness report exploring the 12 biggest wellness trends in 2023. Some themes revealed in the report include the changing consumer values towards wellness activities that are backed by science and focused on the human connection. Wellness is expanding to the workplace and social activities while also reimagining some of its deepest roots, from water and nature to multisensory integration.
"Cast your mind back to 2019, the highwater mark of the hyper-consumerist, product-flooded wellness market, with so many evidence-challenged trends a minute," said Susie Ellis, GWS Chair and CEO. "This report is proof that the wellness market of just three years ago suddenly feels archaic. Wellness in 2023 (and beyond) will be more serious and science-backed, but also more social and sensory."
Related: Top 7 Spa & Wellness Trends for 2023 by Spafinder
1. Wellness as a Social Experience
Self-care in the wellness industry is sometimes associated with time spent alone and self-reflecting. While that can be an effective form of mindfulness, the report suggests that the biggest wellness trend is new spaces and experiences that bring people together in real life, with the social connection at the center of the concept.
2. Wellness Tourism
The report discusses how travelers are now seeking deeper cultural experiences and showing interest in going to the source of ancient healing and knowledge. Indigenous travel and going to the cultural source for wellness tourism is the biggest travel trend for 2023.
3. Workplace Wellness
The pandemic created new shifts in work models that are changing employee morale for the better. The report suggests the trend will continue with more superficial wellness-at-work schemes being replaced with more meaningful solutions.
4. Science-backed Beauty
The consumer preference shift toward data-backed products and therapies will continue to get stronger, along with the desire for lab-tested and science-backed solutions.
5. Wellness in Global Cities
The report analyzes the inextricable relationship between the health of the cities and the health of city dwellers. This trend examines diverse, creative ways that an urban wellness infrastructure is being embraced all around the world as a solution for accelerating growth, fueling post-pandemic recovery and cultivating healthier, happier citizens.
6. Brown Fat + Eliminating Obesity
Michael Roizen, M.D., discusses how not all fat is created equal, and transforming white/yellow fat into beige/brown fat has the potential to support weight loss. According to the report, brown fat has increased mitochondrial density and burns lots of calories, while white fat is metabolically inefficient and doesn't use much energy.
7. Wellness + Governments
Wellness policies have been years in the making, but in 2023 and beyond, they will evolve, multiply and strengthen. The report predicts that the government will explore ways that preventive wellness can support mental and physical health.
8. Blue Wellness
Nature-based wellness doesn't typically delve into the world's waters, but in 2023, consumers will look for more blue wellness experiences, from new-look hot springs destinations to wild and cross-country swimming.
9. Athletic Wellness
Wellness-focused clients are looking beyond the basement gym in search of pro-athlete-level equipment, fitness classes and wellness programming, whenever and wherever they travel. The report predicts businesses that support this trend will become the go-to brands for future generations.
10. Multisensory Integration
The senses have always been present in wellness. Now brands are accessing multiple senses simultaneously to better support wellbeing outcomes, amplify wellness experience and influence behavioral change.
11. Biohacking
Technologies that modify genes, regenerate body parts and manage microbes will continue to revolutionize wellness with AI, pre and probiotics, blockchain technologies and 3D tissue printing. 
12. Wellness + Faith
As global workplaces address inclusivity, purpose and employee wellbeing, more companies are now including religion as a full-fledged part of their DEI commitments—encouraging employees to form company-sponsored groups around their faith, according to the report.