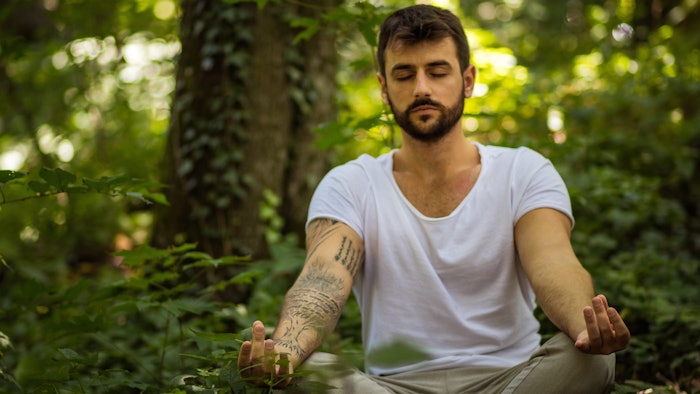 The enLiven Retreat Center in Arlington, Vermont, is premiering a yoga retreat designed exclusively for men to explore male energies in a restorative and transformative way. The Lone Wolf retreat takes place from April 14 to April 16 at the enLiven at the Green River in ​Sandgate, Vermont, and includes activities like yoga curated for men's bodies, outdoor exercises, self-inquiry workshops and meditation, among others.
Related: 3 Ways to Make Men's Wellness More Inclusive
The Lone Wold retreat is led by Paul Menard, the director of Karuna Yoga and Retreat Healing Arts Center in Northampton, Massachusetts. Menard considers the retreat a unique opportunity for men to explore their inner spiritual considerations that are not typically promoted to men.
"Men are trained not to ask themselves these (spirituality) questions, or do so in a way that is hidden from everything else," Menard said. "For some reason, spirituality is not thought of as a masculine practice. That's why it's so necessary. That's why now is the right time to be asking these questions. Our roles are shifting. Who are we now? These questions can be so uncomfortable that we can't give them appropriate time."
Self-inquiry workshops during the retreat are designed to develop relationship-building skills that can be used at home and the workplace. There will also be engaging activities that utilize the tranquil environment, including winter hikes, snowshoeing and meditative walks.
"The space and location really allow for the chance to get away," Menard said. "There is nothing like rural Vermont. Will get out into the woods maybe the mountains. We will have the opportunity to test our comfort zone with things like optional hikes and cold water plunges. But even if you use this opportunity as a chance to get away, there's so much to gain from that."
Related: 5 Simple Morning Yoga Poses to Recommend to Male Clients
Daily yoga during the retreat will focus on the mental benefits of the exercise as much as the physical benefits. Menard believes the environment, from the location to the people around them, will allow men to feel most comfortable and accessible to inner growth.
"Yoga is also very much a practice of the mind, and a spotlight on men's mental health could also be tested by a different lens," Menard said. "The time away, specifically in retreat, to reflect, rest and quiet the mind also builds mental elasticity. Men can benefit from being in a group of men who may be feeling or experiencing the same things, based on cultural norms and pressures."
The retreat starts with a Friday arrival at 4:00 p.m. and finishes with a final closing circle workshop and departure at noon on Sunday. Packages start at single occupancy for $1105 or double occupancy for $908. Visit enLiven Vermont's official website for more information and to book your spot in the Lone Wolf Retreat.
"I suppose that the simple answer to what makes this retreat different is that this retreat is for men, catered specifically to the male perspective," Menard said. "Perhaps the most important concept for any retreat is in the name itself: "retreat." Retreating from everything else so that you can work on yourself. That is the goal. You are the goal."