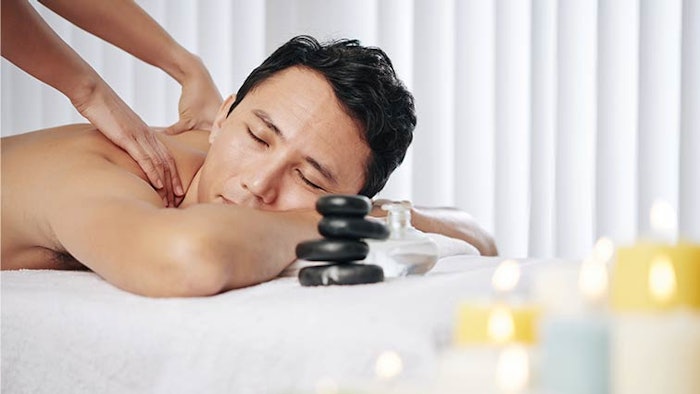 When we talk about men's wellness in the spa world, what typically comes to mind is a limited menu of gentlemen's treatments. But, in the past five years, male clients have grown increasingly interested in the full spa experience—beyond traditional offerings.
More open-minded attitudes around gender have empowered men to enjoy spa experiences that were previously defined as female-only. Additionally, the mental wellness movement has inspired men to take care of their health more holistically. We're seeing male clients embrace the full spectrum of wellness, from tech-based fitness to sound bowl healing.
As spa professionals, we must pay attention to the changing trends in men's wellness and meet these clients where they're at. It's up to us to break down barriers and create a more inclusive spa experience for people of all genders. Otherwise, we not only limit our guests' experience, but we also risk alienating a whole segment of potential clients.
With that in mind, here are three thoughtful ways to make your men's wellness offerings more inclusive for all.
1. Ditch the Gender-Specific Treatments
In 2022, there's no reason to categorize spa menus with men's and women's treatments. This immediately cuts guests off from a deeper, more personal experience.
Male spa-goers today are savvier than ever, and they often desire as full an experience as women. Make sure your communications materials are adapted for this reality. Treatment menus should cater to people as individuals and human beings, as opposed to broad gender categories.
In certain states, there are already laws on the horizon regarding inclusive language for treatments such as "men's haircut." Get ahead now to make sure you don't run into issues later.
Continue reading for more insight on educating staff on inclusivity and adapting physical spaces to all genders in the Digital Magazine...
Deirdre Strunk is the vice president of Canyon Ranch Spa, Fitness and Beauty, heading up these divisions across the Canyon Ranch brand. Strunk, a licensed massage therapist, esthetician, yoga instructor and group fitness instructor, has more than 20 years of experience in the industry. She currently serves as a board member of the Las Vegas Spa Association, and as vice chair on the board for the Nevada State Board of Massage Therapy.