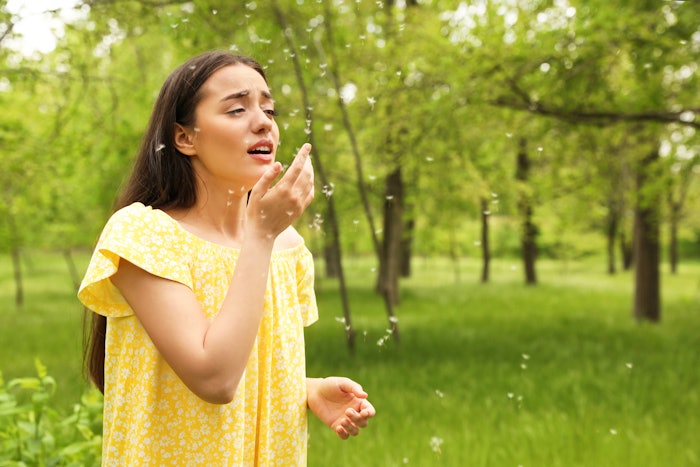 Are your clients dealing with intense seasonal allergies? According to Champneys Health Spa, there are multiple alternative therapies performed in the treatment room that can alleviate common allergy symptoms. Sharwana Amour, an in-house trainer for Champneys, shared what massage, acupuncture and aromatherapy can do for clients in the height of allergy season. 
1. Massage
Massage therapy can provide endless benefits in all parts of the body, but research from Integrative Healthcare discovered that "regular and sustained massage sessions can improve immune system function and strengthen your immunity to combat allergies." Massage treatments can also ease stress, which has been known to cause an influx in allergy symptoms. 
"Some massages that are great for people suffering from allergies include the Swedish massage and the Aromatherapy massage," says Amour. "Our Champneys 50 minute massage, much like a Swedish massage, is well-reputed for encouraging relaxation and reducing stress. Stress is known to put a strain on your immune system, and so prioritizing time for relaxation can help to reduce effects on your immune system and relieve the side-effects of seasonal allergies."
2. Acupuncture
Dr. Riccardo DiCuffa, founder and GP of Your Doctor, reported that trials have shown promising results for using acupuncture to help treat "runny noses, sneezing and itchy eyes." Because the technique stimulates the nervous system, this therapy can improve the body's functions and reduce harsh season allergies. 
"Acupuncture can be a stand-alone treatment or can be paired with the Tui Na massage in our Chinese Body Therapy treatment, which is designed to help calm the mind, improve energy flow and rectify any imbalances within the body," says Amour. 
3. Aromatherapy
Various essential oils contain healing properties that can provide relief to clients suffering from the physical and mental effects of allergies. According to Amour, cedarwood oil has been known to relax the bronchial area, calm allergic reactions and open the chest muscles to the lungs. Other beneficial essential oils include lavender oil for it's anti-inflammatory properties and chamomile for its soothing effects. 
Amour says, "When pairing these healing oils with a deeply relaxing massage, an aromatherapy massage can be a great alternative treatment to reducing your allergy symptoms."