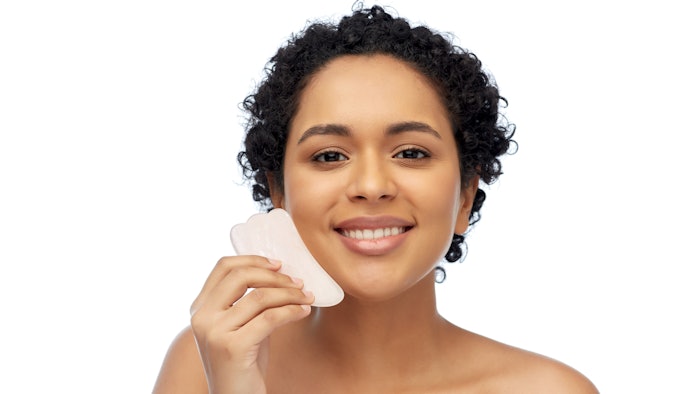 It would have been pretty impossible to miss how much gua sha tools have been trending on social media in the last few months. More specifically, this wellness tool has taken TikTok by storm, with many people showing before and after videos of how it has helped to sculpt their jawline and contour their face. This traditional Eastern Asian technique has had a lot of people discussing whether this treatment really works, so we decided to break it down for you to share with your clients.
What Is Gua Sha?
The gua sha technique consists of using a flat jade or rose quartz stone and scraping it along the sides of the face. This helps to promote lymphatic drainage while boosting circulation and relaxing the facial muscles.1 What's important to note, though, is that this ancient Chinese healing technique has been around for a very long time, and it was originally used to help in the treatment of viruses and heat stroke.1
This technique is also grounded in the foundations of chi, which is an energy that flows through the body. It's believed that this energy needs to continue to flow through the body for optimal health.2 Stagnant chi is believed to be the cause of pain and inflammation in the body; thus, the use of a gua sha tool helps to promote this flow and lymphatic drainage.2 The other cosmetic benefits of this treatment include improving skin firmness, elasticity and tone while reducing fine lines and wrinkles.
How To Use Gua Sha Tools
It's especially important to educate clients on the proper way to use their gua sha tool, as many videos on TikTok are not using it to its full potential. While gua sha tools can be used on the entire body, and have proved to have many benefits to that, the main trend here is focusing on the face. Some tips that experts have provided include:2
Cool down your tool
Apply serum before using the tool for optimal glide
Always work upward
Cooling down the tool can further help with puffiness, while working upward provides the key benefits of receiving that "facelift" look many people are trying to achieve with this technique. However, while cooling the tool down can diminish puffiness, heating the stone by soaking it in warm water can help increase circulation even more in the skin.1
The pressure applied to the skin should also be gentle. This treatment should not be causing any kind of bruising; if it is, then the client is applying too much pressure while using it.
Gua Sha in Your Spa
You don't necessarily have to design treatments around this trending technique, but if you have someone in your spa who is skilled at using the tool, it could make a great holistic add-on. With this being so popular currently, it could be a fairly easy add-on to sell while promoting the benefits of whatever facial your client is already receiving. If you already have a gua sha treatment, or a treatment that incorporates gua sha, highlight it on your spa menu or even consider doing a special with it, like a free add-on service or discounted product.
You could also consider carrying these tools in your retail area. As long as you feel comfortable training your clients on how to properly perform gua sha at home, this will boost their home-care results and your retail sales in the process.
References: