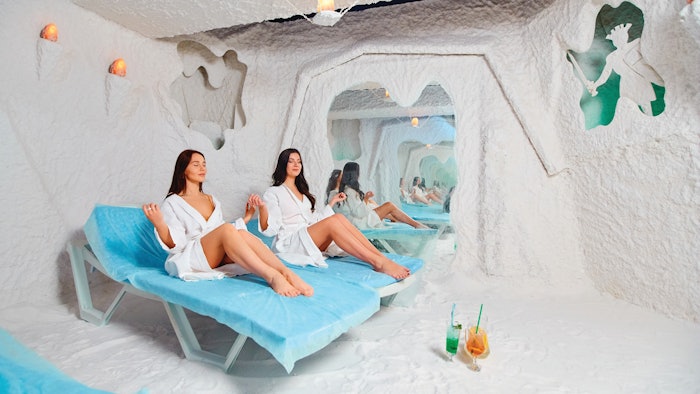 If the past year has taught us anything about business, it's that innovation—or rather the ability to innovate, particularly when facing unexpected circumstances—is essential to long-term success. If the past year has taught us anything about life, it's that health and wellness are gifts meant to be cultivated and protected. As our industry, like so many others, pivots toward new ways of delivering services to our customers, many spa owners and directors are leaning into private spa experiences that offer enhanced wellness benefits while protecting both clients and staff.
Private halotherapy experiences are increasing in popularity because they deliver on each of those counts. In addition, Himalayan salt products help address the increased need for sanitation, with various tools for massage therapy and esthetic treatments that are naturally antimicrobial and antibacterial.
Healing Halotherapy
Also known as dry salt therapy, halotherapy essentially uses a controlled dry salt aerosol environment that mimics the characteristics of a salt cave. Halotherapy comprises a natural, basic mineral: pure sodium chloride (salt). Sodium chloride is an essential element for the regulation of mucus in the lungs and upper respiratory system. It cleanses the respiratory tract and strengthens lung function by stimulating the body's internal processes.
For a halotherapy room, dry salt is heated, ground and crushed into microparticles and then dispersed into the air through a halogenerator. Clients simply inhale and exhale while in the controlled environment. As they relax and breathe, the microparticles penetrate deep into the lungs, bronchi, bronchioles and alveoli. This is believed to produce a calming effect and absorb irritants, including allergens and toxins, from the respiratory system. Non-inhaled salt particles are absorbed into the skin.
The tiny, negatively ionized salt microparticles will help improve breathing and more. When a guest inhales those particles, they may reap symptomatic relief for conditions as wide-ranging as allergies, asthma, sinusitis, acne, dermatitis, eczema, psoriasis, signs of aging, skin inflammation, rosacea and more. Halotherapy naturally triggers skin microcirculation and cellular membrane activity, enhancing the skin's protective properties and processes to support the repair and regeneration of the complexion.
Although halotherapy primarily targets the respiratory tract and lung function specifically, a private halotherapy experience is indeed a full body experience. The soothing view of a glowing Himalayan salt wall calms body and mind, preparing clients for a restorative wellness journey. I recommend combining a halotherapy session with a massage on a treatment table equipped with far infrared therapy and healing gemstones, or using other natural therapies such as hot stones, pulsed electromagnetic field, negative ions and photon light, all of which will help encourage local circulation, relax muscles and joints, reduce pain, improve energy and mood, and stimulate cells to promote overall wellness. Throw in some guided meditation, and guests will emerge feeling restored in body, mind and spirit.
With more than 20 years of experience in the resort spa business, Ann Brown is an industry veteran whose expertise extends from licensed cosmetologist, esthetician and massage therapist to accomplished spa director and business manager. In 2014, she founded Saltability, a spa industry partner that provides quality Himalayan salt stone treatments and products for resort and destination spas.
Continue Reading to learn more about the other salt treatments and the benefits they have in our Digital Magazine...