Simples
, a new plant-based tonic and apothecary shop in Santa Monica, California, tells us her top tips.
1) Forest Bathing — I try to spend time outdoors and in nature as much as possible. Even a short walk in a natural area does wonders for my mood and overall sense of well-being. What many of us have felt intuitively is actually supported by a lot of scientific research coming out of Japan. They have discovered that simply being in a natural environment and practicing awareness actually has a multitude of health benefits including enhanced immunity, improved energy, and sleep and mood elevation. I am fortunate to live in a fairly rural area, so you'll often find me hiking the hills or walking the beach, but I've found strolling a tree-lined street just as soothing.
RELATED: 5 Wellness Secrets From Jaana Roth at the Four Seasons Santa Barbara
2) Fermented Foods — Every day we read more evidence about the gut-brain connection and the link between gut health and disease. Fermented foods are a great way to create and maintain healthy gut flora. I make my own sauerkraut at home, starting with a cabbage base and adding different vegetables to the batches. I also love The Coconut Cult yogurt and I eat a teaspoon of it every day. I highly recommend the book Wild Fermentation (Chelsea Green Publishing, 2016) by Sandor Ellix Katz to anyone interested in creating their own fermented foods at home. They're easy to make, and a lot less expensive than store bought, and it's pretty magical to watch the bubbling alchemy that happens!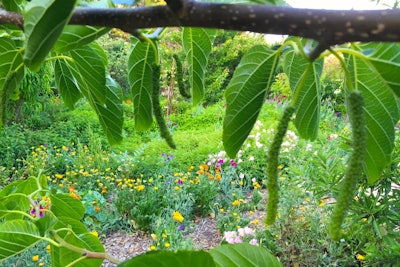 3) Simples Tonics — I love these handcrafted herbal infusions so much I started a company! These vitamin, and mineral rich drinks are so full of bioavailable nutrition you can literally feel your body soaking it up. Minerals are hard to get these days and the plants we work with at Simples supply a hefty supply in a form the body can easily absorb. I enjoy them the traditional way, as one simple plant at a time, to really experience the flavor and benefit of that particular plant. I have different favorites at different times depending on what my body needs. Right now I'm drinking a lot of Chickweed as I'm working long hours and feel the need for deep recovery.
RELATED: 7 Wellness Secrets From Jenny Duranski of Lena Rose and Noktivo
4) Daily Practice — When I'm in the flow of a daily meditation or mindfulness practice, especially first thing in the morning, my life just works better. I have several ways I practice. I often do Kundalini Yoga, or a 5-to-10-minute sitting meditation. I just try to do something to quiet my mind and create some mental space. I have a serious monkey mind! Another enjoyable daily ritual is to pull a card for each day. I have several decks I work with. I like to ask a question, sometimes specific, sometimes just as simple as, 'What do I need to work with and know about today?' It's always interesting, and informs me and sets me up for the day.
5) Plant Medicine and Products — I'm fortunate to know many remarkable healers and medicine makers, and I have an arsenal of amazing plant creations that they make. In fact, my bathroom and kitchen are overflowing! I love both beauty and wellness products that are handmade with plants by people who have a great knowledge of herbalism and also a deep connection to the plants they work with. Most products I use are made in small batches by people who either grow or wild-harvest the materials used. One of the most fun parts for me with the Simples store is curating my favorites and sharing some of these incredible potent creations.
About Simples
Simples was founded by Traci Donat, an herbalist devoted to traditional folk medicine practices, with the goal of sharing the wisdom of ancient plants as medicine, and the belief that plant-based tonics and elixirs are the medicine of the people. Follow Simples Tonics on Facebook and Instagram.
The founder of