1) Community Spirit — Being around my neighbors, and participating in events such as beach cleanups and neighborhood walks re-energizes me. Connecting with people is so important to overall wellness.
2) A Glass of Wine — It's a nice ritual for calming down my day and reenergizing my battery. It's so important to have something we enjoy. It's 10 minutes during which nobody needs me, and I can just be Jenny again, not a business owner or a mom. I tell my husband I'm going to my 'nothing box'! Every day we're inundated with so much noise, especially in this industry, as practitioners to other people. We touch them, talk to them and take on so much of their energy. It's very draining, and if we don't replenish and recharge we'll burn out quickly. This regular ritual can be whatever you want it to be: if you want to go out to dinner with drinks with girlfriends, then do that; or take a brisk walk, or meditate.
RELATED: 5 Wellness Secrets From Jaana Roth at the Four Seasons Santa Barbara
3) A Positive and Authentic Outlook— From my thoughts to my decisions to my attitude when I'm treating other people, I live by my authentic rules. I make sure any negative energy stays outside of myself. I try to stay compassionate and show as much grace and empathy as I can. I reframe things if I have to: If my two-year-old daughter is having a crazy tantrum, for example, I try not to react immediately, even if it's 7:30am and I have to get out the door. I pick my battles.
4) Energy Work — I see a chiropractor and acupuncturist regularly. If my body breaks down I can't take care of others, so this way I'm making sure I'm okay. It's like that saying on the plane: put your own oxygen mask on first before you help others with theirs.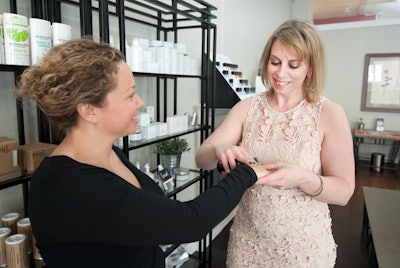 5) Sunday Night Baths — Every week I enjoy an hour-long soak and a mask. Sunday nights are both the easiest and hardest: I'm getting ready for the week and gathering my daughter's stuff for day care. But now I've made it a habit. It's like my own in-home spa: I mix coconut milk, peppermint leaves and Epsom salts for the bath, I play nice music and I light a beautiful candle—the whole shebang! I really set the stage, and treat myself the same way I'd treat a client.
6) Setting Boundaries — This is something I'm still learning. The power of no doesn't mean feeling bad about not being able to do something for others; it means saying "yes" to yourself. As an entrepreneur I'm used to saying "yes" to everything—when you're starting out you just want your name out there. But it's not sustainable. The sooner you can set boundaries the easier it will be when things get really busy. People will understand that you're not on social media 24/7 and that you're only available at certain times.
RELATED: One on One with Jane Iredale, President and Founder of Iredale Mineral Cosmetics
It's very easy as a business owner to have murky waters between your business and personal lives. The murkier it is, the more likely it is that something will give, and it's usually our home lives, or ourselves. A lot of us working moms talk about work-life balance and though I don't think it exists, I do think you can make things work in a realistic way. That might mean three hours to yourself in the evenings, or switching off entirely on Sundays. You need to create that outline, that space, for yourself, whatever that may look like.
7) Spending Time Outdoors – I'm blessed that I'm in Chicago, with its beautiful lake that feels like the ocean. I love sitting outside by the bike path—all those smells and sounds. There are so many green spaces in the city, like protected parks and preserves. I love taking my family to the Botanic Gardens too —it's one of my happy places.
About Jenny Duranski, Lena Rose and Noktivo:
Located in Chicago's Ravenswood Manor district, green beauty boutique and organic spa Lena Rose opened in April 2017. In addition to offering a menu of vegan, nontoxic, "farm-to-face" services including facials, waxing and makeup, Lena Rose also carries all-natural products featuring small batch, handmade artisans, many locally sourced from the Midwest region. Owner Jenny Duranski is also a certified nail technician and founder of nontoxic nail salon Noktivo.
The busy Chicago-based entrepreneur and mom talks wine, weekly baths and the power of saying "no."