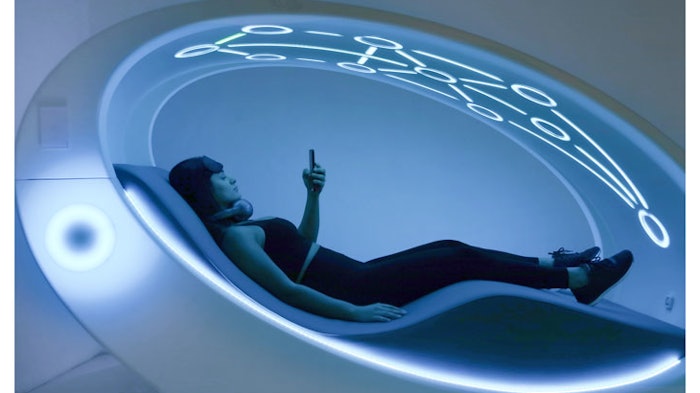 The newly launched Biohacking ORB is a platform with touchless, self-administered treatments designed to enable users to realize personal development and wellness goals in minutes. Users employ their own bodies and minds to enhance their spirit and mood. The ORB includes seven treatment journeys:
Quick Fix: a 15-minute journey to settle the mind
Reframing Anxiety: a 25-minute journey to reset the nervous system
Chakra Balancing: a 30-minute journey for mind, body and soul
Circadian Reboot: a 10-minute sleep prep journey
Rescue Remedy: a 30-minute immunity-boosting journey
Healing & Recovery: a 15-minute sonic therapy session to reduce pain/promote healing
Refresh & Recharge: a 45-minute relaxation and rest journey
It accomplishes these goals vie the use of the following wellness modalities.
Neuroacoustic Sound Therapy
Neuroacoustics is a digital drug that "biohacks" the brain with healing sound pulses. ORB is able to shift the mind from the beta (wide awake and alert), alpha (relaxed and creative), theta (deeper relaxation and meditative) or delta (deep sleep and healing) brain states in 20- to 50-minute sessions, depending on the desired results. 
Mandala Chakra Chromotherapy
The illuminated Mandala Chakra diagram sets the scene for this ORB experience, which combines ancient holistic practices and high-tech wellness biohacks. The Mandala Chakra diagram serves to calm the mind, body and soul for the treatment and is enhanced with chromotherapy (color therapy), the practice of using color to regain mental balance.  
Vibroacoustic Therapy
Vibroacoustic therapy housed within the ORB's zero-gravity mattress mirrors the Mandala Chakra diagram, creating balance and elevating the ORB's sound therapy efficacy by passing pure low frequency wave vibrations into the body, helping to increase circulation, deliver pain relief and increase joint mobility.  
Aromatherapy 
The concept of aromatherapy, or using scent to treat "dis-ease," is a centuries-old medicinal practice. The ORB uses this age-old treatment to affect mood, particularly eight major factors: irritation, stress, depression, apathy, happiness, sensuality, relaxation and stimulation.