Experts discuss the benefits of ingestibles in the skincare space.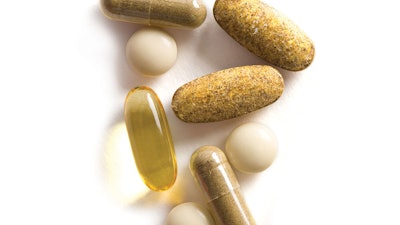 How do nutritional supplements fit into the spa setting?
Adina Diaz, owner, Natural Feeling Spa in Los Angeles: I believe in providing clients with a full lifestyle approach to their skincare needs, which is why I emphasize the importance of their internal and external health. Whether guests need help balancing their hormones to better control breakouts, or simply need to increase their daily vitamin intake, supplements are the perfect way to support a healthy complexion. Offering these remedies furthers my mission to introduce consumers to better skin and improved overall health, in which facials, skin care and supplements all work in harmony.
Bianca Menzerotolo, president and CEO, SB Health & Beauty Spa in Tampa, Florida: Not only do we offer products and services that improve the appearance of the face and body, we want to help restore guests' energy levels and repair the cellular damage that accompanies the aging process. Nutritional supplements give the body the vitamins and minerals it needs to look and feel better from the inside out.
Andrea Welch, owner and esthetician, BioSonic Beauty in Oak Brook, Illinois: Supplements can complement almost any spa service. For example, a detox product can be taken to enhance the results of treatments such as body wraps or infrared sessions, since the supplements can support inch loss and draining fat cells; and a collagen supplement can improve skin health alongside facial services.
How do you entice clientele to purchase these products?
Menzerotolo: We tell guests all about the benefits of taking a supplement like Skinade, educating them on the many ways it supports their skin and enhances the results of the services we offer. We specifically explain that the formula helps boost skin's natural collagen, hyaluronic acid and elastin production. This happens when the tiny collagen fragments in the drink are absorbed into the bloodstream, triggering a healing response. We also offer a sample bottle as a beverage before or after a service, rather than giving them tea, coffee or water. It's a great way to introduce the product to clients and get the conversation started, allowing our staff to talk it up like we do with topicals used during treatments. Just one bottle a day promotes softer, smoother, firmer skin and healthier-looking hair and nails—results that appeal to anyone.
RELATED: Five Smoothing and Slimming Body Services
Welch: I always suggest specific products to help clients get better results, all geared toward the type of treatment they're receiving. I recommend M'lis Radiance for those who want firmer, younger-looking skin, and I suggest clients suffering from acne take probiotics. M'lis Essential Greens helps calm acne and rosacea, as well, and can even minimize wrinkles. Guests receiving body treatments are often interested in the M'lis 7-Day Total Body Cleanse, and I explain that the combination of the Detox, Cleanse and Fiber supplements tends to be the missing link for people who've been trying to lose weight without much success, because it helps support liver and kidney function; aids in the removal of mucus, bacteria and encrusted waste; and cleanses the lymphatic system. Everyone who comes to see me has a particular goal they want to achieve—especially a visible change in their body or the way their skin looks. Suggesting supplements or including them as part of a series to ensure guests get the results they're after just makes sense.
Diaz: As the owner of a natural, eco-friendly spa, I like to provide as much information as possible about what each client's skin is revealing about their internal health. After their treatment is a perfect time to welcome questions and discuss what can be helpful in achieving their goals. I find that women and anyone in the early stages of aging to be most interested in adding nutritional supplements to their daily routine.
How has selling supplements helped your business?
Menzerotolo: Clients see almost immediate results in the appearance of their skin—a naturally youthful and radiant complexion—but also experience increased energy, improved mood and greater confidence. With a 30-day product like Skinade, guests come back to buy more, giving us an opportunity to talk to them about other treatments and helping with retention and sales. These supplements are a great addition to the other lines of products we sell and give us one more way to increase our profits.
RELATED: Expert Advice for Addressing Cellulite
Diaz: Women love how a natural alternative like Alexis Smart Beauty Formula No. 7 Gamine, which uses homeopathic remedies with flower essence, helps not only control breakouts during their menstrual cycle—especially around the jawline—but also eases the heightened emotions that can occur during this time. Addictive Wellness is another favorite, especially for those whose complexions suffer the consequences of too much sugar intake: redness, dryness and breakouts. The brand offers Tremella, Blue Butterfly and Chaga blends, all of which promote healthy skin. Meanwhile, medicinal mushrooms and cacao can help lower stress levels and increase energy. When clients see these kinds of results, they're more interested in trying other products I offer in my retail area, and attending the wellness events that I host at the spa.
Welch: Guests notice that their skin looks better, their clothes fit better and they just feel better overall. Offering supplements allows me to achieve my business goals when it comes to helping people look and feel their best.
—by Alexa Joy Sherman
This story first appeared in the July issue of DAYSPA Magazine. To receive the magazine, click here to subscribe.