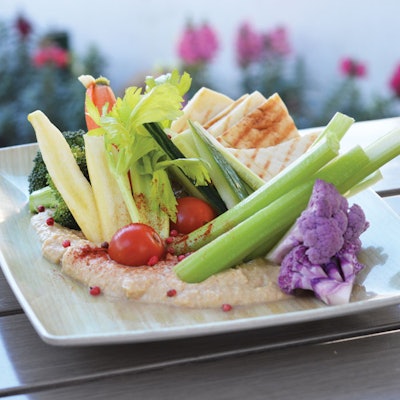 A family recipe from Omni La Costa Resort & Spa chef Adam Solowitz, this shareable snack was introduced to the Spa Café menu in 2017—in part, as a way to utilize the pink peppercorns and honey produced on the Carlsbad, California, property. The mouthwatering Mediterranean dish was immediately a huge hit with guests and staff alike. "Associates around the resort and spa love this recipe because it's both delicious and light," notes Solowitz. That said, it's not light on nutrients. "Hummus is a great source of plant-based protein, making it an excellent option for a variety of eaters, including vegans and vegetarians," Solowitz points out. "It contains iron, folate and B vitamins, and the high fiber content helps with satiety and improving digestive health." It's also easy to grab when you need a quick boost between clients—and if you have it with plenty of raw veggies, you'll ramp up the nutrition even more.
RELATED: Pink Moon Milk Tonic Recipe
Meyer Lemon and Pink Peppercorn Hummus Recipe
Yields 2 servings
16 oz. garbanzo beans
1⁄4 cup tahini
1⁄2 cup olive oil
1⁄4 cup Meyer lemon juice
4 oz. honey
1 tsp. garlic cloves
1 tsp. cayenne 1 tsp. cumin
1 tsp. white pepper
2 pinches salt
RELATED: Gingerbread Latte Recipe
Blend all ingredients together until smooth. Top with pink peppercorns and serve with crudités and/or warm pita bread.
–by Alexa Joy Sherman
[Image: Courtesy of Lisette Jimenez]
This story first appeared in the January issue of Dayspa magazine. To receive the magazine, click here to subscribe.