The Vegan 8
: 100 Simple, Delicious Recipes Made With 8 Ingredients or Less (Oxmoor House, 2018). Mixed with healing ginger, cinnamon, nutmeg, cloves and vanilla, this smooth brew relies on creamy plant-based milk for its base. But Doming advises against almond or other "lite" milks, and instead recommends canned coconut milk or rich, non-dairy oat milk for texture and flavor. To suit all preferences, spa owners may want to create a large batch with less syrup and heat individual portions upon serving, allowing clients to tweak as needed. "The strength of the coffee will affect the sweetness level," notes Doming, who opts to add unrefined sweeteners such as maple syrup and coconut sugar. Top with dairy-free whipped cream, a sprinkle of freshly ground cinnamon, and some candied ginger for a festive touch.
RELATED: Taste – Cinnamon Pear Chips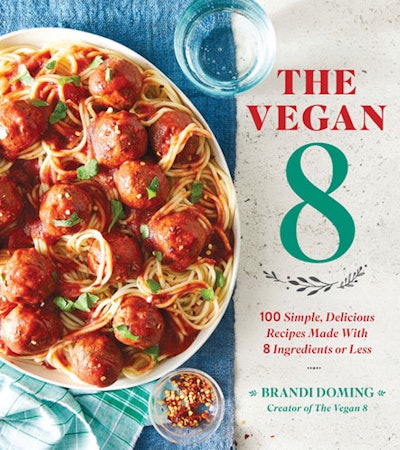 Gingerbread Latte Recipe
Yields 2 servings
3/4 cup strong-brewed hot coffee
3 Tbsp. pure maple syrup
1 1/2 – 2 tsp. ground ginger
1 tsp. ground cinnamon
1/4 tsp. ground nutmeg
1/2 tsp. ground cloves
1/4 tsp. vanilla extract
Pinch black pepper
Pinch fine salt
2 cups plant-based milk
RELATED: Taste – Green Immuni-Tea
Traditional: Add coffee, syrup, ginger, cinnamon, nutmeg, cloves, vanilla, pepper and salt to a bowl and whisk well until smooth. Pour evenly into 2 mugs. Warm milk in a small pot over low heat until steamed but not boiling. Use a frother to create foam, if desired. Pour milk evenly (1 cup per mug) over the coffee mixture, and stir well to combine. Alternative: Blend all ingredients in a blender until frothy, and heat over the stove on low for a few minutes until steaming. Add desired toppings and serve immediately.
For your chance to win a copy of The Vegan 8, find @dayspamagazine on Instagram.
– by Marina Kay
In cooler weather, it's comforting to sip warm coffee that tastes like dessert—and fewer calories are an added bonus. "If you love spicy gingerbread cake, then you'll love this latte," writes author Brandi Doming in her debut book,