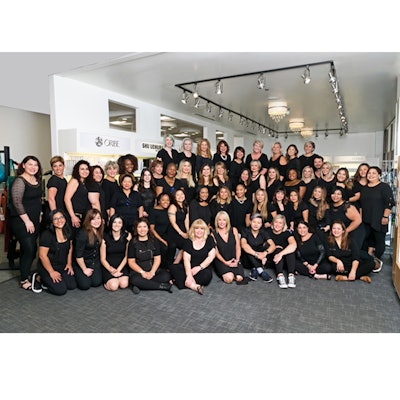 Progressions Salon Spa Store is hosting a September fundraiser to benefit umttr (You Matter) as the salon celebrates 33 years of business at their Nebel Street location in Rockville, Maryland. Founded in 1984 by successful businesswoman and entrepreneur Cindy Feldman, Progressions is a prestigious full-service salon, spa and retail store servicing the Washington, D.C. area with the highest commitment to excellence and guest satisfaction.
During September's National Suicide Prevention Month, Progressions will be hosting a special raffle during the month to raise awareness of suicide and its prevention. Funds raised from the raffle will be donated to umttr in memory of Progressions team member Maguilia Yi's 30-year old grandson who passed away in April.
RELATED: Michigan Yoga Studio Offers Full Scholarship for Aspiring Yoga Practitioners
"Teen suicide is a growing concern, and mental illness is one of the most frequent causes," notes Cindy Feldman. "To bring about change, strong advocacy is needed to heighten suicide awareness — from the warning signs to prevention."
The organization was founded in 2013 by students and families from Winston Churchill High School in Montgomery County in response to the tragic suicide of fellow student and athlete Evan Rosenstock. Their mission is to foster a community of students who know that they matter, and to place mental well-being and caring support at the forefront of teens' daily interactions.
RELATED: Month-Long Fitness Challenge, Workout to Conquer Cancer Starts
Educating the community on mental illness, suicide prevention, and "The 5 Signs" is a major goal of umttr . The five signs of suffering are withdrawal, agitation, hopelessness, poor self care, and personality change. The organization promotes reaching out, inspiring hope, and offering help to anyone exhibiting these signs. Showing compassion and a willingness to find a solution along with reaching out to resources in the community can help save a life.
By educating schools and youth athletic organizations with information, tools and funds, umttr empowers young adults to change the culture of mental health. "We are thrilled that Progressions salon has made supporting mental health awareness a priority in our community," says Sue Rosenstock, Team-of-Champions Leader at umttr.