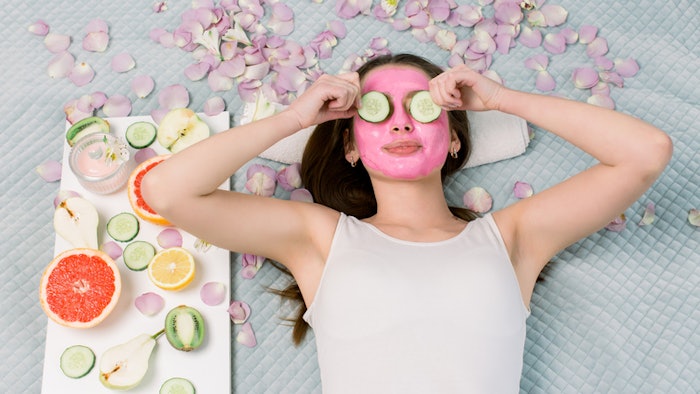 It's well known that acne can negatively impact self-esteem and mental health. Since June is Acne Awareness Month, we asked Natalia Sadowski, skin care expert and director of aesthetics and education for NB Naturals, which natural ingredients she prefers for not only addressing acne but supporting a healthy barrier. "Cucumber, jojoba seed and sea kelp extracts all have anti-inflammatory properties that help improve irritation and redness caused by past breakouts," says Sadowski. "In addition to this, though, each ingredient boasts its own benefits to make them the perfect trio for treating acne."
1. Cucumber Extract
A natural astringent, cucumber fights acne-causing bacteria while reducing redness and lightening the appearance of scars. "Cucumber extract can help lighten any hyperpigmentation after a breakout, which can significantly improve the appearance of uneven skin tone," explains Sadowski.
Related: What Clean Skin Care Can Do for Your Spa
She adds that the ingredient can also provide extra hydration, which is key to a cleat complexion. "Many times, acne breakouts occur from a lack of hydration and moisture in the skin. When the skin isn't sufficiently hydrated, oil glands will overproduce, leading to an increase in breakouts," says Sadowski. "Cucumber extract improves skin's hydration and therefore prevents acne in the long run! It's a versatile ingredient and can be found in cleansers, toners and moisturizers to provide the ultimate soothing and clearing benefits."
2. Jojoba Seed Oil
Rich in vitamin E, jojoba oil also helps reduce the look of acne scarring and boosts damaged skin renewal, resulting in a heathier barrier overall. "Jojoba seed extract has antibacterial properties that can prevent infections to minimize the amount and frequency of acne breakouts," says Sadowski. "Known to remedy wounds, jojoba can promote the healing of hyperpigmentation and scarring caused by mild acne as well."
Related: The Amazing Beauty Benefits of Jojoba
Sadowski notes that, in addition to being antibacterial, jojoba seed can also help control sebum production. "This can prevent the skin from overproducing oil and, in turn, stops new breakouts," she explains. "Jojoba seed extract can be used in a number of skin care products, but a jojoba-infused moisturizer may provide the best results."
3. Sea Kelp
Sea kelp delivers bountiful antioxidant and anti-inflammatory benefits, meaning it's perfect for addressing a myriad of skin issues. "Sea kelp extract's anti-inflammatory ingredients, in addition to soothing irritation, also help reduce the swelling of acne underneath the skin. This results in an overall improvement of the breakout itself, as well as the appearance of the pimple," says Sadowski. "Sea kelp is also a natural exfoliant that can clear away dead skin cells from the skin's surface. Gentle exfoliation can control breakouts by keeping the pores clear of dead skin and sebum. For best results, look for sea kelp in serums and moisturizers."
Related: 4 Popular Plant-Based Ingredients