It's no secret that massage can do a body good, and as the list of benefits continues to be documented— and to extend well beyond the physical—so does the therapy's popularity with all sorts of people.
Thus, it's no surprise that spas are crafting customized offerings accordingly. "Massage therapy has evolved to incorporate the individual needs of spa guests," says Lynne McNees, president of the International SPA Association (ISPA) in Lexington, Kentucky. "The more personalized the treatment, the more likely the client will be satisfied with their experience and become a repeat customer."
In fact, McNees says that thousands of massage types and techniques have been introduced over the years—and the most recent U.S. Spa Industry Study from ISPA reported notable rises in the popularity of offerings including pregnancy and sports massage, among others. Here, we take a closer look at five unique modalities, and the markets to whom they appeal most.
Prenatal Massage – Melt Massage & Bodywork, Brooklyn, New York
This service for expectant mothers is intended to be a complementary form of prenatal health care. Therapists spend time before every session learning as much as possible about each client's situation, and as the pregnancy progresses, they shape the massage according to whatever specific issues are occurring at that time. A variety of techniques may be used, but typically stretching, traction, myofascial, Swedish/deep tissue, shiatsu or Thai massage are incorporated. Areas of focus tend to include the back, neck, shoulders, hips, legs and feet, since those are the spots where pregnant women most frequently experience pain and discomfort. "We also address swelling in the arms and legs, sciatica, heartburn, ligament pain and trouble sleeping," adds Melt co-owner Becky Raik, LMT.
RELATED: How Spas Are Going Beyond Basic Body Exfoliating Treatments
Proper positioning of the pregnant client is crucial. "The optimal position for prenatal massage is side-lying, as even specialty tables with cutouts for the belly strain the uterine ligaments and increase intrauterine pressure," notes Raik. "Pillows are used to place the client in a way that doesn't create any additional strain." Some therapists prefer not to work on women during their first trimester, but Raik says that prenatal massage can be practiced safely throughout the entire pregnancy—and even past the due date. "It's common for women to book sessions close to or after their due dates, as working specific acupressure points and promoting relaxation can be an effective and healthy means of stimulating labor," she explains.
It's always recommended that expectant mothers get any adjunct therapy cleared with their doctor or midwife, especially if there are pregnancy complications. "At most, the presence of some conditions would change or limit the type of massage offered—for example, if a client had pre-eclampsia (dangerously high blood pressure), we would never do vigorous work and would focus instead on relaxation techniques," says Raik.
In addition to relieving the many physical symptoms of pregnancy, prenatal massage can address the emotional changes a woman experiences during this time, says Raik: "The circulatory benefits can increase blood flow, flush out toxins, and decrease swelling and edema in the arms and legs—and, like any massage, it's an effective stress reducer."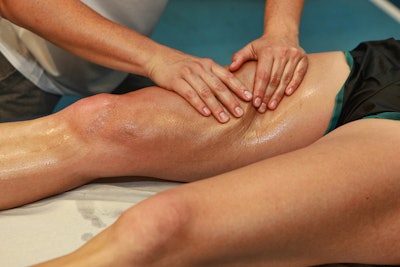 Runner's Massage – Spa Space, Chicago
This offering is particularly popular right before and after the Chicago Marathon in October, but general manager Jean Brooks reports that the demand for sports treatments is quite high throughout the year. "The therapists utilize a wide variety of techniques and focus primarily on the lower body—back, glutes, legs and feet," Brooks says of the Runner's Massage. "Modalities include but are not limited to deep tissue, trigger point, assisted stretching and myofascial." In addition to massage cream, the treatment incorporates muscle therapy lotion with cooling properties to help ease inflammation. After-care, such as stretching and Epsom salt baths to alleviate soreness, is also recommended.
RELATED: Spa Pros on the Benefits of Offering Body Wrap Treatments
Clients' expectations also factor into this service. "We train therapists to come up with the best possible solution for each scenario they may encounter," says Brooks. "For instance, if it's prior to a long run, we don't perform very deep work as it can cause slight inflammation and possibly affect their gait or stance."
Guests shouldn't receive the Runner's Massage if they're experiencing dehydration, hypothermia, lacerations and/or muscle tears. "Of course, any bone fractures and severe blisters must also be avoided," adds Brooks.
This treatment can help minimize risks of injuries, such as runner's knee, iliotibial band syndrome, shin splints, plantar fasciitis and tendinitis, and can also enhance athletic performance. "Runners discover that receiving regular massages and optimal stretching can improve run time, reduce overall soreness and fatigue, and speed recovery time," reports Brooks.
Ocean Wave Teen Massage – Spa Montage, Laguna Beach, California
While this service is predominantly Swedish in technique, it's customized according to clients' needs. "Whether they're experiencing growing pains, tension from repetitive sports movements, the mental weight of studies and testing, or the pressure of choosing careers and schools, the massage will be tailored for their ultimate well-being," says spa director Laura Tuerck. "Tension tends to be found in the back, neck and shoulders (perhaps due to typing, sitting at a desk or carrying a heavy backpack), so those are often the areas of focus our teenage guests request." To help balance the muscles and joints while supporting the brain and nervous system, therapists use massage oil rich in magnesium. "A gentle blend of lemon and thyme also boosts immunity, while marine algae replenishes vital minerals," notes Tuerck.
Because younger clients may be new to massage, therapists ask more questions prior to and during the treatment. "We check in with them often regarding comfort, and guide them through the service much more than a guest who is experienced at receiving massage," explains Tuerck.
RELATED: Crystal Therapies Are Paving a New Path to Tranquility
Just as with clients of any age, there are a variety of reasons a massage might not be advisable for teens, including severe illness, acute injuries, high blood pressure, compromised immunity, or unexplained swelling or skin conditions. "We wouldn't recommend this treatment after any recent injuries or surgeries," adds Tuerck. "However, once those areas have healed, this massage can aid recovery as it increases circulation and de- stresses the muscles."
Learning the advantages of massage at a younger age helps set teens up for healthy lifestyle choices that they can carry into their adult years, says Tuerck. "It's wonderful that we're seeing an increase in teens wanting massages for health and wellness purposes," she notes. "They're becoming more aware of a well- rounded health program that includes not only exercise and proper nutrition, but activities like massage that focus on the mind, body and spirit."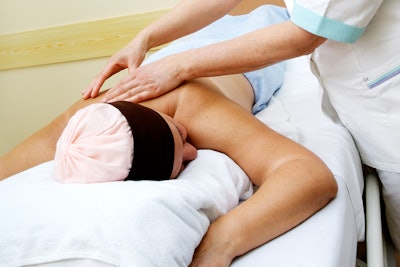 Oncology Massage – Thérapie, Las Vegas
This treatment was introduced at Thérapie in 2015 after several of its therapists took an oncology massage continuing education class, says spa owner Sally Spurgeon, LMT, MMP, a certified lymphedema therapist who was diagnosed with breast cancer in 2008. "After my surgery, I developed a technique to help other women overcome the resulting pain and limited range of motion," Spurgeon notes. That, combined with volunteer work in the cancer community, led Spurgeon to the specialized technique offered at her spa today. Gentle, gliding strokes are used to induce relaxation and a sense of well-being, and pressure is adjusted according to the Walton Scale, developed by Massachusetts-based oncology massage therapist and educator Tracy Walton. "Clients may disrobe or remain comfortably clothed, depending on their mobility level," notes Spurgeon.
"We use Epicuren Discovery unscented lotion in our treatments, unless the guest has an allergy to macadamia nuts, in which case we use Pure Pro lotion or none at all." The massage's main goals are to relax the client; relieve pain, anxiety, nausea and depression; and encourage more restful sleep.
The service is performed by therapists who have advanced training specific to cancer, cancer treatments and the side effects of both. "Each client must give us a health history and information on their current medical care, as well as permission to talk to their doctor so we'll be aware of any contraindications," explains Spurgeon. "Therapists must steer clear of areas where there is bone cancer involvement, tumor sites, radiation sites, limbs at risk of deep vein thrombosis, areas of swelling or redness, and open lesions. Techniques to avoid include deep pressure and joint movement on limbs or quadrants at risk for lymphedema."
The type and stage of the cancer, as well as treatment plans and side effects, will dictate when a massage should be modified or avoided altogether. Scenarios that may contraindicate this service include thrombosis (the formation of a clot within a blood vessel); infection; recent surgery; and lymphedema, which is typically a concern following surgery in which lymph nodes have been removed.
Spurgeon says that clients who regularly get massages while undergoing cancer treatment are far less anxious about the outcome of their disease and care than those who don't. "This increased relaxation helps guide their body to a state of homeostasis so it's better able to heal itself," she notes.
Geriatric Massage – Day-Break Geriatric Massage Institute, Indianapolis
Sharon Puszko, Phd, LMT, offers this service to clients 65 years and older in retirement communities, as well as in their private homes. "Aging is a process, not an illness, and seniors can be extremely robust—but thousands of people a day are turning 65," she points out. "That's a lot of individuals who need massage."
The average geriatric patient typically gets a 30-minute massage, and it's usually performed with clients lying on their backs. "Turning over can be painful and stressful, particularly if they have arthritis or have had hip or joint replacement surgery," says Puszko. "The supine pose also makes it easier for them to get on and off the table." While clients are in that position, Puszko massages the legs, arms, neck, face and head, and then has them either turn onto their side or sit up so she can massage the back, consistently using a stroke called "fluffing," created by the late Day-Break founder Dietrich W. Miesler. "It's like a kneading compression stroke you do with your forefingers," explains Puszko. "We don't do any long, stripping strokes because the skin could tear or bruise." There's also no stretching or pulling of the joints; instead they are gently rotated.
For this treatment, Puszko uses Bon Vital' Complete Massage Crème, as well as the brand's lotion. "We prefer the unscented original product because it absorbs really well, plus a lot of seniors have respiratory problems," she notes. Biofreeze is applied at the very end for sore muscles and arthritis.
Therapists wanting to offer geriatric massage should take a continuing education class. "You have to be aware that no matter how robust the client may be, as people age their skin and bones get thinner, and many of them are on blood-thinning medications," stresses Puszko. "They may also have had joint, knee or hip replacements—all of which must be massaged in a specific way so as not to bruise the client, injure them or tear their skin." Ultimately, she says, it's crucial that therapists use common sense and receive the proper training.
Most aging clients will likely get a doctor's approval before even booking a massage, since the list of contraindications includes recent surgeries and certain medications, notes Puszko. "It's not necessary to consult with a doctor for every guest over 65—just those who are health-challenged or have specific conditions that therapists should be aware of," she adds.
In addition to relieving aches and pains, this offering allows seniors to experience human contact and touch—something they may not regularly receive as they get older. "Many clients are widows or widowers, or others may be afraid to touch them for fear of hurting them," explains Puszko. "So, having contact with another person who is listening, both with their ears and with their hands, can be tremendously beneficial."
–by Alexa Joy Sherman
---
As the popularity of massage continues to soar, so does the number of treatments being customized for all sorts of clients.