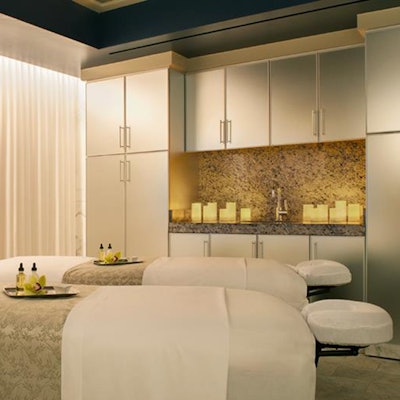 Take a look at some of the romantic spa treatments being offered by properties around the country this Valentine's Day!
The Peninsula Spa, Beverly Hills, California
Duet Harmony Massage – Clients can journey through blissful "we-time" with a signature massage utilizing aroma infused oils, side-by-side in the luxurious Harmony Suite. They can further customize their relaxed escape by requesting additional treatments that can also be performed in tandem.
60 minutes, 90 minutes 
Classic Manicure & Pedicure – For this luxurious mani-pedi, nails are cleansed and nourished using a refreshing blend of plant extracts and pure essential oils. Afterwards, a deeply relaxing hand and foot massage moisturizes and softens the skin.
90 minutes 
PHOTOS: The Spa at Four Seasons Resort The Biltmore
The Meritage Resort and Spa, Napa, California
Chocolate & Rosehip Facial – Nourish the skin with a luxurious treatment this Valentine's Day. True Bulgarian rose and a chocolate mousse masque give a healthy dose of hydration and antioxidants to leave skin smooth and refreshed. A lip treatment and age corrective enhancements bring luscious lips, and treat fine lines in the eye and neck areas. A chocolate tasting and glass of bubbly are also served.
50 minutes
Spa by Alessandra, Houston, Texas
Massages for Two – Two 60 minute All-Inclusive Massages for duos. Therapists can help clients choose the perfect aromatherapy blend for their custom massage.
1 hour
For Us – Two 90 minute massages, two 45 minute HydraFacials and two 45 minute pedicures.
3 hours
Valentine's Day Gift Guide
Scottsdale Spa Resort & Day Spa
, Scottsdale, Arizona
Love for Two: Couples Massage – Relief Massage is a full body therapeutic massage that involves the manipulation of the soft tissue structures to prevent and alleviate pain, discomfort, muscle spasms and stress; it also helps promote health and wellness.
50 minutes
Love Birds Getaway: Couples Massage – A romantic encounter designed for the couple who needs to spend more time together. Duos can enjoy two 80-minute massages of their choice (Relaxing, Relief or Extreme).
PHOTOS: Four Seasons Resort Costa Rica
Spa by JW Marriott, Austin, Texas
Bed of Roses – Clients can begin this tip-to-toe indulgence with an invigorating back exfoliation using a coffee caramel scrub followed by a chocolate soothing back mask, which also includes a 50-minute classic full-body aromatherapy massage.
Roses and & Chocolate Facial – Stimulates cell renewal, deep hydration and softening for all skin types with aromatherapy ingredients that are expertly massaged into the skin, followed by a chocolate face mask.
Miraval Life in Balance Spa, Dana Point, California
Partner Yoga – The class brings relationships to a whole new level of trust, intimacy and awareness. Professional yoga instructors will work with the specific needs of each couple to find the appropriate partner poses to begin a united effort of stretching, breathing and balancing techniques to help them experience a true yoga connection.
Valentine Rendezvous – In this immersive experience, clients will learn how to confidently nourish their bodies and minds to continuously attract and keep things steamy! The class also includes a discussion on lifestyle habits to optimize our sexual health and hormones as well as  foods aimed at keeping the romance going beyond Valentine's Day.