The luxury resort launches a new wellness program.
The Distinction: The Four Seasons Costa Rica at Peninsula Papagayo boasts a prime coastal location on a lush promontory in the country's Pacific northwest. As befits the upscale hotel chain, the property offers superb sporting facilities and top-notch restaurants—as well as a world-class spa. Designed to pamper stressed-out jetsetters, the facility's treatment menu is impressive in itself, but its biggest draw is perhaps its side-by-side hot and cold plunge pools overlooking Playa Virador, which invite serene contemplation. Indeed, wellness comes high on the resort's agenda: It recently unveiled the first phase of its Pura Vida For All program, named for the country's unofficial tagline, Pura Vida, which literally translates to "Pure Life" but effectively means "no worries." The agenda is aimed at kickstarting healthy lifestyles by way of selected activities, guided meditation, nutrition advice, voluntourism and other components.
RELATED: Tierra Santa Healing House at Faena Hotel Miami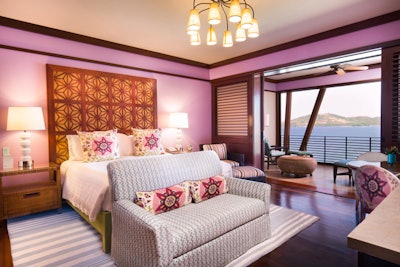 Capturing Clientele: Four Seasons overnighters make up about 98 percent of the spa's guests, the remainder coming from other resorts in the region. "Our marketing strategy is focused on driving awareness to people while they're at the resort," explains spa director Shane Kelly. The team's primary method of building recognition is social media, which it boosts with local newspaper promotions. Facebook plays heavily into the marketing efforts of Pura Vida For All, whose target clientele is "everyone: individuals, couples and entire families," according to the resort's wellness and fitness coordinator and program founder Kelli Ricco. "Guests—a mix of both sexes typically in the 30- to 60-year-old age range—have been signing up even before they arrive," she enthuses.
Management M.O.: When asked what makes the spa's staff unique, Kelly responds, "I feel that we have the most genuine and sincere locals who truly live—and want our guests to experience—their Pura Vida lifestyles." As for training, "We're fortunate that most of our staff come from physical therapy degree programs at the local universities," he says. "They have extensive knowledge of anatomical kinesiology, so all we need to do is teach them how to apply that knowledge to our treatments, plus soft skills."
RELATED: Sierra Refuge at the Stillwater Spa in Lake Tahoe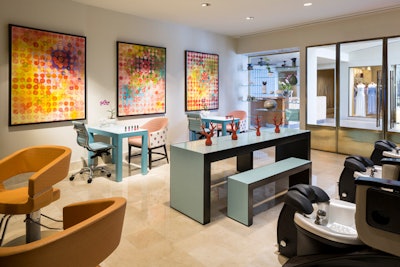 In-Demand Service: The spa menu is divided into sections based on the client's desired outcome (relax, detoxify, indulge and so on), and also encompasses men's services and couples' treatments. The latter are hugely popular and include offerings such as a Pacifico Couple's Suite Experience (120 min./$660), which incorporates a 90-minute massage, a candlelit soak in a Jacuzzi strewn with rose petals, and use of the dry sauna.
The Goods: HydroPeptide is the primary skin- and bodycare line used in backbar and retailed in the spa boutique, which also sells a curated selection of jewelry by Passion for Vintage, Stephanie Johnson cosmetics bags, and Letarte and Calypso St. Barth resort wear. In addition, the staff employs Costa Rican branded Yupi products in services, as well as locally sourced, natural ingredients such as coffee, clay and volcanic sand.
–by Lesley McCave