But as a skincare pro, how do you help your clients choose from the hundreds of SPF products on the market? "The ideal sunscreen should offer ample coverage for all types of UV radiation and be formulated in a way that ensures broad spectrum, long-lasting protection (which takes into account length of sun exposure, and activities such as sweating and swimming)," says Christian Jurist, MD, dermatologist and medical director of global education for Pevonia.
"The best sunscreen is the one a client willingly uses every day," counsels Sandra Adams, global clinical educator for Innovative Skincare. "Active ingredients are important, but the feel of the formula is a key point for many people."
Given the array of elegant sunscreen formulations now available, there's no excuse for avoiding sun protection. "There are sheer lotions that dry down to a matte finish, and aerosols and powders that can be continuously reapplied even over makeup and wet skin," points out Jessie Cheung, MD, a dermatologist with Dermatology & Laser Center in Willowbrook, Illinois.
Still, not all products are created equal, and it's your job to help clients pick the right one. So, advise them to get answers to the following three basic but important questions.
1) What are the sunscreen's active ingredients? 
The actives used in sun protection products are regulated by the U.S. Food and Drug Administration (FDA). There are two types of chemicals: those that absorb UV radiation, often seeming to disappear entirely; and those that physically block sunlight by remaining on the skin's surface and reflecting away the sun's rays.
The 16 FDA-approved sunscreen actives are: avobenzone, cinoxate, dioxybenzone, homosalate, menthyl anthranilate (meradimate), octocrylene, octyl methoxycinnamate (octinoxate), octyl salicylate (octisalate), oxybenzone, padimate O, para-aminobenzoic acid (PABA), phenylbenzimidazole sulfonic acid (ensulizole), sulisobenzone, titanium dioxide, trolamine salicylate and zinc oxide. Ecamsule (Mexoryl SX) has FDA approval only as used in L'Oréal Anthelios SX products (under the La Roche-Posay brand).
Other sunscreen ingredients, such as antioxidants and enzymes, may enhance performance, but the FDA does not consider them active ingredients.
2) Does the sunscreen provide full-spectrum UV protection?
SPF measures only how well a sunscreen prevents sunburn. "The fairer the skin type, the higher the SPF needed," says Laura Ferris, MD, PhD, associate professor of dermatology at the University of Pittsburgh. "For individuals who are prone to burning (they typically freckle easily and have red or blonde hair and blue eyes), I recommend daily use of an SPF 30 or higher, and an SPF 50 or higher when outdoors for a longer period of time."
To determine if a sunscreen protects against UVA radiation, check the label, which should note full- or broad-spectrum UV protection. Broad-spectrum means protection from UVB radiation—which causes sunburns, pigment changes and skin cancer—and from UVA rays, which reach deep into the dermis and trigger signs of aging and changes that can lead to deadly skin cancer. UVA rays are even more insidious than UVB rays because the damage they cause persists all year long, in winter as well as summer, and they can even penetrate windshields and windows.
RELATED: Treating and Understanding Cellulite
Better still, check the label for some combination of these FDA-approved actives, which have been shown to protect against at least part of the UVA spectrum: avobenzone, ecamsule, oxybenzone, titanium dioxide, sulisobenzone and zinc oxide. The only two ingredients that can by themselves protect against the full UV spectrum are stabilized avobenzone and zinc oxide.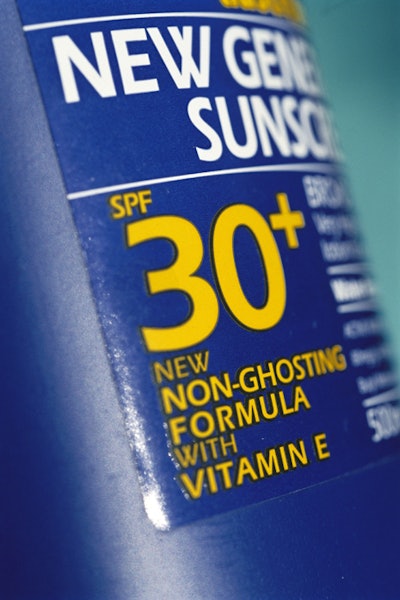 3) What's the client's skin type?
As with any skincare product, it's vital to take into account an individual's skin type before steering them toward the right SPF. Choosing the wrong formula may result in breakouts or worse, and deter them from using any sun protection, with potentially dangerous results.
Normal Skin
"Helping clients establish proper skincare habits during their 20s sets them up for a lifetime of healthy, youthful skin," says Dr. Imahiyerobo-Ip. "If they live in a sunny climate, they should use SPF 50 when outdoors to prevent the appearance of hyperpigmentation. Although there are a few sunscreens that include excellent antioxidants and moisturizers, many do not go above SPF 30. The easy fix is to apply pigment-fighting agents such as vitamin C, kojic acid, green tea and niacinamide under an SPF 50."
Adams agrees. "It's like having an extra safety net underneath the sunscreen to neutralize more free radicals," she says. "Look for potent vitamin A, C and E stabilized together in a lightweight serum." Dr. Jurist adds, "Sunscreens may be tinted (with iron oxide pigments) for concealing effects and additional protection."
RELATED: Build Winning Relationships with Your Skincare Vendors
Dry Skin
"Creamier, more emollient formulations are the best choice for clients with dry skin," says Dr. Jurist.
"Sun protection cannot come at the expense of the skin's barrier function," adds Dr. Imahiyerobo-Ip. "That's why I like moisturizers that contain sunscreen—they provide the skin with soothing emollients as well as sun protection." Adams suggests, "Look for the new 3-in-1 category of sunscreens that treat, hydrate and protect."
Oily/Acneic Skin
"Clients with acne fear that moisturizers and sunscreens will make them break out," notes Dr. Imahiyerobo-Ip. "On the contrary, the resulting dryness can actually cause acne-prone skin to secrete more sebum and break out more. For those clients, I recommend a light, noncomedogenic moisturizer with sunscreen."
Dr. Ferris suggests using only sun protection made especially for the face, pointing out that these tend to be lighter and less occlusive than those formulated for use on other parts of the body. "Mineral-based, powdered sunscreens are good options for clients with acne-prone skin," she adds.
RELATED: Use Caution When Adding Dietary Supplements to Your Retail Offerings
"Avoid chemical sunscreen ingredients and go for the new micronized zinc oxide and/ or transparent titanium dioxide," advises Adams. Dr. Jurist recommends seeking out formulas that contain citrus extracts (such as grapefruit), tea tree oil or other antiseptic ingredients. "These help control bacteria and prevent breakouts," he says.
Sensitive Skin
Sunscreen actives most commonly associated with skin reactions are PABA, avobenzone, oxybenzone and octocrylene. Be aware, though, that other components of a formulation, such as fragrances, dyes and preservatives, can also trigger reactions. "For clients with sensitive skin, zinc oxide and titanium dioxide are the least allergenic actives," says Dr. Ferris.
"In addition to hyaluronic acid and ceramides, look for plant and fruit oil extracts that aren't overly stimulating," says Dr. Jurist, who favors ingredients like licorice extract, green tea, chamomile, allantoin and sea whip. Clients with sensitive skin can also look for sunscreens formulated for babies or products awarded the National Eczema Association Seal of Acceptance.
Favorite Formulations
For normal skin, any sunscreen with safe, effective ingredients and a pleasing formula will do the trick, but our panelists do have their preferences.
"I recommend a product with broad-spectrum sunscreen actives such as homosalate, octinoxate, oxybenzone and octocrylene," says Joyce Imahiyerobo-Ip, MD, guiding dermatologist for HydroPeptide. "It's important that a sunscreen contains good moisturizers such as ceramides to help maintain a healthy skin barrier."
Christian Jurist, MD, dermatologist and medical director of global education for Pevonia, suggests looking for formulas with safe sunscreen actives. "They should contain proven ingredients like hyaluronic acid and antioxidants in a lightweight, hydrating, water-resistant formula for everyday use," he says. "Avoid controversial ingredients like PABA and synthetic colors and fragrances." Sandra Adams, global clinical educator for Innovative Skincare, recommends looking for micronized, broad-spectrum protectors like zinc oxide, and avoiding actives that aren't micro-encapsulated. "Micro-encapsulation prevents the chemical from absorbing into the skin. Keeping it on the surface with the encapsulation technology lets the chemical do its job without the common side effects seen with some sunscreens," she says. She also recommends looking for skin-defending ingredients like extremozymes, plant enzymes that act to protect skin DNA from damage.
"My sunscreen recommendation for all skin types is zinc oxide with niacinamide," says Jessie Cheung, MD, a dermatologist with Dermatology & Laser Center in Willowbrook, Illinois. "Zinc doesn't irritate or cause allergies, and the newer micronized formulations are sheer and not chalky. Niacinamide is a B vitamin that works wonders for the skin. It has antioxidant properties to further protect from the sun and free radicals, anti-inflammatory properties to soothe acne and rosacea, and it benefits mature skin by stimulating collagen production. It also helps the skin bind moisture and even out skin discoloration."
The Futures So Bright
Although scientists work on cutting edge issues—inventions such as sunscreens that allow for vitamin D production, marine ingredients with UV-ray-dissipating properties, and innovative UVA inhibitors that decrease wrinkle formation— formulators anxiously await a more immediate change: FDA approval of some new sunscreen actives.
Europe has 28 approved active ingredients and Japan has 42, compared to 16 in the U.S. Two ingredients currently awaiting FDA approval—Mexoryl (ecamsule) and Tinosorb M (bisoctrizole)— have been in use in products in Europe for more than a decade with excellent safety records.
In 2006, L'Oréal gained FDA approval of its Anthelios products, which contain Mexoryl—a potent short-wavelength UVA absorber and popular photostabilizing ingredient—but the FDA has yet to approve the ingredient for use in other products. Extensively employed in Europe and Canada, Tinosorb M absorbs both UVA and UVB rays, and degrades very little in sunlight.
Stay tuned: Changes at the FDA may mean we'll see more approvals soon.
–by Linda W. Lewis
There's no doubt about it: Sunscreen is crucial for optimal skin health. And the experts agree. "Sunscreen is our most powerful facial antiaging tool!" says dermatologist Joyce Imahiyerobo-Ip, MD, director of cosmetic dermatology at the South Shore Medical Center in Weymouth, Massachusetts, and guiding dermatologist for HydroPeptide.