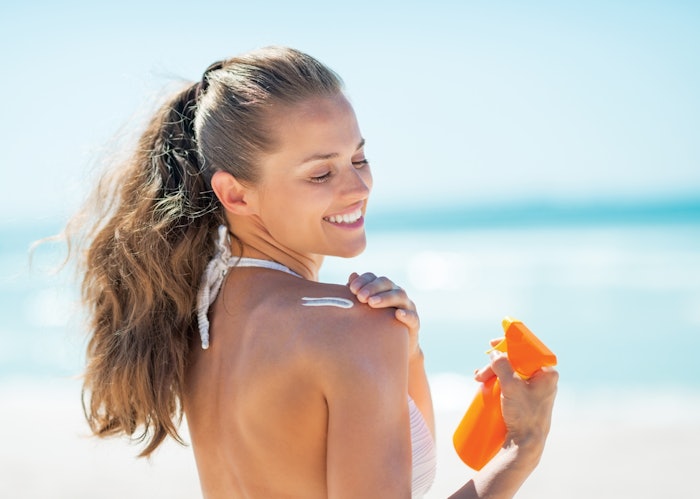 Summer is officially here­—and that typically involves lying by the pool with an ice-cold drink in hand. But for spa owners it means being hypervigilant about protecting clients' skin from the sun. Although it's essential for everyone to slather on sunscreen during this season, we should all be doing so year-round.
The majority of today's consumers acknowledge that sunscreens—many of which are packed with ingredients to protect, hydrate, and even help reduce signs of aging and damage—should be worn daily to reap these benefits, but others are yet to get the memo. For those stubborn clients, recent research may help change their minds.
RELATED: Choosing the Right Sun Care Products for Your Clients
Case in point: a 2016 study, "Daily Use of a Facial Broad Spectrum Sunscreen Over One-Year Significantly Improves Clinical Evaluation of Photoaging," which examined the effects of daily sunscreen on 32 women from the ages of 40-55 living in the northeast U.S. Subjects used a moisturizer with SPF 30—avobenzone, homosalate, octisalate, octocrylene and oxybenzone—every day for one year. Every three months, the subjects had formal and self-assessments that included clinical photography to determine changes in their skin.
As executive editor Inga Hansen reported in our sister publication MedEsthetics, "Blinded assessments performed by dermatologists [in the study] showed significant improvement in all photodamage parameters beginning at week 12 and continuing until the end of the study. The most significant improvement was in skin texture and pigmentation with a 40 to 52 percent improvement over one year. There was also an 18 to 34 percent reduction in fine lines."
RELATED: Treating and Understanding Cellulite
This study builds on what others began to notice in the 1980s: that sun protection allows the skin to repair itself and perhaps even improve itself in the absence of UV damage.
"I personally was very surprised by the continuous improvements we were seeing," says Michael Southall, research director and fellow of global skin biology and pharmacology at Johnson & Johnson Consumer, one of the authors of the study. "We started the study in the fall, and it ended the following fall. We worried that we may start to see a reversal in improvement following the summer months, but instead the skin kept getting better even at the end of the summer."
His hope is that with new clinical-based evidence, physicians and skincare specialists will find new ways to communicate the importance of daily sun protection with patients and clients. "For many years, that conversation has been rooted in the risk of skin cancer," says Southall. "We hope that this provides some additional opportunities to talk about sunscreen and its ability to improve the signs of aging, because this highlights the importance of using it every day—not just when you're at the beach and not just in the summer."
Click through for a range of hot SPF products that are bound to become staples in your clients' summer skincare regimens!
—Sarah Reyes