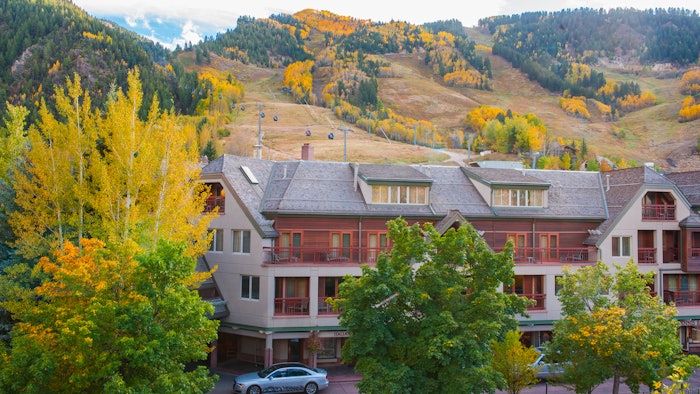 Photo Courtesy of The Little Nell
Sensei is partnering with The Little Nell in Aspen, Colorado, for a special five-night, six-day intimate group hiking retreat. The retreat, running from October 2-7, will bring Sensei's renowned evidence-led philosophy and highly trained wellness guide team to the Colorado market for the first time, expanding the health and wellbeing experiences at The Little Nell. Located at the base of Aspen Mountain, The Little Nell is a luxury Relais & Châteaux property with 92 guest rooms and suites, and it is the only Five-Star, Five-Diamond, ski-in/ski-out hotel in Aspen.
Related: NewTree Ranch's Immersive Programming Grounds Guests to Nature
The retreat begins with a welcome ceremony and group dinner, allowing guests to connect with fellow hiking enthusiasts and their wellness and hiking team leads. Each morning will start with a healthy breakfast and group movement session led by one of Sensei's exercise physiologists to warm up the body, build heat through activation movements, and prepare guests' minds and bodies for the day's adventure.
The group retreat will feature daily hikes on top trails around Aspen led by Ted Mahon, an accomplished mountaineer recognized by National Geographic with more than 20 years of climbing experience including summiting Mount Everest in the spring of 2003. He will lead the group on some of Aspen's most scenic hiking trails varying in distance and elevation – from the iconic Cathedral Lake Trail in the beautiful Maroon Bells-Snowmass Wilderness to the challenging 13-mile Lost Man Loop in the Hunter-Fryingpan Wilderness. Guests will have the opportunity to enjoy fall leaf peeping and soaking in the golden aspen trees along the trails. Groups will be arranged based on hiking ability, ensuring each individual guest's skill level is met. Each day will feature a new trail in the morning, varying in distance and elevation gain, along with a lighter recovery walk in the afternoon. On day five, there will be a peak hike as the culmination of the trip.
Following each hike, guests will be guided through optimal recovery techniques, such as foam rolling and massage techniques to keep the body agile and healthy. Evidence-based workshops will support guests' journeys throughout the week, teaching techniques on establishing healthy sleep habits and practices vital to performance levels, fueling the body with the proper nutrients and water needed for energy and recovery, and mental preparations for challenging steps ahead, on or off the mountain. Separate from the group activities, guests can opt for a one-on-one well-being session to receive personalized guidance on nutrition, mindset, or fitness. Additional elements of the program include nutritious meals provided by the top-rated culinary team at The Little Nell, daily movement and recovery practices, group wellness workshops and luxurious accommodations.
"Sensei is thrilled to bring our wellness services and expert Guide team to Aspen to expand our wellness offerings in collaboration with the award-winning Little Nell property," said Alexandra Walterspiel, Sensei's president and chief operating officer, "In proprietary research conducted for Sensei's properties, 60% of surveyed luxury travelers indicated that hiking experiences were their top choice for desired wellness programming when traveling. Additionally, Colorado is known for its wellness and hiking enthusiasts, so this market seemed like a natural fit for Sensei's first-ever collaborative program, which will combine the best of our wellbeing services with The Little Nell's renowned luxury accommodations, culinary programs, and outdoor adventure specialists."
Henning Rahm, general manager of The Little Nell, said, "When the Sensei and Little Nell teams first met, there was an instant connection and shared goal to bring our brands together to offer a best-in-class wellness retreat for our discerning guests. We're thrilled to see their vision to fruition during the magical fall season in Aspen."