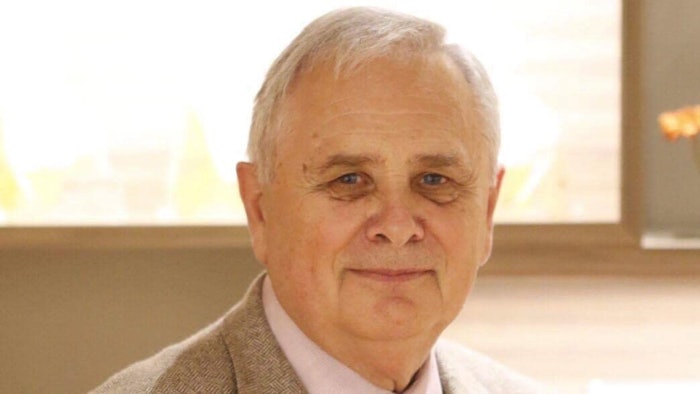 Photo courtesy of Elemis
Elemis has announced the death of its founding formulator, Jan Kuśmirek. He was 76. Alongside investor Linda Steiner, Kuśmirek is credited as the founding formulator and creative mind behind the launch of Steiner Group's Elemis brand in 1990. Elemis plans to launch The Jan Kuśmirek Elemis Cosmetic Scientist Award in his memory.
Kuśmirek continued to work alongside Elemis co-founders Sean Harrington, Noella Gabriel and Oriele Frank for more than 30 years as a new product development consultant. He also founded his own business, Fragrant Earth, working as an aromacosmetologist and writing fiction as well as books on aromatherapy. Early in his career, as marketing manager at the Soil Association, he created the Symbol Scheme for Organic Skincare.
Elemis released a statement on Kuśmirek's death and legacy, saying, "Jan was a thoughtful advisor, a brilliant, inquisitive creative thinker, a visionary, always helping to push the boundaries of his passion–plant actives, aromatics, regenerative farming and scientific cosmetology. He was actively working on some exciting 'blue sky' Elemis projects, and the company will continue to deliver these as part of his legacy."
Related: Wellness Pioneer Melvin Zuckerman of Canyon Ranch Has Passed
Sean Harrington, co-founder and CEO of Elemis, said, "Jan was with us throughout our entire journey and brought the magic and X-Factor to every one of our products through his aromatics, actives, textures and sensory feelings. He will live on through Elemis and was a big brother to all of us. We loved him dearly and shall miss him too much for words. Thank you, Jan, for being you and all you gave us."
"I met Jan 35 years ago, he introduced me to the world of nature and aromatics of which he knew so well," Noella Gabriel, co-founder and global president of Elemis said. "I've lost a colleague, beloved friend and confidant and will be forever thankful to have learned from his knowledge and wisdom."
Oriele Frank, co-founder and chief product and sustainability officer of Elemis, said: "Jan inspired me with every conversation we had. He had a multitude of varied interests that always fascinated me. More recently we were exploring local regenerative farming for the future of our sustainable natural ingredients. He was excited and inspired even in the last weeks of his life. We shared many wonderful times, visiting fields of Echium, Starflower, Organic Roses and the Peatlands of Somerset, which were his 'special place'. Thank you Jan for being with us for over 30 years, we will continue to champion your legacy."