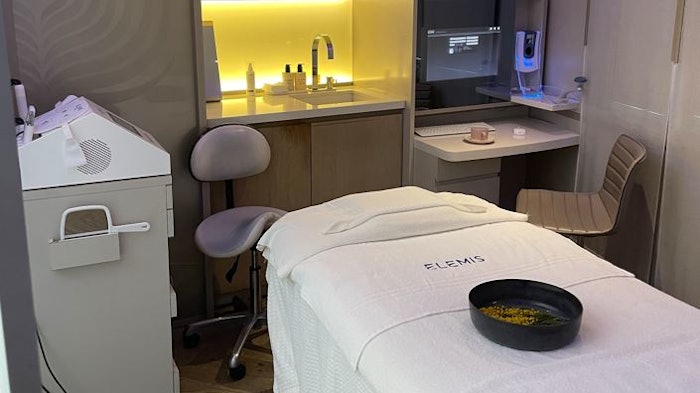 While in London for a conference, I was invited by House of Elemis to experience a Pro-Glow Renewal Facial at the brand's flagship location. I had taken an early morning train in from Paris and arrived visibly exhausted but eager to give my skin some much-needed love.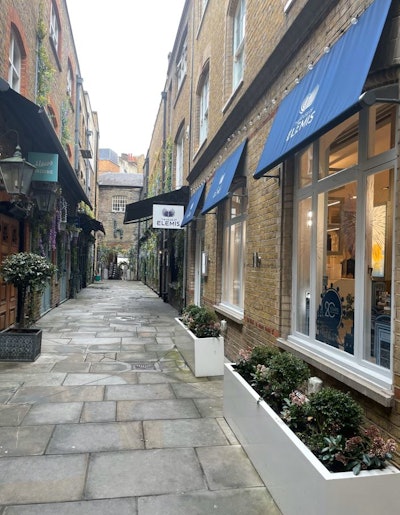 Upon my arrival, the House of Elemis team took my bags and tea order before ushering me upstairs to the Penthouse. The room was adorned with flowers and press packages, complete with the Pro-Collagen Marine Cream in signature British phone booths. 
My specialist Josirene sat me down and walked me through a skin lab and consultation. I shared that I am a 30-year-old work-from-home editor who has an irregular skin care routine. I also played college softball and didn't invest in SPF throughout my Floridian childhood. 
I then placed my chin on the Reveal Imager and my profile popped up on the screen. Josirene walked me through each photo, from sun damage to pore blockage to expression lines (and incoming wrinkles around my eyes and mouth).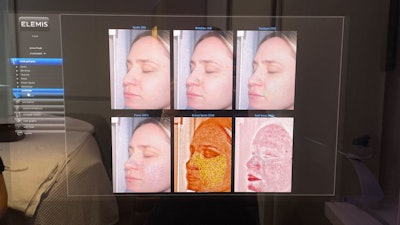 Josirene noted that I had dehydrated, combination skin that needed some unclogging. After this diagnosis, she decided that the Pro-Glow Resurface Facial+ was the perfect fit, as it would deliver hydration, pore decongestion and some anti-aging benefits. 
The Pro-Glow Resurface Facial+ is described as a "super-charged deep cleansing and powerful ultrasonic peel technology that eliminates visible pollutants, dirt and impurities for an immediately clearer, brighter complexion." The treatment is designed to gently resurface, helping to reduce visible dryness and smooth the appearance of fine lines.
The facial's key highlight is the Elemis Biotec 2.0 device boasting ultrasonic, LED light therapy and galvanic currents. The galvanic currents are composed of ultrasonic quartz and ceramic positive and negatively charged balls, vibrating 28,000x per second to encourage the skin to "turn back on" for circulation.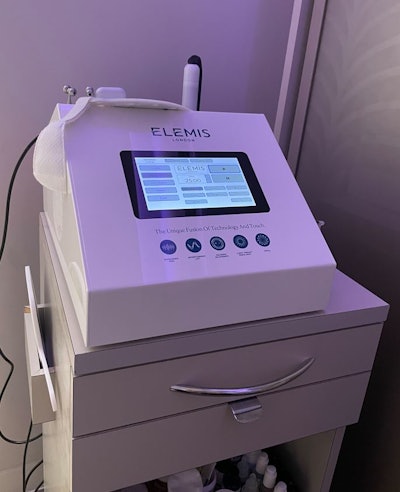 We began with the double-cleansing Dynamic Resurfacing Facial Wash to detox the skin on a cellular level. The enzyme gel cleanser gently exfoliates and removes pollutants to reveal a brighter, smoother complexion.
Josirene then applied the Dynamic Resurfacing Gel Mask, which combines Elemis' patented Tri-Enzyme technology with Amazonian acerola cherry to encourage natural cell renewal without compromising pH levels, targeting the look of fine lines, superficial facial scarring and uneven skin texture.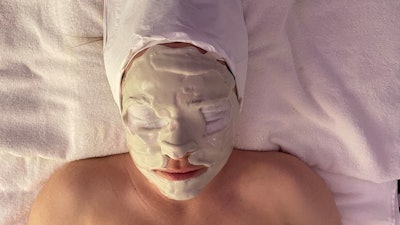 Finally, I enjoyed an LED treatment, utilizing both red and blue light. Blue light penetrates the skin's pores and eliminates bacteria while red light is designed to stimulate collagen in the skin. During my LED treatment, Josirene massaged my arms and hands while white noise washed over my ears. 
Once finished with the facial, I met with Joe Royal, education ambassador and treatment supervisor, who walked me through the products used in the experience and introduced me to some of House of Elemis' staples like the Pro-collagen Cleansing Balm, aka, the "spa in a jar" sold every 13 seconds around the world.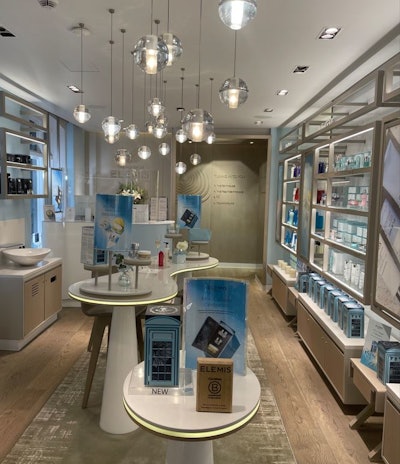 With specialized treatments and individualization in mind when creating experiences for each guest, Royal reminds that House of Elemis products are "not only created for relaxation but for results."
I left feeling refreshed with a new outlook (and placed importance) on skin care. Looks like it's time to invest in anti-aging cream and SPF. I can't let Josirene's work be done in vain!