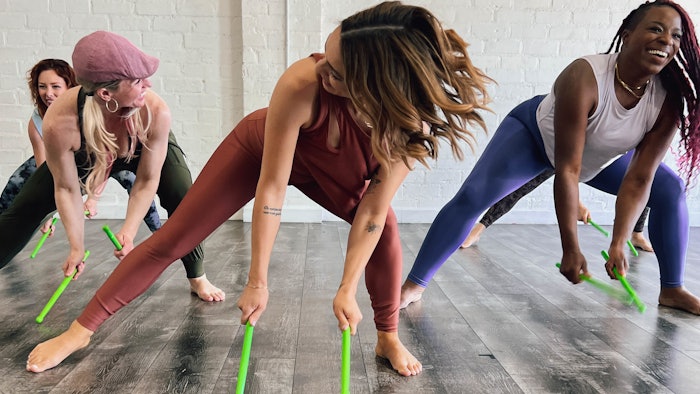 Photo courtesy of POUND Fitness
POUND Fitness is shifting its training model to simply the license and training requirements for the company's partners. The move will help bring Generation POUND to schools worldwide and offer POUND Unplugged to instructors and studios looking to diversify their programming and enter the mental wellness space. 
Effective immediately, fitness instructors and educators can now get licensed to teach any program including POUND Rockout Workout, POUND Unplugged and Generation POUND. The POUND Pro Training prerequisite has also been removed from the POUND Unplugged and Generation POUND programs, and training is now offered in-person or virtually with one-day training. 
Related: POUND Debuts Mental Health Workout
Generation POUND is a program designed for kids aged 6 to 12, and fuses movement and music to improve focus, coordination, physical fitness and teamwork skills for Rockstars in Training. Instructors use Ripstix, Pound's lightly weighted exercise drumsticks, to learn alternative methods for exploring movement. 
The recently launched POUND Unplugged workout is a 30 minute class designed for mental wellness by balancing focused, high-intensity movements with restorative stretches, rhythmic breathing and meditation. POUND Rockout Workout includes a 45 minute music session that combines cardio, strength training and plyometrics. 
"We recognized the need to simplify the process," says POUND fitness founder and CEO, Kirsten Potenza. "Now anyone can get trained and licensed in any POUND Fitness program without prerequisites. Clubs can also bring on POUND through different instructors and programs to suit their schedules and needs."