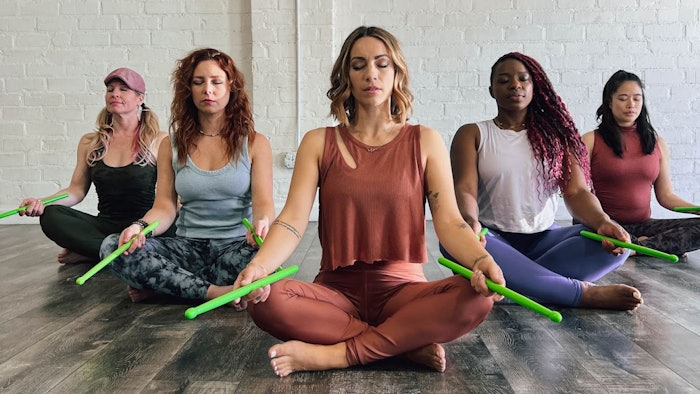 Photo courtesy of POUND.
Fitness compant POUND has introduced POUND Unplugged, an efficient 30-minute class designed specifically for supporting mental wellness. POUND Unplugged connects mind, body and sound in an effective class. 
Related: How to Engage All 5 Senses Into Yoga Classes
The rock and reset class structure blends 20 minutes of high-intensity training and a challenging mat workout to build strength inside and out, followed by 10 minutes of rhythmic breathing, restorative stretching, mindfulness and meditation. The high-intensity portion uses POUND's signature lightweight dumbbells to increase output as well as connect guests to the music, which releases and boosts neurochemicals. 
Recognizing a mental health crisis even before the pandemic—and especially after—POUND founder and CEO Kirsten Potenza created this immersive workout that meets class-goers where they're at: mentally, physically and emotionally. "The class is a deeply intentional rhythmic journey to promote the health and fitness of the whole person," says Potenza. "Unplugged is a natural evolution for POUND, since the cognitive benefits of music, drumming and exercise have always been at our core, as well as our dedication to  community, mental wellness and self-acceptance." 
Launching at Crunch Fitness locations across the US on Sept. 19, 2022, POUND Unplugged will roll out to additional fitness partners around the globe in early 2023. One-day POUND Unplugged instructor training is available now in the US and other countries. POUND currently serves almost 30,000 POUND instructors and 8,000 venue partners across 107 countries.