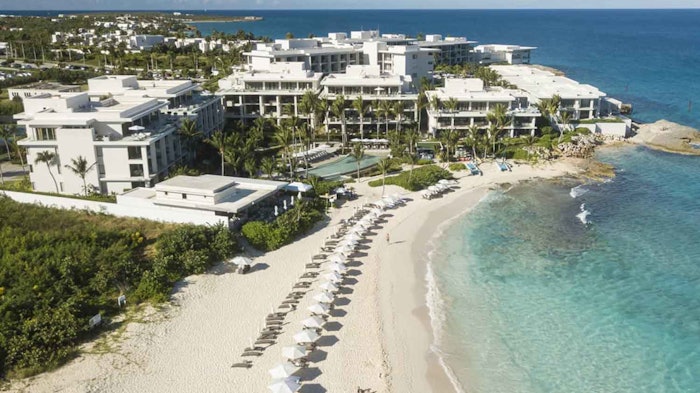 Photo courtesy of Four Seasons Resort Anguilla
Hospitality brand Dart has acquired Four Seasons Resorts and Residences Anguilla from the Starwood Capital Group.
Four Seasons Resorts and Residences Anguilla is located on 35 elevated acres spanning the beaches of Meads Bay and Barnes Bay, and is known for its 181 diverse accommodations spanning from clifftop guest rooms to oceanfront villas. 
Related: Four Seasons Anguilla Reveals Winter Programming
Dart's hospitality portfolio focuses on five-star resorts that include The Ritz-Carlton, Grand Cayman and Kimpton Seafire Restort + Spa, and the Conrad Orlando at Evermore. 
Executives from Dart, Four Seasons Hotels and Resorts and Starwood Capital Group celebrated the transaction with honored guests from the government of Anguilla at a reception held in one of the resort's villas.
"Dart has a longstanding conviction in the strength of the Four Seasons brand, its ability to create enduring value throughout its luxury hotels and resorts and focus on its people and the delivery of exceptional guest experiences," said Mark VanDevelde, Dart's chief executive. "We look forward to collaborating with Four Seasons and the exceptional management and staff of this resort to continue to enhance the world class experiences of guests and residence owners and, alongside the government of Anguilla, contribute to the prosperity of the Anguillan community."