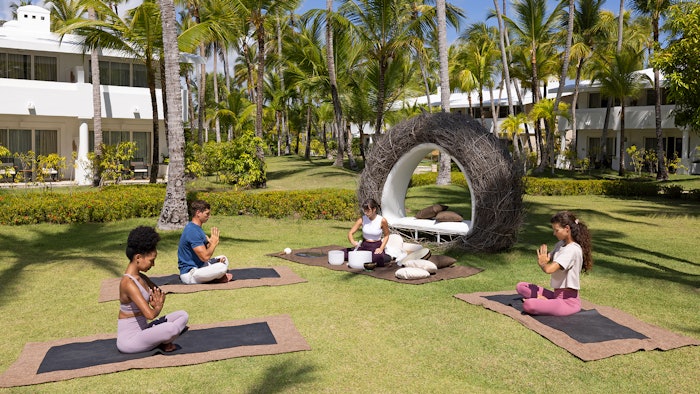 Courtesy of Meliá Punta Cana Beach Resort
Three recently opened wellness properties are offering infrared saunas, thalassotherapy, herbal tea bars and more to boost guest health and well-being. Check them out for your own menu inspiration!
1

. Acquaforte Thalasso & Spa

Forte Village resort has reopened for the 2022 summer season, debuting new renovations and experiences to welcome guests back. The property upgraded accommodations, culinary experiences, sport academies and Acquaforte Thalasso & Spa. 

Acquaforte Thalasso & Spa revamped its thalassotherapy circuit comprised of six seawater pools, each filled with different salt concentrations and temperatures. The spa also upgraded 30 treatment rooms, added a "tisaneria" (herbal tea bar), refurbished the gym and upgraded its changing rooms.

The spa's thalassotherapy method can help guests address insomnia, digestion, anxiety, muscle pain, water retention, posture and hypertension. Guests can also receive different types of physiotherapy and other personalized programs with the spa's renowned in-house medical team. Each treatment starts with a medical consultation and full check-up to help the team understand the most effective treatments. 

Meliá Punta Cana Beach Resort has launched the Wellbeing 360 Experience, transforming the resort into a fully immersive wellness property with new amenities and services. This collection of activities and rituals connects guests through five wellness spaces: Social, Silent, Sensory, Culinary and Personal. 

As part of the resort's weekly wellness program, experts guide guests on a journey of relaxation through activities like mud cleansing, holistic therapy, sound healing, Ayurvedic cooking, juicing detox programs, Taino rituals and active fitness classes. 

Guests of The Level, Meliá Punta Cana Beach Resorts' upgrade service, can experience a revamped rooftop bar that has been transformed into a health bar, serving fresh juices and cleansing shots. The Level Wellness Suites by Stay Well also include one spa treatment per day, a personal wellness concierge and private pool spaces. Other Stay Well amenities include a welcome and guided meditation from Dr. Deepak Chopra, mood-enhancing aromatherapy, dawn simulation and a shower infuser that reduces chlorine to leave hair and skin feeling softer and smoother.

These additions offer guests opportunities to engage in sound healing, spiritual rituals, painting and reading.

HigherDOSE has opened a new retail showroom and pop-up space: the HigherDOSE Haven at Williamsburg. HigherDOSE provides luxury spa experiences that blend wellness, technology and nature. 

The original spa experience at the location has been enhanced with microcurrent facials, lymphatic drainage massages, and a new "come down" space for relaxing before heading back to reality. The Haven itself will function as a "try before you buy" space with infrared products. At night, the space provides programming that lifts energy, relaxes the nervous system and cultivates community with like minded locals.