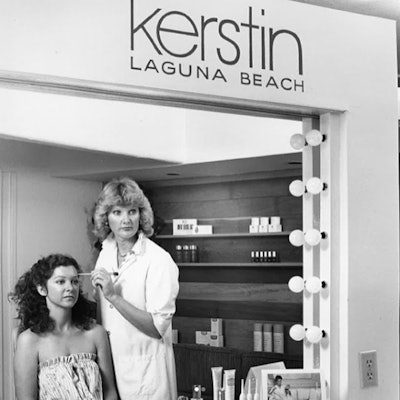 Kerstin Florian, a pioneer in luxury, natural spa skin and body care, is excited to celebrate the 40th anniversary of her namesake company, Kerstin Florian International, on May 19. Launched in a single-room spa in Laguna Beach in 1978, the brand now distributes more than 100 products from a 20,000-square-foot headquarter facility in Lake Forest, California, to more than 200 resort and day spas in 35 countries worldwide.
When she moved to Southern California from her native Sweden in the 1960s, Kerstin Florian instantly realized that US skincare products were lacking not only in natural ingredients but also effective results beyond moisturizing. Having experienced firsthand the transformative effects of a European spa lifestyle, including proper care of the skin and body, she knew she could in turn transform the skincare industry by sharing her passion for results-focused, botanically-based skincare and healthy self-care practices that truly transform the way a woman feels about herself.
RELATED: Skincare Brand Kerstin Florian Appoints Julie Andrews as New President
After a decade of developing spas and salons in both California and Arizona, Kerstin opened her own facial studio at the Surf & Sand Resort in Laguna Beach. For the next ten years, she inspired clients with her guiding principle of outer beauty, inner health, offering nutritional counseling, meditation classes, and facial and body treatments that embody the four core lifestyle practices she embraces in her holistic approach to wellness: proper nutrition, regular exercise, peace of mind, and care of face and body. All the while, she experimented with spa-based elements and botanicals like herbal extracts, essential oils, algae, mud and mineral water to create her own line of products aligned with her vision of what skin and body care should be – naturally beautiful and effective.
It was no surprise that sales and demand soon grew beyond one location, and her transformative products and sensorial treatments were quickly embraced by some of the world's leading spas and resorts, including JW Marriott Desert Springs and Sonoma Mission Inn, where they can still be found today.
"When I started out, there was no natural spa skincare market to speak of. I knew the difference natural ingredients could make to the skin, and how that translates into a feeling of beauty and self-acceptance that radiates from within. My products are really vessels for wellness and self-care. That is what has kept people coming back for 40 years! We have never stopped evolving and finding ways to keep the energy flowing, so look forward to many more to come!", says
RELATED: The Many Benefits of Chamomile Go Far Beyond Tea
Key to that evolution has been the influence of Kerstin's daughter, Charlene. A passionate expert in wellness, spa nutrition, ingredient technologies and sustainable business practices, Charlene made her mark on the company at every level as Chief Creative Officer, building on her mother's success, drive and pioneering spirit. Look for the realization and culmination of Charlene's vision in the form of an exciting launch later this year, bringing forty years of progress and innovation, as well as Charlene's legacy, full circle.
Since starting with hand-labeled products in that single Southern California spa, the brand has become an internationally renowned luxury skincare line with Kerstin Florian herself heralded as an instrumental force within the spa space throughout the world. The company will be celebrating the milestone with a social media tribute; various online, on-property events, initiatives and giveaways; commemorative products and regimen kits; and personal appearances by Kerstin throughout the year. Kerstin Florian skin and body care products can be found in the finest luxury spas, resorts worldwide and online.