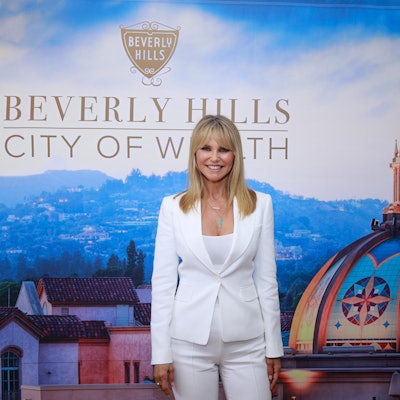 Wellness experts and media members gathered last Thursday on the sun-drenched rooftop of Alo Yoga on Canon Drive to kick off Beverly Hills' new City of
WELLTH
program. The endeavor aims to highlight the city's numerous healthy offerings while tapping into the growing trend for wellness tourism.
Playing on the words wealth, health and wellness, the term "WELLTH" was first identified in a book by mindbodygreen founder Jason Wachob: How to Build a Life, Not a Résumé (Harmony, 2016). WELLTH can be considered a move away from a materialistic drive for money and possessions to a more valuable life currency that encompasses wellness, health and purpose.
RELATED: Month-Long Fitness Challenge, Workout to Conquer Cancer Starts
Beverly Hills has adopted the WELLTH theme for its summer-long campaign, and hotels and spas throughout the city are embracing the initiative by offering special packages to tie in with the concept. In addition, "WELLTHY" meals that feature locally sourced, plant-based, vegan and paleo ingredients or grass-fed/hormone-free meat are available at participating local restaurants.
"The shifting status quo of how success is now perceived in terms of health and wellbeing, rather than through material and financial wealth, means the desire for WELLTH is now a key factor in people's choice of travel destination," commented Julie Wagner, CEO of Beverly Hills Conference and Visitors Bureau. Beverly Hills: City of Wellth exemplifies the destination's continual innovation to create inviting options for visitors, and places wellbeing at the forefront of its world-class accommodation, dining and spa offerings."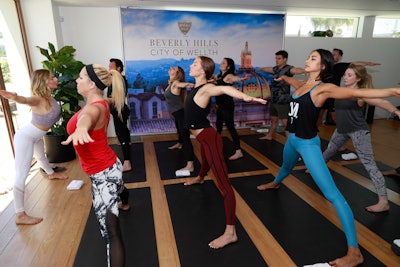 The city will showcase a range of activities inspired by the pillars of WELLTH: Move, Eat, Restore, Gratitude and Explore. During the inauguration event, Wachob moderated a panel of lifestyle experts, each of whom is tied to one of the pillars: Caley Alyssa (MOVE), Matthey Kenney (EAT), Dana Claudat (RESTORE), James Duigan (GRATITUDE), and Charlie Knowles (EXPLORE). They discussed what health and WELLTH means to them, and cited their favorite wellness spots in Beverly Hills, among them the nearby Transcendental Meditation center.
RELATED: Debunking Detox Theories For Your Clients
Next, seemingly ageless supermodel and actress Christie Brinkley talked about her vegetarian and "aspiring vegan" lifestyle, how vegetarian choices have exploded over the decades and how she manages to eat healthily when she's on the road. "It can be hard, but Beverly Hills makes it so easy—there are so many great choices on the menus here." She encouraged the audience to think of healthy eating as a gift to oneself, and to really consider what our priorities are and base our lives around those notions.
When asked about her wellness go-tos, Brinkley quoted movement, specifically yoga, hiking, skiing and paddleboarding. "I love to be outside: it's good for the body but it also feeds the soul. Mother Nature is my nirvana," she enthused. Referring to the WELLTH campaign, she commented, "When you're not healthy, nothing else matters. You have to think about your future and take care of yourself while you can." She urged audience members to be grateful in the moment, wherever they may be. "Bloom where you're planted," she urged.
Appropriately, the leisurely-yet-insightful gathering concluded with a yoga session.
More information, full bios and a quiz to test your "902IQ" can be found at here.
–by Lesley McCave