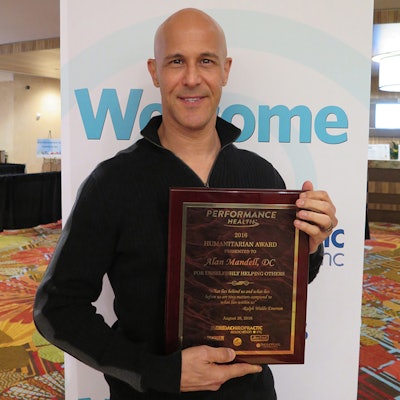 [Image: Courtesy of Performance Health]
The award was presented at the 2016 FCA National Convention & Expo held in Orlando, Florida.
Dr. Alan Mandell was presented the 2016 Florida Chiropractic Association–Performance Health Humanitarian Award. Performance Health, has partnered with the FCA since 2013 to honor individuals who go above and beyond for their community in the spirit of giving back and making a difference in a humanitarian effort.
"I am truly honored to recognize Dr. Mandell for his outstanding work and grateful to Debbie Brown and the FCA for partnering with Performance Health to recognize humanitarians that give so much to others," stated Marshall Dahneke, President, Performance Heath. Mr. Dahneke had the pleasure of presenting the award to Dr. Mandell.
"Dr. Mandell's personal mission can be summed up with this—one smile on a child's face is the only reward I ever wanted," continued Mr. Dahneke. "Dr. Mandell has spent many years traveling to other countries to help children who lack sufficient food, water and electricity, but who possess beautiful smiles and overflowing hearts. In just the past nine years, he has travelled to the Philippines 13 times to offer aid and love to the people there, often focused on the smallest of the small and the neediest of the needy. Although Dr. Mandell practices in Miami Gardens, he is clearly a citizen of the world."
Upon receiving the award, Dr. Mandell said, "I am deeply honored and humbled to be the recipient of this most coveted award. My passion has always been to bring love and care to all children who live under crushing poverty. I pray that I may continue my work and inspire others to join me in this most inspiring and rewarding endeavor."
In addition to honoring Dr. Mandell at the FCA National Convention, Performance Health provided a $1,000 contribution in his name to the FCA's ChiroPAC, a political committee which supports chiropractic lobbying efforts through campaign support.