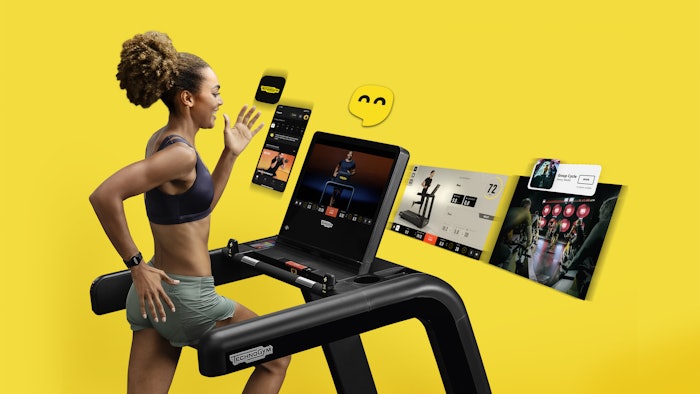 Photo courtesy of Technogym
Technogym showcased their latest innovations with visitors at IHRSA (Booth #1735) on March 20-22, 2023. Technogym has been investing for years in a unique digital ecosystem with the objective of growing the industry.
Newly Launched Technogym Innovations
The Technogym Ecosystem includes connected equipment, apps and on-demand video training content, and can connect each individual user to their own personalized training experience for fitness, sport or health.
The Ecosystem is also an open platform that can be easily integrated with software applications (membership software, marketing and payment platforms, body analysis and assessment devices) already used by the club or with members' consumer apps and wearable devices.
MyWellness, the wellness lifestyle CRM of the Technogym Ecosystem, additionally allows clubs to accelerate their digital strategy, improving member's experiences and increasing ROI due to the surge in the attraction rate, retention, upselling and secondary spend. 
Technogym App is the consumer point of access to the Technogym Ecosystem, allowing users to connect to their personal training experience outside their facility. Additionally, thanks to the Technogym app, users have access to a variety of on-demand of training content.
Universe, Technogym's newly reduced modular functional strength system, developed to the direct specifications of top strength and conditioning and functional training coaches, was created to offer users a variety of exercise possibilities, resistance and digital training content.
Related: Technogym Creates 2,000+ On-Demand Workouts
Skillrun Bootcamp is a guided Bootcamp experience, providing exercise variety tailored on performance. The program combines cardio and power training in different guided training experiences. The class leverages the unique Skillrun technology and performances (speed, parachute, sled...) with the Technogym Bench strength and conditioning training options.
The new Teambeats is the digital solution for group training experiences to help users train, keep focus, have fun and get better results. It is versatile and adapts to any functional or HIIT space,  and has been designed to provide users with the best possible guidance during the class.
The user interface has been completely redesigned to be the most seamless experience during a class, and to help users train correctly and at the right intensity. Trainers also have the possibility to design classes with flexibility to deliver endless training experiences, on one or multiple screens, leveraging an extensive library of workouts and curated content. 
Biostrength, the Technogym line for strength training, adapts to the user, thanks to a patented technology that relies on artificial intelligence and scientific research. Biostrength allows users to train with the right load for their needs, with the right range of motion, correct posture, speed of execution, and by indicating the number of sets, repetitions and optimal recovery time.
The patented Biodrive system, which uses aerospace technology, offers six types of resistance, which can improve the effectiveness of the exercise depending on the goal to be achieved. The user is guided through every aspect of the workout to achieve maximum results. 
The Pure line has been expanded with the addition of two new pieces of equipment that cover two very popular exercises that speak to the growing trend for strength training: Belt Squat and Deadlift. The extensive PURE range that now includes 22 different pieces of equipment allows operators to create a solution for their training floor, as well as curate workout circuits dedicated to specific programs and new population clusters.