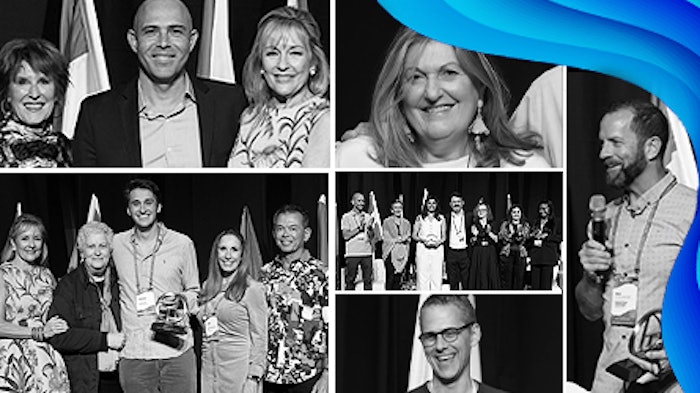 Photo courtesy of Global Wellness Summit
The Global Wellness Summit (GWS) celebrated industry creators, visionaries and thought leaders at its 16th annual conference in Tel Aviv on Oct. 31 through Nov. 3, 2022. Each year, the GWS and its advisory board members host the Global Wellness Awards recognizing individuals who made a significant contribution to the future of wellness.
Winners were also announced for the 2022 Shark Tank of Wellness and Call for Innovation: Wellness in the Metaverse contests.
Related: Recipients of Susie Ellis Scholarship for Equity in Wellness Announced
The Bennett Family Award for Collaboration in the Science of Wellness 
This new award went to Professor Alon Chen, president of the Weizmann Institute of Science, and Juan de Pablo, executive VP for science, innovation, national laboratories and global initiatives at the University of Chicago. With recently published research, their collaboration has made significant implications for improving the treatment for mental health conditions. This award recognizes those working to merge science and wellness for the advancement of human health.   
The Leader in Innovation Award
CEO of Inspired Flight and founder of Mindbody, Rick Stollmeyer, was the recipient of this year's Leader in Innovation Award, sponsored by Natura Bisse. Strollmeyer created the experience technology platform for the fitness, wellness and beauty industries. 
Leader in Sustainability Award
The co-founder and former executive director of Friends of the High Life, Robert Hammond, received this year's Leader in Sustainability Award. Hammond is turning his innovative thinking to urban wellness in his role as president and chief strategy officer of Therme Group US. 
Debra Simon Award for Leader in Furthering Mental Wellness
Freddie Moross, managing director of Myndstream, was the youngest award winner this year, receiving the Debra Simon Award for Leader in Furthering Mental Wellness. The award recognizes his approach to using music as a tool for healing, particularly when it comes to neurodiverse communities and mental illness.
The Leading Woman in Wellness Award
The Leading Woman in Wellness Award went to Sue Harmsworth, founder of the global spa brand, ESPA. Harmsworth is an inspirational and visionary leader who shaped the spa and wellness industry, having designed more than 500 award winning spas in 65 countries, and for creating innovative products, treatments and well-being programs globally. 
Call for Innovation: Wellness & the Metaverse
This year's Call for Innovation focused on wellness and its place in the metaverse. The winner was Virtuleap, a health and education startup with a mission to elevate cognitive assessment and training using virtual reality and artificial intelligence. Virtuleap CEO and co-founder, Amir Bozogzadeh, accepted the award on behalf of the company. 
Shark Tank of Wellness Global Student Competition
Anisha Vora from Georgia's Savannah College of Art and Design was awarded first place ($5,000) for Heare, a portable wand that uses micro-vibrations on targeted areas of the ear to manage mental well-being and stimulate the parasympathetic nervous system. Vora is an international graduate student from Mumbai, India, pursuing a master's in advertising. 
Kay McCall, also from the Savannah College of Art and Design, took second place honors ($3,000) with Aurb, an art piece designed to elevate meditation with color therapy and healing crystals. Third place ($2,000) went to Cornell University's David Austin Jones for Sol Sauna, a floating sauna business concept that will bring a sauna experience to urban hotspots and natural settings across the US.