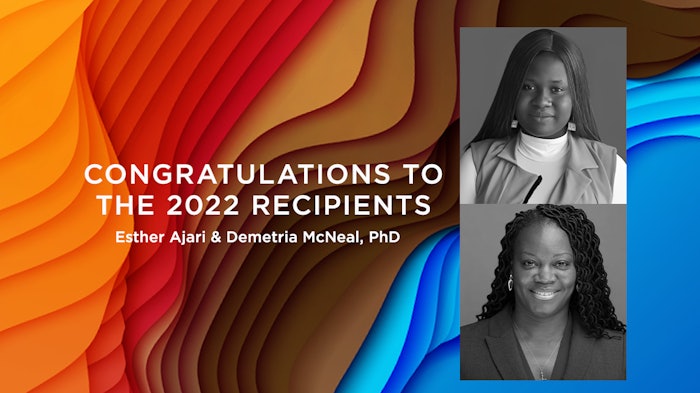 Courtesy of Global Wellness Institute
The Global Wellness Institute (GWI) announced the first two recipients of the inaugural Susie Ellis Scholarship for Equity in Wellness. The scholarship fund was introduced at the 2021 Global Wellness Summit (GWS), created as a way to build a bridge for individuals who might otherwise not be able to afford attending GWS, but who demonstrated passion and commitment for the wellness industry.
Related: Blue Zones Discoverer Dan Buettner to Keynote at GWS 2022
Nearly 100 applications from 36 countries were considered, and two well-deserving recipients were chosen by GWI and GWS board members. The winners are:
Esther Ajari, founder and director of The TriHealthon, a Nigerian-based, multi-award winning nonprofit that promotes health and wellness equity in Africa through research and community development projects;
Demetria McNeal, Ph.D., assistant professor of medicine and associate director of health equity in the Division of General Internal Medicine, School of Medicine at the University of Colorado Denver Anschutz Medical Campus. 
In 2019, Ajari's commitment to wellness was recognized by the Dalai Lama Fellowship, an organization for emerging social innovators and future leaders committed to making a positive impact in the world. In 2021, she was named a COVID-19 Hero by the Nigerian Vice Presidency. Ajari looks forward to bringing an African perspective to GWS, as well as learning how to improve her own NGO's financial standing. She hopes to ultimately generate the revenue required to "attain our vision of achieving wellness equity among vulnerable Nigerian women and children," she says.
McNeal describes herself as a Black American scientist who is interested in expanding her wellness knowledge. She wants to learn about the integration of wellness and the healthcare system. McNeal hopes to explore new discoveries in mental wellness that can be applied in a clinical setting, as well as the ways emerging wellness innovations can be leveraged to promote better access to wellness in her community.
"Both of this year's very worthy recipients are already wellness leaders in their communities, and it's my sincere hope that this scholarship will accelerate and amplify the impact they are already making in their own communities," said Nancy Davis, GWI chief creative officer and executive director. "This scholarship lets us offer those who have perhaps dreamt of attending the Summit an opportunity to participate in conversations with global wellness leaders, exposing them to the topics and issues that are shaping the business of wellness now and into the future."
The Susie Ellis Scholarship for Equity in Wellness fund was made possible thanks to generous initial donations from Katrine and Bill Formby, Rick Strollmeyer, Lynne and Victor Brick, and the Szekely Family Foundation. The fund continues to grow.