With more than 57,000 attendees each year from all 50 states and over 44 countries; over 800 exhibitors across the 7-acre exhibit floor, there is no better place on the planet for beauty and spa professionals to network and receive the education they need to succeed than Premiere Orlando. Premiere Orlando serves as an epicenter for all things salon and spa with the most influential and followed artists and manufacturers all under one roof. The event runs from June 3rd to the 5th.
Staying true to their reputation as being the Industry's Most Important Show, Premiere Orlando and their co-located show Premiere DAYSPA, aim to deliver a fantastic educational event. A ticket to Premiere allows attendees access to Premiere DAYSPA, Main Stage and Hair Color Stage presentations, Classroom Education and the largest exhibit floor in the industry all at one inclusive price.
New This Year
This year, Premiere continues to expand their education with new programs. Premiere Orlando will be the first in the industry to launch an entire educational area focused on Hair Loss and Trichology. If debuting a new program wasn't enough, Premiere Orlando/ Premiere DAYSPA have expanded their massage therapy and men's grooming education as well. In addition to the new and exciting, the show will still offer exceptional education in cutting, color, upstyling, nails, esthetics, make-up and much more that professionals across the globe have come to love.
Social Media Influence 
Premiere will host the largest collection of the beauty industry's Social Media Influencers in one location including powerhouses Sam Villa, Kelly Baker, Larisa Love, Rebecca Taylor, Tony Ly, Jenny Strebe, Mustafa Avci, Ricky Zito, Mindy Hardy and Leen & Bertus and many more. With the spike in the use of Instagram, YouTube and Pinterest in the professional beauty industry, Premiere will introduce an expansion to their Business education program focused on Social Media Marketing, to help salon owners and professionals stay relevant and continue to drive profits.
RELATED: Premiere Show Group is Heading to Philadelphia
Main Stage
Premiere Orlando's Main Stage is the Beauty Industry's version of New York's Fashion Week where celebrity stylists debut and define upcoming hair trends.
Leading Ladies Presentation – For the first time ever, join Sam Villa as he moderates the Leading Ladies on Main Stage. Female leaders of the industry, Eden Sassoon, Tracey Hughes, Candy Shaw, Sonya Dove and Jenny Strebe will come together for a one-of-a-kind, inspirational panel discussion.
Hair Color Stage
Hair Color State is the go-to destination at Premiere Orlando for the serious Colorists to learn the latest in balayage, strobing, fashion colors, tips and techniques from the industry's leading colorists.
 Nails Education
Premiere Orlando is a nail technician's paradise with educational offerings from CND's founder Jan Nordstrom-Arnold and her talented array of educators, Young Nails, Inc. with Greg Salo, Precious Jewel Nail Designs, Tammy Taylor Nails, ORLY International, Backscratchers Salon Systems, social media influencer Mindy Handy, plus many more. Nail technicians of all skill levels, from students to the most advanced artists can benefit from attending Premiere Orlando for the latest trends, colors, supplies and equipment. There is something for everyone.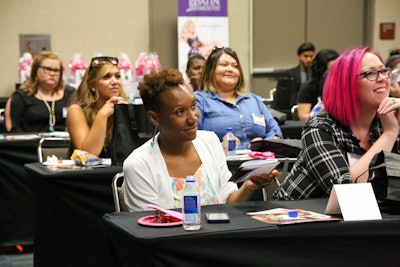 Premiere Dayspa
Premiere Orlando's co-located show, Premiere DAYSPA, showcases the latest and most important trends of the spa industry. The safety and health of clients is always a top concern for elite beauty professionals and this year Premiere DAYSPA will offer multiple classes from both The Melanoma Foundation of New England and Oncology Spa Solutions to help estheticians in screening for melanoma and treating oncology clients. Estheticians can discover the latest in waxing from manufacturers such as GiGi, Clean + Easy, Cirépil by Perron Rigot Paris and Satin Smooth featuring Lonia Campagna, Margarat Glazier and the world's most coveted celebrity arch artist, Kelley Baker. Premirere DAYSPA will also offer Spa Professionals' favorites such as Ardell, Circadia by Dr. Pugliese, DermAware Bio-Targeted Skin Care, Elite Acadaemia, Évalash Beauty, FarmHouse Fresh, Minkys, Repêchage and many more.
Massage Therapy Program
The massage therapy program allows Florida and Nationally Certified Licensed Massage Therapists to earn up to 12 Live CE Credits in three days all included with their show ticket purchase. This year, Premiere DAYSPA has doubled the class offerings allowing massage therapists more diversity in class selection.
RELATED: New York City Media Event: GWI Data Shows Continued Growth in Wellness Sector
The Makeup Source
This year's educational lineup features makeup classes by the 2016 NAHA Makeup Artist of the Year, Isidro Valencia (who will also be a judge of this year's makeup competitions) as well as television personality Noreen Young from NBC's The Chat. Complimentary class topics from top makeup educators and manufacturers such as TEMPTU, Che Cosmetics, Gabriel Productions, Hedlux Airbrush Makeup include Creative Art, Bridal, Airbrushing, Makeup for Men, Permanent Makeup and much more. At the show, Professional Makeup Artists can also take advantage of the exhibit floor and visit the Crown Brush, Sigma and Morphe Brushes booths just to name a few, to restock their tool kits and stay up-to-date on the latest trends.
Look & Learn Education
For an additional fee, attendees can to take extended comprehensive classes for an additional fee from some of the industry's leading artists such as Candy Shaw, Sonya Dove, Beth Minardi, The Hair & Makeup Girl and The Goonies.
Hands-On Workshops
Offering more than 45 hands-on workshops, attendees have the opportunity to get hands-on and learn something new or refine the skills they already have by learning from the best in the industry.
Competitions
Back by popular demand, this year's attendees can showcase their talents in Hair, Nails, Men's Grooming and Makeup to win some amazing prizes.
Categories for Competitions:
 Special Events – Stylists Choice Awards
This year, the Stylist Choice Awards will be our highlighted special event, taking place on Premiere's Main Stage in the Linda Chapin Theater, Sunday June 4th at 7:00pm.