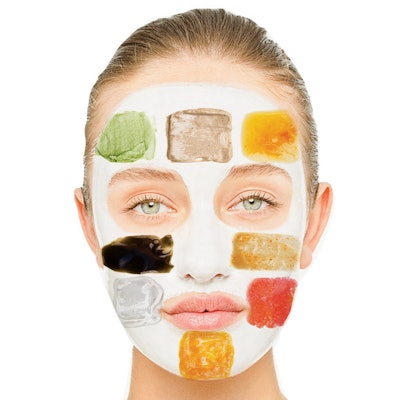 A deep dive into five spas' most popular— and effective—acne-fighting protocols.
Thanks to a seemingly unlimited number of photo-editing apps, people can remove blemishes from their selfies with a single swipe. If only treating acne in real life were that easy! According to the American Academy of Dermatology (AAD), acne affects 50 million Americans annually, and can appear any time between the onset of puberty and late 30s or 40s. "Someone's health, hormones, lifestyle and/or stress levels may be the cause of their breakouts," notes Nicole Giordano, spa director of Rockland Skincare & Body Bliss Spa in Bardonia, New York.
Additionally, acne is more than skin deep: The condition can be responsible for increased self-consciousness and even lowered self-esteem. "The most challenging part of working with blemish- prone clients is witnessing the emotional toll acne takes on their lives," says Giordano. "Their suffering can disrupt their daily activities, which makes it all the more rewarding when we clear up their skin."
Although adjusting certain lifestyle and dietary habits is key, topical treatments play a crucial role in diminishing and preventing breakouts. "Routine facials facilitate cell turnover, normalize oil production and remove impurities from the skin," notes Jennifer Ibarra, founder of Blush Boutique & Spa in El Paso, Texas. The good news? Both Ibarra and Giordano agree that taking the time to create an effective yet luxurious spa protocol will not only clear up blemishes, but also encourage clients to consistently rebook in order to continue keeping acne at bay.
RELATED: Expert Advice for Menopausal Skin Care
Ready to help clients banish breakouts for good? Here, five spa professionals discuss their most popular anti-acne treatments and tips for giving clients the flawless skin of their dreams.
Clearly Treatment (90 min./$185), Anne Martin Skin Care, Seattle
Featured brand: Mark Lees
– Cleanse the face with Aquaclar for oily skin; Lait Clarifiante (a lightweight emulsion) or Gentle Gel Facial Wash.
– Exfoliate with Buff Bright, containing AHAs and jojoba beads; Alphaplex, an AHA/BHA blend; or a salicylic peel.
– Apply Desin-Gel Advance Pre-Mask to soften any remaining debris, and perform extractions.
– Apply Serum Anti-Grasses Post-Extraction Serum, followed by Super-Cleanse for oily areas and breakouts; Clarity for congestion and clogged pores; or Super-Cleanse mixed with Soothing Gelle for redness and irritation.
– Apply antioxidant-rich Strataserum Advance, followed by non-comedogenic moisturizers Hydrafluide or Dermaclarifiante; spot-treat any blemishes with Dermashake.
Blemish busters: This powerful facial enlists top acne-fighting ingredients to treat breakouts and calm the skin. "Alphaplex blends glycolic, lactic, malic, tartaric and mandelic acids to unclog pores and refine skin texture," raves spa owner Anne Martin. The key to lasting effects? Constant at-home care, and professional treatments every six weeks.
Signature Acne Treatment (45 min./$100), Shanti Therapeutic Center, Fort Wayne, Indiana
Featured brand: DermAware
– Cleanse with exfoliating and antibacterial Deep & Clear Cleanser.
– Apply Unplug Gel, formulated with copper citrate, gluconic acid and minerals to open comedones. Perform two passes of galvanic current to remove and soften congestion, then perform extractions.
– Apply Bare Fruit Mask, a blend of gentle enzymes, clay and AHAs; allow it to set for 5 to 10 minutes.
– Remove the mask, then apply Oil Balance Toner to prep the skin for the peel.
– Apply either Saving Face Peel, a modified Jessner; Blemish Banisher Peel, formulated with zinc, AHAs and BHAs; or activated charcoal-infused Black Gold Peel and Mask. For additional strength, add Acne Booster and/or A+ Smart Peel to problem areas.
– Apply Blemish Banisher Mask (enzymes, salicylic acid and clay) or Clean Slate Mask (sea clay, oats and aloe); let it set for
five minutes.
– Remove the mask, then apply A+ Smart Serum, Vital B Hydrogel and Vital C Cream.
Blemish busters: This facial focuses on correction and prevention while providing clients a luxurious spa experience. "They love the fruity scents, the mix of textures and, of course, the end results!" enthuses Rachelle Medina, the spa's owner. Some of the powerhouse ingredients at work include activated charcoal to absorb excess oils; retinol to stimulate cell turnover; and mandelic acid, an AHA that treats acne and improves skin tone.
RELATED: 6 Spa Treatments for Sensitive Skin
Signature Celluma Acne Treatment (75 min./$155), Rockland Skincare & Body Bliss Spa, Bardonia, New York
Featured brand: Celluma by Biophotas
– Cleanse using a glycolic or salicylic acid cleanser. X Exfoliate with an ultrasonic skin spatula, and perform extractions.
– Pat the skin dry, then position the Celluma panel over the skin. Select the "Acne" setting, and allow the light to run for 30 minutes.
– Apply a blemish-fighting mask, then cool the skin and close pores with cryo-globe therapy. X Apply acne treatment serums, moisturizer and
SPF based on the client's skin type.
Blemish busters: Able to be used on the face and body thanks to its flexible panel, Celluma's LED light energy can help accelerate tissue repair, kill acne-causing bacteria, decrease inflammation, and improve tone and texture. "Clients also enjoy the warmth of the LED, not to mention getting
30 minutes to relax," reports Giordano. "But fair warning: Once they see the results, your schedule will book up fast!"
Custom Organic Facial With Professional Salicylic Peel and Blue Light Therapy (90 min./$145), Blush Boutique & Spa, El Paso, Texas
Featured brand: Éminence
– Double cleanse with Stone Crop Cleansing Oil followed by Acne Advanced Cleansing Foam.
– Gently exfoliate with Stone Crop Oxygenating Fizzofoliant, formulated with adzuki powder and rice; then apply soothing yet invigorating Almond and Mineral Treatment, containing crushed almonds, zinc oxide and paprika. Perform extractions.
– Apply two layers of Pro Salicylic Acid Peel 15% and allow it to set for three minutes.
– Remove the peel and neutralize with Soothing Chamomile Tonique.
– Apply Acne Advanced Clarifying Masque with salicylic acid, clay and sulfur; allow it to set for 10 minutes while performing an arm, hand and shoulder massage.
– Remove the mask, then apply either the calming Clear Skin Probiotic Masque or hydration- boosting Strawberry Rhubarb Masque. Allow
to set for 10 minutes while massaging the legs and feet.
– Remove the mask, and sweep LED blue light over the skin for 15 minutes to further minimize bacteria and inflammation.
– Apply Citrus and Kale Potent C+E Serum, followed by Acne Advanced Clarifying Hydrator—containing zinc hyaluronate, arbutin and encapsulated salicylic acid—and finally, Sun Defense Minerals SPF.
Blemish busters: Designed for use on the face and body, this heavy-duty treatment takes a two-pronged approach. "The peel contains papaya fruit extract to reduce surface imperfections without irritation, in addition to encapsulated salicylic acid to exfoliate and unclog pores," enthuses Ibarra. "What's more, the LED blue light kills acne-causing bacteria on the spot." The result? Reduced acne and improved self-esteem, she says.
VI Peel Purify (60 min./$375), Skin Thesis, West Hollywood, California
Featured brand: VI Aesthetics
– Double cleanse the face with a gentle, hydrating wash infused with aloe.
– Swipe the Acetone Prep Towelette across the face and neck.
– Apply a layer of Peel Purify using a firm touch. X Repeat until the liquid is gone. Do not rinse off. X Allow the peel to remain on the skin for up to four hours. Instruct the client to use one Retinoic Towelette to cleanse at home after the initial application, and to wipe their face with a second towelette the following day.
Blemish busters: Blending benzoyl peroxide, trichloroacetic acid, Retin-A, phenol, salicylic acid and vitamin C, this professional peel treats acne while boosting cell turnover and collagen production. To achieve optimal results, Melissa Haloossim, NP, the spa's cofounder and clinical director, advises clients to schedule an LED facial one to two weeks post-treatment. "This peel draws impurities to the surface, so I recommend a follow-up service to deep-clean the skin," she explains. "Within a few weeks, clients notice a clearer complexion and smaller pores."
–by Taylor Foley
This story first appeared in the May 2019 issue of DAYSPA Magazine. To receive the magazine, click here to subscribe.