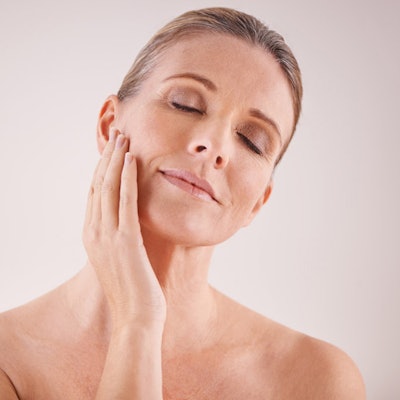 Spa pros discuss common midlife complexion concerns.
What skin issues arise most often during menopause?
Christie Lavigne, director of skincare, Oasis Day Spa in New York City: The epidermis thins and the dermal papilla flattens out, resulting in a loose, tissue-like texture, dryness and wrinkles. Because the cell renewal rate also declines, circulation and healing may be slower. Desquamation becomes uneven, so age spots and hyperpigmentation from pre-existing sun damage increase—and are more visible. Decreasing estrogen and increasing androgens may also lead to breakouts.
Veronica Barton-Schwartz, founder, Veronica Skin & Body Care Center in Santa Monica and Malibu, California: During menopause, the body stops making as much collagen and elastin. Women also lose some fat under the skin, which leads to less elasticity. These things, combined with dryness caused by hormonal changes, can lead to sagging, fine lines and wrinkles. Because the complexion and subcutaneous layer become thinner during this time, it's important to keep the skin and body hydrated. A client's metabolism, digestion and lifestyle also factor into her menopausal transition.
Jessica Moreton, owner and esthetician, Ara Spa Services in Thompson's Station, Tennessee: The biggest concerns have to do with dullness, dehydration, fine lines and a lack of firmness. Some experience more facial hair growth than they would like, not to mention hormonal breakouts, but the seemingly sudden signs of aging tend to be why the majority of my clients seek help.
RELATED: 6 Spa Treatments for Sensitive Skin
What services and skin care do you recommend to these clients?
Moreton: For immediate and dramatic results, I couple the Yon-Ka Paris Time Resist Facial with a Dermaplane (90 min./$200). Dermaplaning allows me to remove the initial layer of dry skin along with any extra hair they may be concerned about, promoting an instant glow and helping products penetrate more easily. I follow that with Yon-Ka Alpha-Exfoliateur, a resurfacing gel that combines AHAs and BHAs to exfoliate and hydrate, and then I perform a variety of relaxing and antiaging massage techniques enriched by layers of repairing and nourishing serums and creams. The treatment concludes with a marine collagen and hyaluronic acid (HA) mask to restore hydration and leave skin plumped and radiant. For home care, I recommend the Yon-Ka Time Resist Duo, formulated to intensely hydrate, detox, smooth, calm and rebuild skin for a healthier, more youthful look.
Skin Care Products
Barton-Schwartz: I opt for the Guinot Hydradermie Facial (60 min./$160) or Hydradermie Lift (60 min./$250), which help improve elasticity and hydration, and boost collagen to minimize and prevent wrinkles. Each client is treated with a blend of HA and plant extracts for their skin type, along with mild galvanic current and massage to plump up facial muscles. Their morning and evening skincare regimen must change during this time to address dryness in particular. I recommend Guinot Liftosome Lift Firming Face Serum, which tightens skin with seaweed, moisturizes with shea butter and aloe vera, and protects from free radicals with vitamin E.
RELATED: Sensitive Skin Products
Lavigne: We always suggest G.M. Collin peels (a $25 add-on) before beginning any other targeted treatments, as they contain a variety of AHAs (including glycolic, lactic and mandelic acids) and BHAs (salicylic acid) to eliminate the buildup of keratinized cells on the skin surface and allow for increased penetration of subsequent products. The peels also assist in diminishing age spots and fine lines. Additionally, we've had good results with the G.M. Collin Stem Cell Facial (75 min./$170) and the G.M. Collin Botinol treatment (75 min./$170), which contains Argireline, retinol and Myoxinol. Both services help improve skin tone and minimize signs of aging.
How do you promote these targeted treatments?
Barton-Schwartz: We offer clients a Clinical Care Consultation profile/questionnaire, asking them about their skincare concerns and current at-home regimen. We then discuss the role that hormones play in the aging process, and work to determine their goals.
Moreton: I find that most women know what they want to improve as they face each phase of menopause; their struggle is figuring out where to begin. I have fun on social media by using vintage photos to grab their attention and draw them into a discussion about their specific issues. The combination of comedy and education makes them feel comfortable asking the right questions. It's a great trust-building experience, as guests are put at ease while learning about each service's benefits and the importance of the supporting home care.
Lavigne: Our estheticians conduct a personalized skin analysis for every client. It's critical that each individual be assessed and treated based on their particular skin needs. Our website showcases all of our treatments, and reception staff are trained to help guide clients to the options that best suit their concerns.
This story first appeared in the May 2019 issue of DAYSPA Magazine. To receive the magazine, click here to subscribe.
[Images: Courtesy of manufacturers; Getty Images]