We all know that one size doesn't fit all when it comes to skin care, and spa-goers with sensitive complexions are much more prone to problems. We've gathered this group of gentle skin soothers so you can pamper such clients without risking a reaction—for which they'll be incredibly grateful.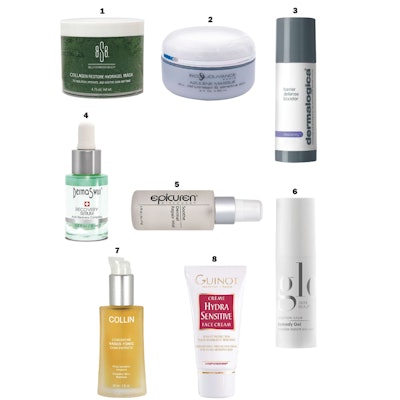 1) Bella Schneider Beauty Collagen Restore Hydragel Mask: Helps reduce wrinkles and restore hydration with soluble collagen, seaweed and honeysuckle.
2) Bio Jouvance Paris Azulene Masque: Moisture-binding ingredients and chamomile nourish, soothe and smooth the complexion.
3) Dermalogica Barrier Defense Booster: Squalane, oat oil and the brand's proprietary Triple Defense Complex help reinforce the skin barrier.
4) DermaSwiss Recovery Serum: A redness reducer formulated with vitamin E, horse chestnut, witch hazel and castor oil.
5) Epicuren Discovery Soothe Dermal Repair Mist: This toner combines white tea, mushroom and lavender extracts to restore and comfort the complexion.
6) Glo Skin Beauty Remedy Gel: Formulated with hydrocortisone and aloe to relieve irritation all over or as a spot treatment.
"This beautiful blue mask gives my skin a much-needed hydration boost," says Jasmine Brown, associate editor.
RELATED: The Wellness Benefits of Salt Therapy
7) G.M. Collin Vasco-Tonic Concentrate: Minimizes redness, tones and hydrates thanks to witch hazel, butcher's broom and calendula.
8) Guinot Hydra Sensitive Face Cream: Chamomile, corn extract and vitamin E combine to calm inflammation and rebuild the skin barrier.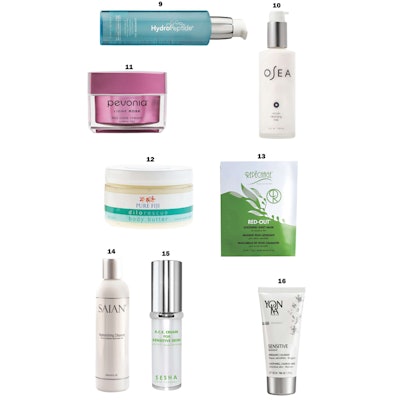 9) HydroPeptide Cleansing Gel: A gentle multitasker that tones and removes impurities with peptides, antioxidants and anti-irritants.
"My reactive skin stays cool when I use this gentle yet effective cleanser," says Laura Waldon, executive editor.
10) Osea Ocean Cleansing Milk: Organic algae, water lily and collagen amino acids combine to lift away dirt and minimize fine lines.
RELATED: How CBD Fits Into Spa Services
11) Pevonia RS2 Care Cream: Safflower seed oil, vitamin E and green tea help diminish rosacea symptoms and hydrate hypersensitive skin.
12) Pure Fiji Dilo Rescue Body Butter: Helps soothe sunburns, insect bites, eczema and beyond, thanks to cold- pressed dilo, coconut milk, lavender and mint.
13) Repêchage Red-Out Soothing Sheet Mask: Seaweed-derived vitamins, amino acids and antioxidants reduce redness caused by environmental stress.
14) Saian Replenishing Cleanser: A mild, milky face wash featuring aloe, chamomile, calendula and honey to moisturize and calm.
15) Sesha Skin Therapy A.C.E Cream for Sensitive Skin: A nourishing and hydrating formula featuring sodium hyaluronate and vitamins A, C and E.
16) Yon-Ka Paris Sensitive Masque: A rich treatment designed to alleviate inflammation and reactivity with arnica and chamomile.
"Calms and evens out my complexion almost instantly," says Alexa Joy Sherman, managing editor.
[Images: Courtesy of manufacturers]
This story first appeared in the April issue of Dayspa magazine. To receive the magazine, click here to subscribe.