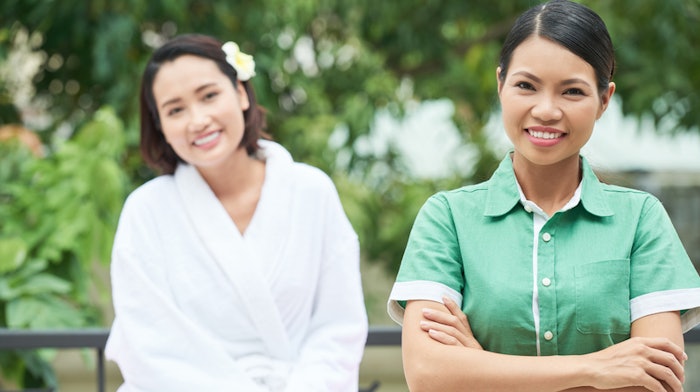 The WellSpa 360 Expo virtual event, taking place September 21-22, 2021, is covering a wide range of wellness topics including top treatments, trends and business tips. When it comes to business education, there will be four sessions about managing your wellness business, greening your spa, diversifying your spa and creating a halotherapy room. See how these business tips can help grow your wellness spa.
Related: 5 Things to Know About the WellSpa 360 Expo
8 Ways to Green Your Spa in 2022
Suzy Bordeaux-Johlfs, board member of GSN Planet & Spa Director at Silverado Resort & Spa, Joanna Roche, executive director of GSN Planet, and Megan Tymesko, Community Manager of GSN Planet on Tuesday September 21, 2021 at 11:00 - 11: 55 am
Join Bordeaux-Johlfs, Roche and Tymesko as they covers eight ways to incorporate sustainable systems and operations to grow your spa in the New Green Economy. These speakers who each have 10-30 years of experience in the industry will review case studies and examples that demonstrate ways to integrate environmentally minded services, products, logistics and behaviors into your spa to cultivate change and awareness of your impact as a wellness business in 2022 and beyond.
Related: Infection Prevention: Keeping Your Spa Safe Post Covid
Cultivating Inclusive Wellness
Toshiana "Tosh" Baker, founder of Network of Multi-Cultural Spa and Wellness Professionals (NMSWP) on Tuesday September 21, 2021 at 1:15 - 2:10 pm
Our nation is diversifying even faster than originally predicted. Groups once classified as minority will soon be majority. When also considering other identities beyond race, such as gender, age, ability and religious and cultural beliefs, it is no wonder that many industries have not been able to keep up with the tides of change, including spa and wellness. This session is designed to help inspire, impact and create a shift in awareness by establishing a baseline of understanding of diversity, equity and inclusion while giving actionable ways to incorporate these important initiatives to create a culture of inclusivity in your spa or wellness practice.
Baker will cover topics including understanding the key terms and principles related DEI, understanding common pitfalls and mistakes made in this category and identifying ways to shift your approach to cultivate inclusion.
Related: 3 Ways to Promote Physical Wellness in Your Spa
Designing Halotherapy Rooms
Ann Brown, CEO/Founder and Himalayan Source; Cofounder of Saltability on Tuesday September 21, 2021 at 4:30 - 4:55 pm
From Himalayan salt pods to easy-to-install panels, learn about today's options for easily creating halotherapy environments in your existing spa spaces. Turning a treatment room into a single-use salt room creates a new avenue to support guest health—with a particular focus on respiratory support—and to increase your revenue.
Brown will cover topics including how halotherapy works, options for stand-alone treatments (no therapist commission to be paid) and add-on or upgrades in conjunction with a facial massage and today's Himalayan salt concepts for halotherapy rooms.
Related: 4 Ways to Focus on Mental Wellness
Matt Miehe, senior sales representative with Vagaro on Wednesday September 22, 2021 at 10:30 - 10:55 am
Join Miehe as he provides a brief demo that will show you how Vagaro can streamline your daily activities to give you more time for the things you enjoy. We'll look at how to create a service or class, add resources like a room, book appointments, sell gift certificates and other products, set up packages and memberships, and market your business in several ways. You'll learn how to create and share important forms with your customers, set up merchant services for credit card processing, and run reports that offer insights about how your business is performing. You can even handle payroll through Vagaro!
Related: Register NOW for the WellSpa 360 Expo!
Don't forget to register for the WellSpa 360 Expo to attend these sessions and many more.