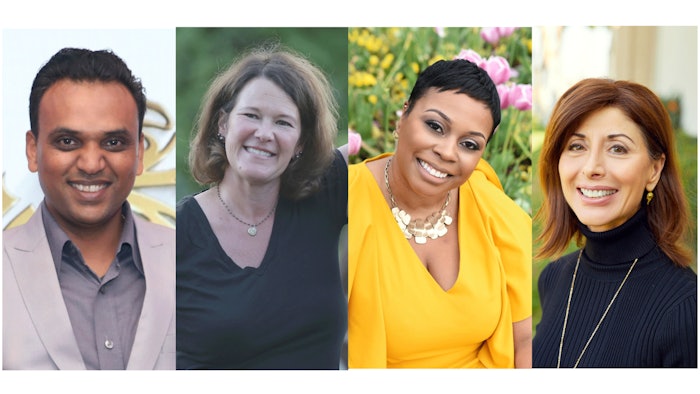 This September 21-22, 2021, the WellSpa 360 Expo will bring the top treatments, trends and business advice to wellness spa professionals. With health and wellness a top priority for many consumers, you can't afford to miss this inaugural event. Don't forget to register today!
1. It's a New Kind of Show
The WellSpa 360 Expo is a brand new event by Dayspa magazine. It's 100% virtual and provides wellness spa professionals with protocols, trends, business advice, products and research to serve the whole health experience to their clientele. Learn from industry experts, check out product knowledge sessions, and receive show specials from the brands you love.
2. You'll Learn About Top Treatments for Spiritual Well-Being
Aromaherbalist and founder of KM Herbals, Kim Manley will teach attendees how the concentrated essences of flowers, fruits, herbs and plants can relieve stress, balance emotions, relieve pain and make us more vibrant and healthy. Then, she'll show attendees practical applications for therapists' treatment rooms, including specific essences for relaxing and rebalancing emotionally. This class will inspire all holistic practitioners.
Chakralicious founder and reiki master teacher Linda Bertaut will provide practitioners with techniques to safely choose and place stones on the body and face, and how they can select their healing stone collection. She'll also cover gemstone contraindications and demonstrate a healing layout for the face and body that best delivers the stones' therapeutic benefits.
Ayurveda takes center stage in a session with Ashish Pandya, director of education, training and sales for Shankara. He will discuss how the doshas impact our daily lives, and what you can do to balance them for your clients. Plus, he'll take attendees on a guided meditation to help them experience inner balance.
Throughout the day, attendees will also be able to participate in wellness breaks created by the renowned Miraval Resorts!
3. Sessions Support Your Spa's Financial Wellness
Three sustainability experts come together for a session about incorporating sustainable systems and operations to grow your spa in the New Green Economy. Joanna Roche, executive director of GSN Planet; MeganTymesko, community manager of GSN Planet; and Suzy Bordeaux-Johlfs, spa director of Silverado Resort & Spa, in Napa, California, will review case studies and examples that demonstrate ways to integrate environmentally minded services, products, logistics and behaviors into your spa.
In a timely session, Toshiana Baker, founder of the Network of Multi-Cultural Spa and Wellness Professionals (NMSWP), will inspire, impact and create a shift in spa pros' awareness by establishing a baseline understanding of diversity, equity and inclusion. Baker will also equip attendees with actionable ways to incorporate these important initiatives, allowing them to create a culture of inclusivity in their spa and wellness practices.
Ann Brown, founder and CEO of Himalayan Source and cofounder of Saltability, will cover how halotherapy works, options for implementation and stand-alone treatments that spas can add to their menus, as well as the latest Himalayan salt concepts for halotherapy rooms. Turning a treatment room into a single-use salt room creates a new avenue to support guest health—with a particular focus on respiratory support—and to increase your revenue.
4. Physical Wellness Will Be Top of Mind
Mytecia Myles, founder of Supernatural Success, is an esthetician and master herbalist who holds certifications in nutrition and blood cell analysis. She'll speak about influencing professional holistic wellness, and she'll cover nutritional concepts and strategic planning by identifying nutritional wellness strengths, weakness and opportunities—plus how to identify and eliminate internal and external toxicity.
Learn about light therapy from wellness expert Amy Gardner, director of education at LightStim, who will delve into the modality as a gentle regulator that not only supports but optimizes the body's inherent ability for healing and rejuvenation. She will help attendees understand how light therapy works on a cellular level, and discuss treatments and other practices that complement light therapy to support whole health and well-being.
Paige Costello, manager of spa & hospitality at Hyperice, will take attendees through fitness recovery, a popular fitness trend with many options available to wellness businesses. She'll help us think outside the box when it comes to this area, including contact-free, in-room and group classes that keep clients' health top of mind.
5. Classes Will Cover Beauty and Personal Care
Part of clients' wellness journey is addressing their health inside and out. Plenty of WellSpa 360 Expo's Advanced Education will be sure to delve into outer beauty as well.
Manley's aromatherapy session will teach attendees how essential oils can cleanse, nourish, stimulate and rejuvenate the skin and hair to aesthetically make us more vibrant and healthy. Practical applications will include the appropriate essential oils for certain skin types to inspire skin care professionals in addition to other holistic practitioners.
In Gardner's light therapy session, she will help attendees understand how light therapy works on a cellular level, and discuss treatments and other practices that complement light therapy to support both beauty and well-being.