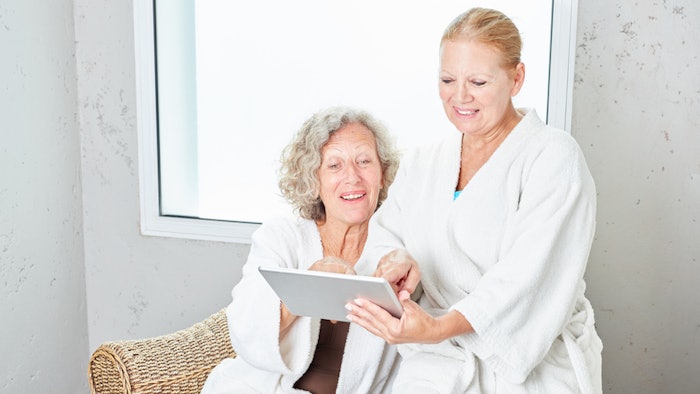 At the recent Live Love Spa Heal Together Summit, which took place April 19-21, 2021, attendees learned how to create and encourage meaningful contactless experiences from celebrity trainer Harley Pasternak and Paige Costello, manager, spa and hospitality at Hyperice. They noted that although physical contact is and always will be so important when it comes to spa and wellness, but there are still ways that propertys can focus on clients' well-being in no- or low-contact ways.
For instance, think about how the industry can help people enjoy the outdoors, whether that's forest bathing journeys, outside fitness experiences, or providing maps that detail the best places to walk, jog or ride a bike in the area. Here are some other great contact-free ideas from Costello and Pasternak.
In-Room Wellness
An increasingly attractive amenity during the pandemic, in-room wellness options are also important to busy guests and celebrities. Consider creating in-room self-care menus, where people can order items to use privately, such as skin care and body treatments, or something that they can check out, like recovery tools and fitness equipment (that has been sanitized, of course).
Properties are also beginning to incorporate interactive fitness equipment in guestrooms, like Mirror and FormLife. In addition to helping clients work on their health in their own space, these hang on the wall and therefore don't look like a bulky piece of equipment.
Designing New Spaces
The demand for low-touch wellness options is affecting design as well, with properties coming up with unique ways to reimagine their spaces. Some are bringing in private pods for certain wellness therapies, and recovery rooms with hydromassage beds and other tools. Others have created smaller workout rooms that are bookable by the hour. All of these are especially attractive because clients won't have to wear their masks, can play their own music and talk on the phone, thanks to the added privacy. Properties are also arranging for more outdoor spaces and looking into nonporous surfaces, which resist bacteria and viruses, and are easier to keep sanitized.