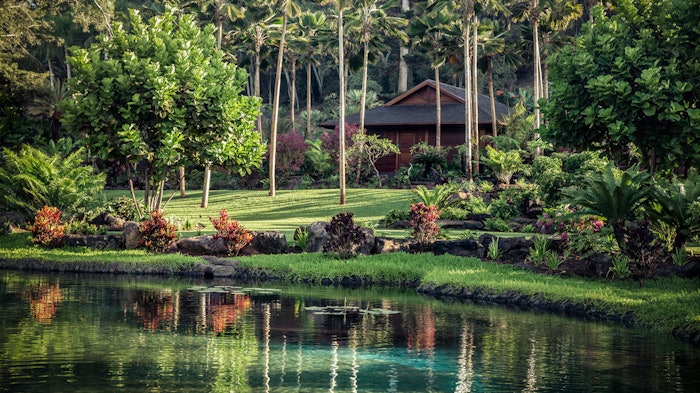 Photo Courtesy of Sensei Lanai, A Four Seasons Resort
Unique wellness retreats can help your resort stand out and bring in new guests who are looking for something outside of the ordinary. Get inspired by these three innovative retreats that combine mindfulness and wellness with a unique twist.
Related: 9 Holistic Wellness Experiences at Cala Luna Boutique Hotel & Villas
1. Sisters of Yoga Wisdom of the Womb Full Moon Retreat
This 6-day 5-night international healing experience includes a full dose of yoga, self-exploration and spiritual expansion with Yoga Teacher/Retreat Leader, Jazmin Porter and Sisters of Yoga founder, Tie Simpson. Take a divine dive into a magical week filled with daily yoga, sound bath meditations, sister healing circles, guided cliff hiking, surfing lessons and more.
2. Tea Wellness Retreat by Sipping Streams Tea Company
Going beyond the typical wellness retreat, indulge in a variety of tea-related activities, including professional tea tastings, a tour of the tea farm and a session of hands-on tea picking. This retreat is designed for tea lovers who are looking for a unique and immersive experience that combines the best of tea culture, wellness and art. Get hands-on with the process of tea harvesting and discover the nuances of flavor as clients roll their own tea leaves. From harvesting the tea leaves to hand-grinding them into powder, they'll learn the traditional techniques and deepen their appreciation of this beloved beverage with one of the leading Japanese Matcha producers.
3. Unbridled Retreat for Women at Sensei Lanai, A Four Seasons Resort
During the five-day, four-night Unbridled Retreat, guests at the adults-only resort will experience empowering daily coaching sessions in the arena designed to break down inhibitions, stimulate creativity and help participants achieve sustainable well-being. The intimate group setting offers a supportive and restorative environment along with personal attention, camaraderie and inspiration. Globally recognized Equine Coach Devon Combs specializes in helping women heal from their past, get clear on where they are headed and find the courage to move forward in their lives. Over the course of five days, Devon will guide participants through three equine coaching sessions. Guests will share moments with horses that will alter the way they see themselves, reveal pathways they didn't know existed and help them become their most courageous, authentic selves.