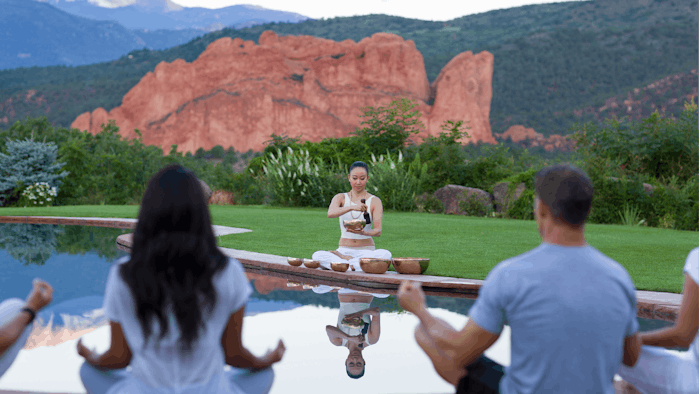 Courtesy of Garden of the Gods Resort and Club
As wellness tourism grows in popularity, so are wellness retreats that address the body and mind for days at a time. Check out these two curated wellness retreats that aim to refresh guests and get them ready for the year ahead
1. Wellness Retreat Experience
At STRATA Integrated Wellness and Spa at the Garden of the Gods Resort and Club in Colorado Springs, guests will venture through a journey of self-exploration and elevated mind-body experiences.
Set to take place Feb. 24-27, 2022, it offers an opportunity for wellness seekers to escape to a centuries-old natural setting amidst Garden of the Gods Park with the primary intent of self-care and self-love. 
The experience includes a four-day, three-night wellness stay with all main meals and various snacks included. Guests enjoy integrated spa, med and fit experiences and workshops; two wellness services; two spa services; experiences in nature; wellness amenities and activities; custom wellness programming; and more.
2. The Key to Longevity
THE WELL at the Mayflower Inn & Spa recently held this retreat on Jan. 6-9, 2022. THE WELL chief medical officer Dr. Frank Lipman helped guests learn the key to living as vibrantly and energetically as possible, for as long as possible.
Throughout the four-day retreat, guests engaged in daily movement, immersive activities and educational lectures. They also got detailed analyses and education about personal labs and genetic testing.
The retreat included luxury accommodation, an intimate kickoff dinner with Dr. Lipman, curated lectures, thoughtful meals, one-on-one health coaching sessions, mindful movement fitness classes, forest bathing and meditation classes.