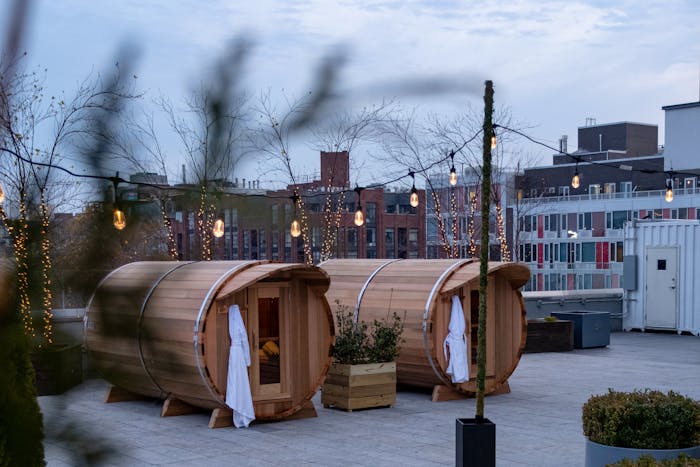 Courtesy of The William Vale
Winter spa treatments can be very refreshing and energizing for guests, make sure yours are up to par this year, especially with the looming pandemic. Here are three winter wellness programs for your inspiration. 
1. Winter Spa
The Winter Spa at The William Vale in Brooklyn, NY, invites detox-seeking city dwellers to recharge and reset. On the 4th floor of the hotel, the Winter Spa is a pop-up experience that features four private, red cedar outdoor saunas and hot tubs. Visitors can choose between: the Sauna Experience, comprising a traditional sauna experience designed for guests to sweat stress away and enjoy the view through the panoramic dome window; or the Sauna + Hot Tub Experience, which includes both sauna and hot tub access. Both experiences deliver the many health benefits of sauna use, including relaxed muscles, deeper sleep and the removal of toxins from the body. 
2. Winterlust Festival
Wanderlust, a well known wellness festival, held its first boutique winter festival at Taos Ski Valley in Taos, NM. The winter festival, aptly named Winterlust, offers three days of skiing, yoga and meditation, as well as all-inclusive culinary experiences, live music exclusive chairlift access, a private skiing mountain, residence at The Blake Hotel and more.
3. Winter Aroma Blend
Aquaterra Spa at Surf & Sand Resort in Laguna Beach, CA, has created a seasonal aromatherapy-infused treatment: Winter Aroma Blend. The service incorporates aromatherapy to help guests alleviate stress, re-energize, support immunity, detoxify and more. It includes a rosemary and lavender sea salt scrub, a ginger and sweet orange oil body wrap with a warm stone application, and back-of-body massage.